Text
from KeysToImmortality Website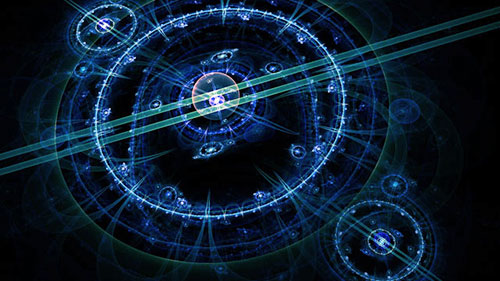 The Illusion of 3D Linear Space-Time – The Truth about Time
Time is in essence a grand illusion that has taken a hold of our consciousness and conditioned our reality to believe in it, thus we then become enslaved by the illusion and suffer the karmas associated with it.
Bound to the ticking of the clock, we slowly but surely create our own death. The entire infrastructure of the 3rd dimension is built around time (scheduling, dates, sequencing and chronological order) and thus reinforces the illusion..
Understanding Time can also open up dimensional pathways to other worlds/times/realities that serve as a bypass for the inevitable collapse scenarios.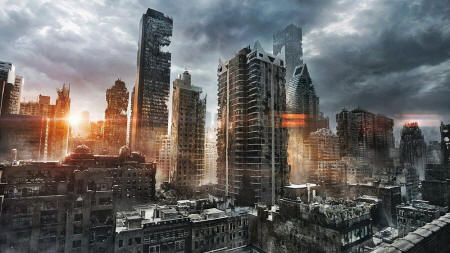 Time travel – a possible alternative to post-industrial collapse.


In the Singularity of Source, there is no time – only an Infinitely Conscious Presence of Being that exists in all forms and all spaces at once. As one comes to recognize Source, one is freed from the bonds of time and all karmic causality is destroyed.
In the Immortal Timeless Presence of Source – the past (or the future!) have no power and one becomes a Karma Immune Being. This is an extremely powerful vibratory state to exist in and by residing here one is free from ALL conditionings, delusions, illusions and cycles of time.
Karma no longer has power over one because the Law of Cause and Effect needs a temporal (time) bubble to exist within.
Outside of time, nothing can precede anything or condition any future moment, for there is no future to affect. In the same vein, the energy of the past peels away from one's being and becomes nothing.
The causal links between the past and the present are severed, thus no karma can possibly ripen or even exist in the Timeless State. As for the redemption and forgiveness of karma, the embodiment of Source Presence is the most powerful – and ultimately the only real mechanism behind karmic cleansing.
Source was and always is free from karma. Karma is simply a denser shroud that cloaks our Original Innocence. Timelessness is inherently innocent for there is no time in which anything different can stain it.
For many people, it is absurd to believe that time is an illusion, for it appears to be reflected everywhere and appears to exist as a fundamental, inherent and unchangeable condition of this dimension. Thus we appear to be trapped within it and there seems no mechanism for transcending time.
It is very important for readers to understand what time is.
In essence, it is nothing other than a mental construct created by the ego-mind to separate out perceptions and events into an order, so that the sensations arising from them can be assimilated and made sense of.


Truth – Beings in the 3rd dimension can only ever perceive one thing at a time

It may appear we can perceive many things in the linear dimension at once, but in reality, the linear mind can only handle one perception at a time – no matter how 'bunched up' these perceptions seem.
The mind in the 3rd dimension cannot perceive directly the Timeless Singularity of Source, for the mind exists within duality, and within duality all things appear distinctly separate.
In order to perceive all of these distinctively separate phenomena, the mind projects a 'holding space' for these phenomena called space-time. The space aspect creates a medium for distinguishing everything and providing a contrast between one phenomenon (object, sound, smell or any other kind of sensation) and another.
3-dimensional space has no inherent reality of its own and cannot be perceived to exist as a 'stand-alone' phenomenon. It always requires some kind of phenomena so as to be distinguishable. The construct of space allows the mind to see where one form ends and another begins.
However, once one penetrates the realms of the subatomic – there is simply a sea of superstrings that are not at all separately grouped, in relation to the 3D objects that contain them.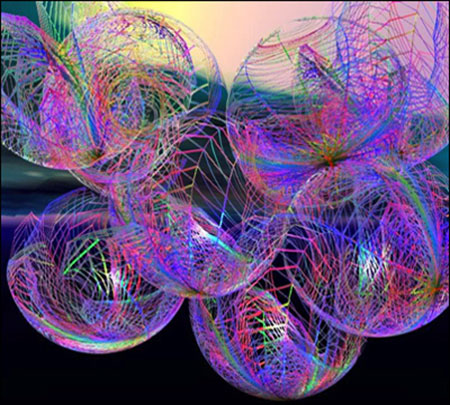 Higher Dimensional Reality
Superstrings and Brane Bubbles


There is no boundary between the superstrings in me and the superstrings outside of me. The illusory sense of boundary that exists within 3D is transcended.
Readers can reflect on this.
Where does the 'me' start and the 'me' end?

What is the 'me'?

Where is the 'me'?
One can reflect deeply and find that space is simply a mental vacuum – a mental space – where mental projections can be inserted into.
Because the sensations that the mind perceives are externalized, this mental space then appears to exist outside of oneself and have a distinct reality of its own. Belief in its inherent reality then creates the illusion of the 3rd dimensional spatial matrix.
The illusion of space then gives rise to the notion of distance, which is nothing other than a mirroring of our own separation from Source.
This illusion was spawned so early in our formative years that we have come to forget there is any other way of perceiving reality. The transcendence of the illusion of distance (a concept created by the mind) results in the ability to bi-locate and teleport.
As the energies from the Central Sun reach their zenith, this will then facilitate bodily teleportation and the subsequent Ascension as one is able to stand outside of the limitations of the 3D matrix of space-time.
One can also enter the microcosm in this state.
Once I was able to see into the space between the outside and the inside surface of a quark as described here:
These superstrings are in everything and have no size.
They constantly are seen to rotate, flicker in and out of existence, and birth new strings that break away and form new superstring structures elsewhere. They emanate an extremely powerful golden light.
The surfaces of individual quarks appear as shiny rainbow translucent membranes. One's consciousness can zoom in to see billions of superstrings creating an infinitely intricate fractal pattern that exists between the inside and the outside of the quark – collapsing that particular duality.
In the space between the perceived "outside and inside" of a quark, a hundred billion or so superstrings intersect that minute space.
The inside surface of a quark appears to move independently of the outside surface creating hyper-dimensional torsion that allows for the formation of wormholes allowing the superstrings to pervade the entire volume of this inner quark-escape.
The superstrings sometimes unravel and create the impression of golden highways where trillions of encoded symbols rush down their lengths. It is possible to enter one of the symbols itself and enter another level of quantum reality where particles looking like plasma balls fire out rainbow vibrations in all directions.
These plasma balls all appear to emerge from the whiteness and all of them appear to be intrinsically intelligent sub-quark light beings.
The whiteness itself appears as a cylindrical glowing tube that glows almost brightly enough to obscure the "interior".
In places the light reveals particles within that appear to be shaped like a torus (dough-nut shape). They sparkle, glisten and fold in upon themselves in almost inconceivable ways to give the impression of a continuous mutation of form. At this level we are seeing dimensions several billion times smaller than the thickness of the external membrane of a quark.
The energy is intense here, and rainbow bolts of lightning appear to be projected out of the torus structures. The arrow of time appears to point in all directions at once and events within some pockets of this reality appear to flow in retrograde.
There is enough energy buried in one of these torus structures to provide all the power humanity would ever need. All of the energy of the entire Universe flows through each of these structures and thus they are infinite resources of energy.
Time is inherently bound up with the illusion of the spatial matrix, for it is nothing other than a supplementary construct created by the mind to prevent 'the box' filling up with everything at once!
Everything can and does happen at once within Singularity Consciousness.
Time is another form of contrast that orders perceptions of all kinds of sensual phenomena into a manageable stream, that can then be analyzed by the mind. Linear time is an endless, incomplete continuum that always requires another perception in order for its existence to be continued.
Thus the mind can never be in the Presence and instead continues to habitually grasp for the next experience.
There is never a completeness of experience, for it is always open ended. One perception leads to another – and another – and so the illusion continues indefinitely. In the awareness of the higher dimensions there is a deeper completeness.
Linear time then becomes a circle and transcends its own illusion!
In this 'completion of the circle' one sees oneself as Source Presence that does not require a location in space-time to exist. In the stepping out of the Presence of Source the wheels of time turn once again!
Physical transmutation of the body (Ascension work) causes our being to move into alternate temporal realities where time appears to run at a much faster rate.
This causes all of our karmic processes to speed up and accounts for the experiences of those undergoing all kinds of emotional and spiritual processing in a much shorter time than the conventional norm.
The apparent appearance of accelerated time is due to the contrast between the timeless dimensions and this linear dimension. Our own perceptions of time are influenced by the powerful energies of the higher planes and the stream of higher vibrating energies creates the sensation of altered temporal realities. When this is understood time is then seen to slow down and dilate.
This temporal dilation can allow for some remarkable experiences, such as the ability to teleport 2.4 billion light years or so across space in the blink of an eye (read Keys to Immortality).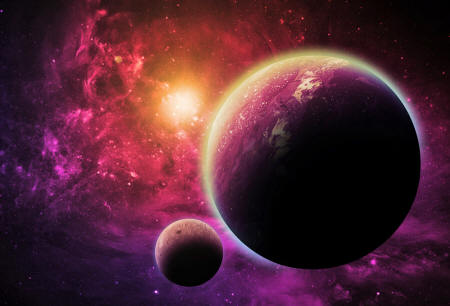 Intrepid dimensional travellers breaking the time barrier
may find themselves seeing alien worlds in other galaxies.


There are no limits beyond the constraints of time and distance and one then becomes an embodied intergalactic traveler, able to traverse the Universe at will.
Huge networks of wormholes within 10th dimensional superstrings open up billions of galaxies that can be explored by the higher-dimensional Timeless self. It is a truly mind-blowing experience to be presented with such an astonishing expansiveness of reality.
However, that is the norm in the Universe, and it is only the belief in the limitations of the linear world that we find ourselves confined to one planet amongst a dying species whilst the Cosmos surrounds us waiting to be explored.



by Kristin Houser
January 06, 2018
from Futurism Website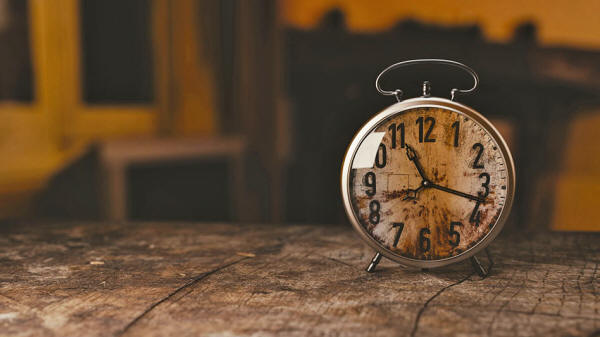 The Nature of Space and Time
A pair of researchers have uncovered a potential bridge between general relativity and quantum mechanics – the two preeminent physics theories – and it could force physicists to rethink the very nature of space and time.
Albert Einstein's theory of general relativity describes gravity as a geometric property of space and time. The more massive an object, the greater its distortion of space-time, and that distortion is felt as gravity.
In the 1970s, physicists Stephen Hawking and Jacob Bekenstein noted a link between the surface area of black holes and their microscopic quantum structure, which determines their entropy.
This marked the first realization that a connection existed between Einstein's theory of general relativity and quantum mechanics.
Less than three decades later, theoretical physicist Juan Maldacena observed another link between between gravity and the quantum world. That connection led to the creation of a model that proposes that space-time can be created or destroyed by changing the amount of entanglement between different surface regions of an object.
In other words, this implies that space-time itself, at least as it is defined in models, is a product of the entanglement between objects.
To further explore this line of thinking, Chun Jun Cao and Sean Carroll of the California Institute of Technology (CalTech) set out to see if they could actually derive the dynamical properties of gravity (as familiar from general relativity) using the framework in which space-time arises out of quantum entanglement. 
Their research (Bulk Entanglement Gravity without a Boundary – Towards finding Einstein's Equation in Hilbert Space) was recently published in arXiv.
Using an abstract mathematical concept called Hilbert space, Cao and Carroll were able to find similarities between the equations that govern quantum entanglement and Einstein's equations of general relativity.
This supports the idea that space-time and gravity do emerge from entanglement.
Carroll told us the next step in the research is to determine the accuracy of the assumptions they made for this study.
"One of the most obvious ones is to check whether the symmetries of relativity are recovered in this framework, in particular, the idea that the laws of physics don't depend on how fast you are moving through space," he said.
A Theory of Everything
Today, almost everything we know about the physical aspects of our universe can be explained by either general relativity or quantum mechanics. 
The former does a great job of explaining activity on very large scales, such as planets or galaxies, while the latter helps us understand the very small, such as atoms and sub-atomic particles.
However, the two theories are seemingly not compatible with one another.
This has led physicists in pursuit of the elusive "theory of everything" – a single framework that would explain it all, including the nature of space and time.
Because gravity and space-time are an important part of "everything," Carroll said he believes the research he and Cao performed could advance the pursuit of a theory that reconciles general relativity and quantum mechanics.
Still, he noted that the duo's paper is speculative and limited in scope.
"Our research doesn't say much, as yet, about the other forces of nature, so we're still quite far from fitting 'everything' together," he told Futurism.
Still, if we could find such a theory, it could help us answer some of the biggest questions facing scientists today.
We may be able to finally understand the true nature of,
…and other mysterious cosmic objects.
Already, researchers are tapping into the ability of the quantum world to radically improve our computing systems, and a theory of everything could potentially speed up the process by revealing new insights into the still largely confusing realm.
While theoretical physicists' progress in pursuit of a theory of everything has been "spotty," according to Carroll, each new bit of research – speculative or not – leads us one step closer to uncovering it and ushering in a whole new era in humanity's understanding of the universe.
References


by Katie Drummond
January 4, 2012
from Wired Website

Soldiers could one day conduct covert operations in complete secrecy, now that Pentagon-backed physicists have figured out how to mask entire events by distorting light.
A team at Cornell University, with support from Darpa, the Pentagon's out-there research arm, managed to hide an event for 40 picoseconds (those are trillionths of seconds, if you're counting).
They've published their groundbreaking research in this week's edition of the journal Nature.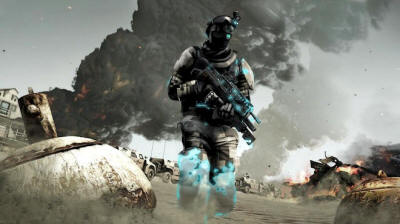 This is the first time that scientists have succeeded in masking an event, though research teams have in recent years made remarkable strides in cloaking objects.
Researchers at the University of Texas, Dallas, last year harnessed the mirage effect to make objects vanish. And in 2010, physicists at the University of St. Andrews made leaps towards using metamaterials to trick human eyes into not seeing what was right in front of them.
Masking an object entails bending light around that object.
If the light doesn't actually hit an object, then that object won't be visible to the human eye.
Where events are concerned, concealment relies on changing the speed of light. Light that's emitted from actions, as they happen, is what allows us to see those actions happen. Usually, that light comes in a constant flow. What Cornell researchers did, in simple terms, is tweak that ongoing flow of light – just for a mere iota of time – so that an event could transpire without being observable.
The entire experiment occurred inside a fiber optics cable.
Researchers passed a beam of green light down the cable, and had it move through a lens that split the light into two frequencies, one moving slowly and the other faster. As that was happening, they shot a red laser through the beams. Since the laser "shooting" occurred during a teeny, tiny time gap, it was imperceptible.
Sure, the team's got a ways to go before they're able to mask 30 seconds of action, let alone several minutes. But the research certainly opens up new possibilities.
For one, masking super-quick events, like those that occur with data transmission, could help conceal covert computer operations.
In the words of Nature editors, the research marks,
"a significant step towards the development of full spatio-temporal cloaking."
But it could be decades before military personnel will basically be able to zap history, as it happens:
According to Cornell scientists, it'd take a machine 18,600 miles long to produce a time mask that lasts a single second.


by Arjun Walia
February 18, 2016
from Collective-Evolution Website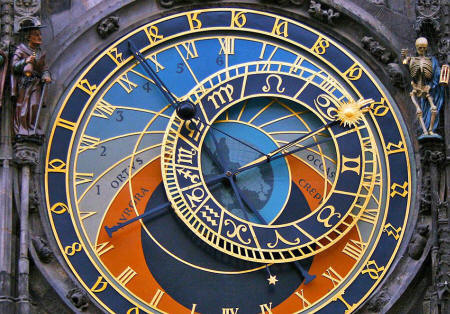 Time: it's no doubt a confusing topic, and it gets even more confusing the more we try to unearth its secrets.
Physicists have been examining the workings of time for decades, and the results published about it are mind-altering to contemplate, to say the least, and show that time might not exist as we think it does.
A new paper titled "Time Crystals from Minimum Time Uncertainty" that was recently revised and re-published in The European Physical Journal marks just one example of the astonishing research being conducted on this subject.
In it, the researchers have proposed that the shortest physically meaningful length of time might really be multiple orders of magnitude longer than Planck time.
Planck time refers to the time required for light to travel, in a vacuum, which would be a distance of 1 Planck length. The unit is named after Max Planck, who was the first to propose the theory.
Nur Faisal from the University of Waterloo, one of the researchers involved in the study, told phys.org that it might be possible for the minimum time scale in the universe to actually be much larger than Planck time.
He also said that this can be,
"directly tested experimentally."
No experiment has ever come close to examining Planck time directly because it is so short. Nevertheless, as phys.org points out, there is a good amount of theoretical support for the existence of Planck time.
Faisal explains:
"In our paper, we have proposed that time is discrete in nature, and we have also suggested ways to experimentally test this proposal."
So, how do they figure that time might be much larger than Planck time?
They measured the rate of spontaneous emission of a hydrogen atom:
The modified quantum mechanical equation predicts a slightly different rate of spontaneous emission than that predicted by the unmodified equation, within a range of uncertainty.
The proposed effects may also be observable in the decay rates of particles and of unstable nuclei.
The researchers also mention that their findings could change the basic equations of quantum mechanics, and would modify the very definition of time that's understood today.
The Illusion of Reality
According to the rules of quantum mechanics, our observations, and as some scientists like to call them, 'factors associated with consciousness,' influence the universe at the most fundamental levels.
When physicists look at reality at the smallest scales, it becomes clear that an atom's behavior is dependant on the physicist's observations.
"I regard consciousness as fundamental. I regard matter as derivative from consciousness. We cannot get behind consciousness. Everything that we talk about, everything that we regard as existing, postulates consciousness."
Max Planck
As per this experiment, researchers noted that our perception of time as something that is continuously flowing is just an illusion.
Faizal explains:
The physical universe is really like a movie/motion picture, in which a series of still images shown on a screen creates the illusion of moving images.
Thus, if this view is taken seriously, then our conscious precipitation of physical reality based on continuous motion becomes an illusion produced by a discrete underlying mathematical structure. This proposal makes reality platonic in nature.
However, unlike other theories of platonic idealism, our proposal can be experimentally tested and not just be argued for philosophically.
Faizal is referring to Plato's idea that true reality exists independent of our senses.
Perhaps the true makeup of what we perceive to be reality is beyond our ability to perceive?
The  Delayed Choice/Quantum Eraser Experiment
The delayed choice experiment illustrates how what happens in the present can change what happens(ed) in the past.
It also shows,
how time can go backwards

how cause and effect can be reverted

how the future caused the past
To understand the delayed choice experiment, you have to understand the quantum double slit experiment, which is used to show how factors associated with consciousness create different behaviors in an atom, as mentioned earlier.
In this experiment, tiny bits of matter (photons, electrons, or any atomic-sized object) are shot towards a screen that has two slits in it.
On the other side of the screen, a high tech video camera records where each photon lands. When scientists close one slit, the camera will show us an expected pattern, as seen in the video below.
But when both slits are opened, an "interference pattern" emerges – they begin to act like waves.
This doesn't mean that atomic objects are observed as a wave (even though it recently has been observed as a wave), but rather that each photon individually goes through both slits at the same time and interferes with itself, but it also goes through one slit, and it goes through the other.
Furthermore, it goes through neither of them.
The single piece of matter becomes a "wave" of potentials, expressing itself in the form of multiple possibilities, and this is why we get the interference pattern.
How can a single piece of matter exist and express itself in multiple states, without any physical properties, until it is "measured" or "observed"?

Furthermore, how does it choose which path, out of multiple possibilities, it will take?
Then, when an "observer" decides to measure and look at which slit the piece of matter goes through, the "wave" of potential paths collapses into one single path.
The particle goes from becoming, again, a "wave" of potentials into one particle taking a single route. It's as if the particle knows it's being watched.
The observer has some sort of effect on the behavior of the particle.
Multiple experiments have found that factors associated with consciousness "significantly" correlated in predicted ways with perturbations in the double slit interference pattern. (source)
You can view a visual demonstration/explanation of the double slit experiment here.
This quantum uncertainty is defined as the ability,
"according to the quantum mechanic laws that govern subatomic affairs, of a particle like an electron to exist in a murky state of possibility – to be anywhere, everywhere or nowhere at all – until clicked into substantiality by a laboratory detector or an eyeball."
According to physicist Andrew Truscott, lead researcher from a study (Wheeler's Delayed-Choice Gedanken Experiment with a Single Atom) published by the Australian National University, the experiment suggests that,
"reality does not exist unless we are looking at it."
It suggests that we are living in a holographic-type of universe. (source)
Now…
So, how is all of this information relevant to the concept of time?
Just as the double slit experiment illustrates how factors associated with consciousness collapse the quantum wave function (a piece of matter existing in multiple potential states) into a single piece of matter with defined physical properties (no longer a wave, all those potential states collapsed into one), the delayed choice experiment illustrates how what happens in the present can change what happens(ed) in the past.
It also shows how time can go backwards, how cause and effect can be reversed, and how the future caused the past.
Like the quantum double slit experiment, the delayed choice/quantum eraser has been demonstrated and repeated time and time again.
For example, Physicists at The Australian National University (ANU) have conducted John Wheeler's delayed-choice thought experiment; their findings were recently published in the journal Nature Physics. (Wheeler's Delayed-Choice Gedanken Experiment with a Single Atom)
In 2007 (Science 315, 966, 2007), scientists in France shot photons into an apparatus and showed that their actions could retroactively change something which had already happened.
Asher Peres, a pioneer in quantum information theory, elaborates:
If we attempt to attribute an objective meaning to the quantum state of a single system, curious paradoxes appear:
quantum effects mimic not only instantaneous action-at-a-distance, but also, as seen here, influence of future actions on past events, even after these events have been irrevocably recorded.  
This idea was first brought to the forefront by John Wheeler in 1978, which is why I am going to end this article with his explanation of the delayed choice experiment.
He believed that this experiment was best explained on a cosmic scale.
Cosmic Scale Explanation
He asks us to imagine a star emitting a photon billions of years ago, heading in the direction of planet Earth.
In between, there is a galaxy. As a result of what's known as "gravitational lensing," the light will have to bend around the galaxy in order to reach Earth, so it has to take one of two paths: go left or go right.
Billions of years later, if one decides to set up an apparatus to "catch" the photon, the resulting pattern would be (as explained above in the double slit experiment) an interference pattern.
This demonstrates that the photon took one way, and it took the other way.
One could also choose to "peek" at the incoming photon, setting up a telescope on each side of the galaxy to determine which side the photon took to reach Earth. The very act of measuring or "watching" which way the photon comes in means it can only come in from one side.
The pattern will no longer be an interference pattern representing multiple possibilities, but a single clump pattern showing "one" way.
What does this mean? It means how we choose to measure "now" affects what direction the photon took billions of years ago. Our choice in the present moment affected what had already happened in the past…
This makes absolutely no sense, which is a common problem when it comes to quantum physics. Regardless of our ability make sense of it, however, it is very real.
This experiment also suggests that quantum entanglement (which has also been verified; read more about that here) exists regardless of time – meaning two bits of matter can actually be entangled, again, in time.
Time, both as we measure it and understand it, doesn't really exist…