From the stories of a massive Nazi Base down there to the incredible history of Operation High Jump, to a multitude of other strange events, Antarctica has a long history of very strange stuff.
Text

by Dr. Michael Salla
January 08, 2022
from Exopolitics Website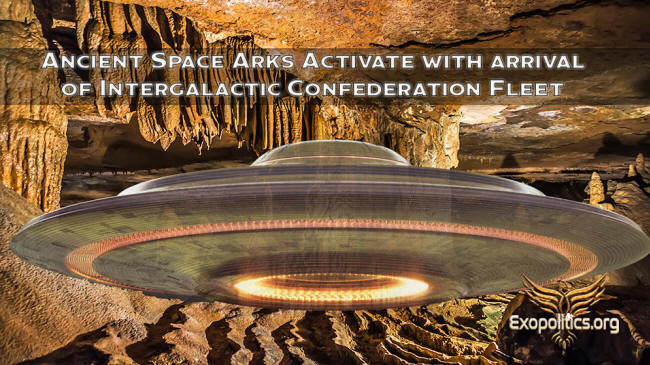 On January 4, 2022, I received an important update about ancient space arks being discovered on,
the Moon

Mars

Antarctica,
…and other locations in our solar system.
According to Thor Han Eredyon, a Galactic Federation pilot, whose messages are relayed through a former professional French archeologist, Elena Danaan, these huge space arks are activating due to the recent arrival of a large fleet of spacecraft belonging to an Intergalactic Confederation – parked in the vicinity of Jupiter and its moon, Ganymede.
Thor Han's update is startling corroboration for information recently released by my US Army insider, JP, who visited one of these activated space arks on the Moon in joint secret missions being conducted by the US, China and other members of an "Earth Alliance" led by US Space Command.
Elena passed on to me the following messages she received from Thor Han early Tuesday morning about the activation of these ancient space arks:  
Jan 4, 2022
At 1 am, I am contacted by Thor Han telepathically via my implant.
TH: I have clearance to answer your question about the ancient vessels that activated.
Those studied by the Terran scientists. It is exciting to watch them and to guide them, as they uncover a past that was hidden for long millenniums.
Terran culture has been ready for a long time but now that threatening shadows are leaving your world, truth can be unveiled in the open. Finally.
The Earth Alliance unfolds the plan elaborated together with the Intergalactic Confederation and the Galactic Federation of Worlds of Nataru [Milky Way Galaxy], exposing what was hidden until this day.
A long time ago, the Intergalactic Confederation had several colonies in this star system. On Naara (Venus), Terra, its moon, Tyr (Mars) and the fifth planet.
Great wars occurred with the Anunnaki and the colonies left. But before leaving, they gathered the essential of their knowledge in arks they buried deep, on the planets I mentioned.
These arks preserved the essential information necessary to rebuild the glory of these colonies, if one day this was to happen.
Thor Han's information corroborates what JP was told in a classified briefing he attended before departing for a Moon mission on December 23, 2021, which I discussed in an article one week later.
JP entered the giant spherical spacecraft – estimated to be over two aircraft carriers in size – accompanied an archeologist studying its hieroglyphic style writing.
JP was one of the military escorts accompanying scientists from the US and China sent to investigate the spacecraft that had activated.
There have been several people wondering about the rather mundane roles JP has played in covert missions to Ganymede (below video) and the Moon, given his low military rank and rather dreary armed escort duties for scientists.
One of the things JP shared in our communications since 2008, is that he was often taken by human-looking extraterrestrials into large hemisphere structures, which he described as arks.
He witnessed ancient plants, animals and technologies that were being preserved for a future time. He also said that he met several other individuals being taken to these arks – one of whom was a Chinese national.
JP said he was taken to these large arks for a time when they would become important for humanity in dealing with planet-wide contingencies.
JP began sharing this information with me around 2014/2015, and I kept this information to myself since no one else was talking about it. US covert operatives, however, monitored JP's extraterrestrial contacts and our communications (see here and here).
This leads me to believe that JP is doing far more than simply escorting scientists to these ancient arks and performing mundane escort duties.
Due to his earlier access, he carries some energetic frequency, vibration, or code that facilitates the safety and success of missions to these ancient space arks.
Thor Han's reference to arks belonging to ancient Intergalactic Confederation colonies that were forced to leave millennia ago due to great wars in our solar system is also very revealing.
Just as Egypt's Sphinx has long been rumored to be a repository of ancient Atlantean technology, so too there are technological repositories of ancient cultures hidden throughout our solar system.
It's helpful to keep in mind that the Atlantean civilization was said to be an offshoot of one of the 24 extraterrestrial civilizations making up the Intergalactic Confederation...
According to the Council of Nine information channeled through Phyllis Schlemmer, in her book, The Only Planet of Choice (1993), Altea established the Atlantis colony on Earth.
Thor Han's information is telling us that Altea and other extraterrestrial seeder races have similar colonies scattered and hidden throughout our solar system.
Thor Han continued his message as follows:
When the fleet from the Intergalactic Confederation approached this star system, the arks activated.
It was time.
The return of the Seeders marks the beginning of a new era, when Terrans are ready to receive the long-time hidden knowledge. No rules are broken when the Terrans make their own research and discover the keys by themselves.
You understand, this knowledge and technology couldn't fall in the wrong hands. The arrival of the Seeders occurs when the enemy has lost all power and possessions in this star system.
The time is right, now.
Also, I was authorized to tell you that two great archaeological discoveries are imminent on Terra, this year. It will change the way Terrans look at the chronology of their History.
What they believed was truth carved in stone will flow like water.
Thor Han's message reveals that these ancient arks were well-hidden and kept away from the Dark Fleet and its extraterrestrial allies that until recently dominated our planet.
Most importantly, the Cabal/Deep State that controlled powerful secret space programs looked for these arks but were unable to find these ancient vessels.
Now that the "Dark Alliance" has been forced to leave our solar system, the hidden ancient technologies are being activated so they can be found and explored by the Earth Alliance that was created in July 2021 as a result of the "Jupiter agreements".
Now the time has arrived for these technologies to be openly shared so humanity can learn about long forgotten extraterrestrial colonies, their advanced cultures, and technologies – before devastating wars led to their demise.
Elena next had a Q&A with Thor Han:
E: What you just said, this last sentence, it's a metaphor that foretells a story, right, I know you:
"What they believed was truth carved in stone will flow like water." (TH laughs).
Can you talk about what is in these arks?
TH: Great technology that will change everything.
E: What do these arks look like?
TH: Elongated and some are miles long. Crystal technology.
E: What do you mean?
TH: The Intergalactic Confederation largely uses crystalline materials to transcend densities, that a built structure can simultaneously exist in several densities.
E: Such as the crystalline architecture I saw inside of the motherships of the Intergalactic Confederation? Does that mean these ships are solid in different densities at the same time?
TH: Correct.
Terrans haven't yet discovered all the capacities of crystals.
Core engines are powered by crystals, portals are made of fluid crystals, time devices, pyramidal energy generators, and more. These density belts that we wear, are made with nano-crystals.
The fabric of our suits, our weapons, the skin of our ships…  
What's crucial here is that JP said that when he entered one of these arks (below video) found on the Moon by China's Yutu 2, the crystal inside of it was Moldavite.
He said it created a pleasant vibration that helped elevate consciousness.
It's very possible, given JP's earlier exposure to arks, that he carried the right frequency that would be recognized by the ark's consciousness.
The Q&A continued:
E: So these buried ships have activated at the arrival of the Intergalactic Confederation.
TH: They received the signal and responded by resonance, due to the simple proximity of the mother fleet.
Remember what I showed you, certain ships are living entities. They woke up. Although, your people knew already about some of these locations.
We left some clues for them to find. The Dark Fleet found one of these arks, under the ice of Antarctica, but they could never activate its power and use its potential.
One of the reasons why the Intergalactic Confederation was waiting.
This is very meaningful given that JP received coordinates from an unnamed Lt Colonel that pointed to a structure in Antarctica that was in an area used by the Dark Fleet until recently.
Could the apparent structure shown in the coordinates be linked to one of the Arks hidden underneath or nearby?
Another possible location emerges from the testimony of two special operators that spoke with Veteran UFO researcher Linda Moulton Howe, and whose testimonies were released in January 2019.
They revealed their participation in missions to a massive Octagon-shaped structure found near Beardmore glacier, Antarctica, in 2003.
This is how Howe initially reported the discovery:
In 2003, a U.S. Navy Seal Special Operation team traveled to Antarctica to investigate a perfectly geometric 8-sided octagon structure discovered by ground penetrating radar near Beardmore Glacier, about 93 miles from the American McMurdo Station.
Another previous team of engineers and scientists had dug out the top layer of one octagon made of a pure black substance that was built on top of two more black octagonal structures that went down deep into the 2-mile-thick ice.
Only part of the Octagon-shaped structure, the Navy Seal stated, had been uncovered so far by the archeological teams, with the rest buried under the ice and extending far below.
Ground penetrating radar had shown the structure to be an Octagon in shape, and covering an area of 62 acres (about 0.5 square kilometers).
The Navy Seal described the walls and doors as being covered by hieroglyphs that were about eight inches (20 cm) high and about two inches (5 cm) deep.
The hieroglyphs were neither Egyptian nor Mayan, but appeared similar to both in terms of depicting animals and other strange symbols.
Similarly, JP said that the large spacecraft he witnessed on the Moon was filled with hieroglyphs that were being recorded by the archeologist he escorted.
This makes it possible that the ancient octagon structure described by the Navy Seal was one of the arks discovered by the Deep State and their Dark Fleet allies.

Egyptian and Mayan hieroglyphs
Elena continued her Q&A with Thor Han:
E: How many arks are on Earth?
TH: I am not allowed to tell you, and don't try to read my mind!
E: I won't, you know I respect the rules. But I know already there is one in Egypt somewhere.
TH: South-America, Central Europe, North-West of Russia… One under the waters of the Atlantic Ocean. This one is the biggest.
There are others as well but I won't tell any precise coordinates, it is not of my responsibility but that of the Earth Alliance.
E: You won't be in trouble, right?
TH: No. What I am telling you is validated by my superiors. Since you were calibrated on military frequency, they are listening to all our conversations passing through your device.
E: Is there anything else that you can tell me, that the world doesn't know yet?
TH: Each revelation comes in time. There is a plan. Terran civilians will come this year to the complete realization and acceptance of other positive galactic cultures.
Politically many changes are on the way. But I must say no more, for the safety of the plan. The Earth Alliance is in charge, of pretty much everything. Be patient.
E: Thank you, I will pass on this info to Michael.
TH: Give him my warm salutations. One day we will meet, but not yet.
Thor Han's statement that this year, 2022, will be when there will be,
"complete realization and acceptance of other positive galactic cultures" is very telling,
…given that the Galactic Federation has sophisticated time travel technologies it can utilize for its future projections.
His optimistic statement indicates that the Deep State's hold on political power around the planet is crumbling, and that soon the walls of secrecy will collapse.
Consequently, the Intergalactic Confederation and other extraterrestrial races will be revealed to the public in joint disclosures coordinated with the Earth Alliance, and US Space Command.
Critically, some of these disclosures will involve announcements about the discovery of advanced technologies found in ancient arks that were built by humanity's ancestors many millennia ago.


by Michael Salla
February 22, 2019
from Exopolitics Website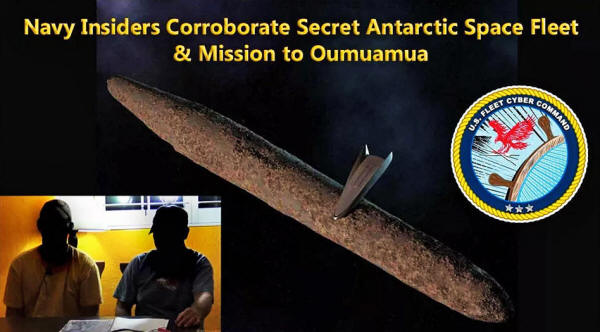 A former Navy Seal and a Marine Corps special operator have just revealed in an interview their knowledge of a secret space fleet that operates out of Antarctica, which flew a landing mission to the recent interstellar visitor to our solar system, 'Oumuamua.
They were interviewed by veteran UFO researcher Linda Moulton Howe who released their startling testimonies on February 20, 2019:
Howe had previously released Part 1 of her interview where Spartan 1, a former Navy Seal, described entering an octagon shaped structure covering approximately 62 acres near the Beardsmore Glacier in Antarctica.
His account of what he witnessed and his mission there is described in an earlier article.
Spartan 1 had also shared his knowledge of the existence of a coalition of major nations that are signatories to the Antarctic Treaty, who operate a secret space program out of Antarctica.
This coalition that I talk about, it's,
Great Britain

United States

France

Germany

Canada

Russia
There has been a space fleet in existence for the last 25 years"
Timestamp 9:01 on above video
In response to Howe's question about who is paying for and operating the space fleet, Spartan 1 asserted:
"All these coalition countries".
Spartan 1 went on to describe the different extraterrestrial races that collaborate with the space coalition and how Antarctica is the hub of operations:
Spartan 1:  I have only been told about of at least seven different species of aliens that the coalition has been in contact with.
Howe: How have they been described?
Spartan 1: Anywhere from warlike to very peaceful…
Timestamp 17:20 on above video

Howe: Do you have the impression that Antarctica is the central crossing hub for these seven species?
Spartan 1: Yes, I believe it is.
Timestamp 19:23 on above video
Next, Howe introduced the second whistleblower, Spartan 2, who is also a special operator, but whose service branch was instead the US Marine Corps.
Spartan 2 first contacted Howe on March 22, 2017 by email and wrote:
"Antarctica contains wonders beyond what most can comprehend. It has ties to space and technology beyond belief".
Timestamp 22:06 on above video
He revealed that for the last decade he has worked with an official from U.S. Cyber Command, whose 8th floor office is responsible for conducting trade with extraterrestrial races.
The official, whose first name is Kim, told Spartan 1 and 2 about a secret mission to 'Oumuamua – the interstellar object that sparked scientific speculation due to its unusual cigar shape and how it accelerated as it began leaving our solar system, which Howe discussed in her live streaming session.
Spartan 2 then dropped a bombshell when he said:
We got confirmation that our buddies landed on 'Oumuamua like months before anybody even knew it was out there. Our guys were on 'Oumuamua, or whatever they call that thing.
It's not a rock… it's an old derelict ship.
At least that's what they told us… and we boarded it months before anybody knew about it.
Timestamp 25:00 on above video
In response to Howe's question of who gave them their information, Spartan 1 disclosed:
"I can only tell you his first name is Kim, he worked for NSA, has worked for NSA for years. Then, just recently, in the last year he has been put in charge of a certain department in Cyber Command.
All I know is that it's on the 8th floor of the NSA building"
Timestamp 25:30 on above video
Spartan 1 confirmed that the 8th floor of Cyber Command is like a communications department in charge of interstellar trade with extraterrestrials.
The revelations by Spartan 1 and 2 about the secret space mission to 'Oumuamua before its "official discovery" on October 19, 2017 corroborates an earlier account of this mission by secret space program insider Corey Goode.
Goode says that on December 17, 2017, he was taken to a secret moon base called Lunar Operations Command where he received a briefing about the 'Oumuamua mission involving an alliance of space programs and nations.
Goode asserted that during the briefing he viewed a video of the 'Oumuamua mission, and that it was led by a senior USAF official he had dubbed "Sigmund".
Sigmund puffed up proudly and stated,
"I led an expedition to see who this craft belonged to. Wait until you hear what we found."
Suddenly we started seeing all sorts of readings and telemetry on the monitor.
I could also hear what sounded like an old NASA radio transmission.
There were beeps along with a pilot calling in positions of his craft, as well as the one he was trying to dock with. That lasted for about five minutes as I saw the two craft spiraling closer and closer together.

As the pilot matched the spin of the object they were approaching, you could see a long cigar-shaped structure that had shiny patches of what looked like ice on the outside.
It was obviously made of stone, and looked as if it had been through many meteor showers and collisions.
The video broke to a scene where a few people who were suited up in space suits were pushing themselves through what looked like a bored-out hole going down into the rock.
More information about what Goode was told about the secret 'Oumuamua mission is available here.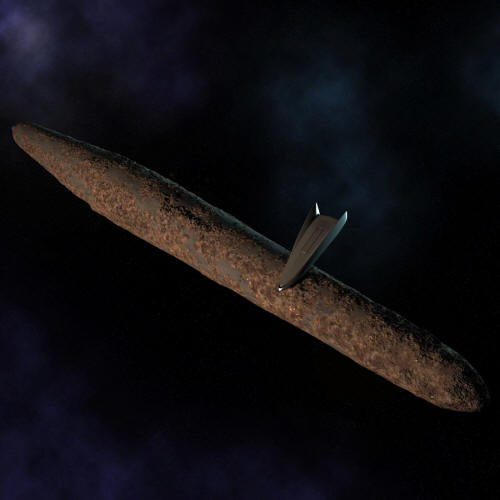 Artist illustration of 'Oumuamua
and visiting spacecraft.
Credit: Gaia TV/Sphere Being Alliance
Significantly, key elements of what Goode was told and publicly revealed back in January 2018 about the 'Oumuamua mission have now been independently corroborated by the two new whistleblowers, Spartan 1 and 2.
This means that there are three individuals who have now gone on the public record about receiving first hand testimony of a classified mission to 'Oumuamua by a coalition of nations controlling a secret space fleet.
Goode has also spoken in the past about Antarctica being a hub for deep space operations by different groups, nations, and corporations, which is consistent with what Spartan 1 and 2 have revealed.
Goode has also described the creation of an international space fleet created in the early 1990's that focuses on scientific research in deep space and other solar systems, which he dubbed the "Global Galactic League of Nations."
Again, this is consistent with what Spartan 1 and 2 have just revealed.

Howe has conducted due diligence on her two new whistleblowers in terms of reviewing documents confirming their military service.
This makes their respective testimonies about Antarctica and 'Oumuamua difficult to dismiss, thereby corroborating what Goode had revealed more than a year earlier about the secret mission to 'Oumuamua.


by Michael Salla
April 04, 2017
from Exopolitics Website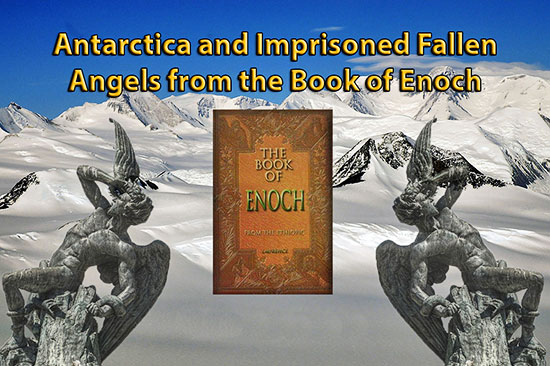 On March 14, Israeli News Live published a provocative video-story titled "The Fallen Angels Imprisoned in Antarctica and are still Alive" (below video.)
The commentator, Steven Ben-Nun, analyzed the apocryphal Book of Enoch, which describes the experiences of Enoch, a pre-deluvian biblical figure, who was taken into the heavens to witness and play a key role in a major celestial conflict.
Enoch became the principal intermediary between two sides of the conflict between the "Fallen Angels", and the "Righteous Angels" serving an all knowing deity referred to as "the Lord".
There were multiple issues in the conflict such as Fallen Angels interbreeding and/or performing genetic experiments with humanity, and passing on forbidden knowledge and technologies to the still developing human civilization.
The Book of Enoch begins with the arrival of 200 Fallen Angels in the area of Mount Hermon, which borders modern-day Lebanon and Syria.
The Fallen Angels began interbreeding and/or genetically modifying the local inhabitants.
6.1 And it came to pass, when the sons of men had increased, that in those days there were born to them fair and beautiful daughters.

6.2 And the Angels, the sons of Heaven, saw them and desired them. And they said to one another: "Come, let us choose for ourselves wives, from the children of men, and let us beget, for ourselves, children"…

6.6 And they were, in all, two hundred and they came down on Ardis, which is the summit of Mount Hermon. And they called the mountain Hermon because on it they swore and bound one another with curses.
While the Fallen Angels had established an outpost on Mt Hermon, it was Antarctica that they would be removed to ultimately after losing the heavenly battle with the righteous angels, according to Ben-Nun's analysis of the Book of Enoch.

Ben-Nun cites passages from the Book of Enoch which are very suggestive of Antarctica as indeed the location where Enoch was taken to witness celestial events:
18.5 And I saw the winds on the Earth which support the clouds and I saw the paths of the Angels. I saw at the end of the Earth; the firmament of Heaven above.
18.6 And I went towards the south, and it was burning day and night, where there were seven mountains of precious stones, three towards the east and three towards the south.
18.7 And those towards the east were of colored stone, and one was of pearl, and one of healing stone; and those towards the south, of red stone.
18.8 And the middle one reached to Heaven, like the throne of the Lord, of stibium, and the top of the throne was of sapphire.
What's interesting in the above passage is that Enoch refers to a location that "was burning day and night".
Ben-Nun believes that this fits the description of Antarctica during the Southern Hemisphere summer season when there is 24 hour sunlight.
Regarding the seven mountains, this appears to refer to Mt. Vinson in the Sentinel Range of Antarctica, according to Ben-Nun. He also refers to six nearby mountains in the range that might qualify as the mountains described in the Book of Enoch.
Mt Vinson is the highest mountain in Antarctica, and is located towards the middle of the Sentinel Range. It would have stood out just as spectacularly with its snowcapped peaks in ancient times, as it does today.
Regarding the southern and eastern alignment of the six adjacent mountains to Mt Vinson described in the Book of Enoch, Ben-Nun speculates that this was their alignment prior to the catastrophic flood event, which coincided with a shifting of the Earth's axis of rotation.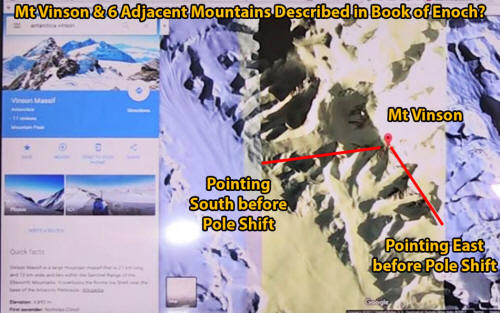 This corresponds to the research conducted by Sir Charles Hapgood who asserts that pole shifts have been a regular occurrence in Earth's history.
In his 1958 book, The Earth's Shifting Crust, Hapgood proposes that a pole shift had happened at the end of the last ice age, about 11,000 BC.
Ben-Nun's conjecture is interesting, but as one can see from the map showing the Sentinel Range where Mt Vinson is situated, there are far more than seven mountains in the range.
Ben-Nun's conjecture is not conclusive as he himself points out.
Nevertheless, he gives us a possible location of the imprisoned Fallen Angels, Mt Vinson and/or six other mountains in the Sentinel Range.
Ben-Nun goes on to discuss the Book of Enoch and its reference to imprisoned Fallen Angels that were removed from Mt Hermon to Antarctica (Mt Vinson/Sentinel Range):
18.14 And like a spirit questioning me, the Angel said: "This is the place of the end of Heaven and Earth; this is the prison for the Stars of Heaven and the Host of Heaven.
18.15 And the stars which roll over the fire, these are the ones which transgressed the command of the Lord, from the beginning of their rising, because they did not come out at their proper times.
18.16 And He was angry with them, and bound them until the time of the consummation of their sin, in the Year of Mystery."
Ben-Nun's reference to the Fallen Angels still being alive in their Antarctica prison raises an intriguing possibility.
The Book of Enoch describes a future "Year of Mystery" when they are liberated.
Is this an event we will shortly witness?

For an answer, we can begin by analyzing some intriguing parallels between Ben-Nun's analysis of the Book of Enoch, and the recent disclosures of secret space program whistleblower Corey Goode concerning Antarctica.
Like the pre-deluvian biblical figure Enoch, Goode says he has also been taken to witness celestial events by a recently arrived group of highly evolved extraterrestrials called the "Sphere Being Alliance".
Like Enoch, Goode has also been asked to act as an intermediary for both sides in a "heavenly" or solar system-wide conflict.
Goode said this began in March 2015 when he accepted the role as the delegate for the Sphere Being Alliance in on-going negotiations between different factions and groups from both Earth and off-world civilizations.

Goode said that he has been taken to Antarctica twice to witness events.
The most recent in January 2017 involved him viewing the remains of a Pre-Adamite civilization that had flourished until a major global catastrophe corresponding with the great flood that destroyed coastal cities and low-lying land all over the world around 12-13 thousand years ago.
Goode said that the Pre-Adamites survived by entering stasis chambers in the largest of three miles long motherships that crash landed on Earth around 60,000 years ago, after the pre-Adamites were expelled from the Moon due to a conflict with the dominant extraterrestrial factions there.
The Pre-Adamites set up their major base of operations in Antarctica, and established outposts in Asia, Europe and the Americas, according to Goode.
Conflict soon emerged between the Pre-Adamites and other human-looking extraterrestrial groups, who had been conducting 22 genetic experiments with surface humanity for nearly 500,000 years.
This is where Goode's historical account resonates with Ben-Nun's analysis of the Book of Enoch.
Goode's Pre-Adamites appear to be the same "Fallen Angels" described in Book of Enoch in terms of their interbreeding and/or genetic experiments with the local human population.
In the case of the Mt Hermon landing of the 200 Fallen Angels, this is consistent with Goode's claim that the Pre-Adamites established colonies all over the Earth where they genetically altered the local humans and installed hybrids into leadership positions.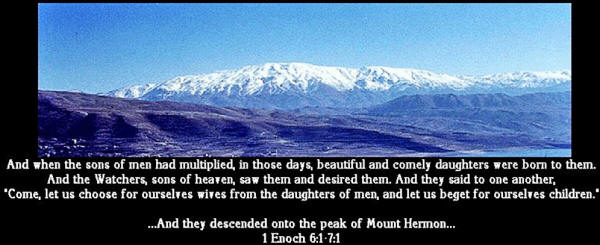 Regarding the Righteous Angels described in the Book of Enoch, these appeared to be the extraterrestrial groups that had been conducting 22 long term genetic experiments which were being interfered with by the Pre-Adamites.
The Sphere Being Alliance, insofar as they have leveled the playing field for constructive negotiations between different space programs and extraterrestrial factions, the modern-day Fallen and Righteous Angels, appear to be playing a similar role to the all knowing Lord mentioned in the Book of Enoch.
Ben-Nun's analysis that the Fallen Angels were imprisoned in Antarctica, and are still alive, corresponds with Goode's claim that the Pre-Adamites are in statis-chambers on one of their massive Motherships buried deep below the Antarctic Ice Shelf.
Finally, Goode has revealed that excavations in Antarctica are underway, and that the stasis chambers containing the pre-Adamites have been found.
The hybrid descendants of the Pre-Adamites, which are among the elite bloodline families that secretly have ruled humanity, are eager to gain access to the stasis chambers and to reawaken their ancient ancestors.
The goal of doing so appears to be to have the Pre-Adamites re-assume once again their former dominance in planetary affairs, thereby allowing their hybrid off-spring to step out of the shadows and directly rule over humanity.
This suggests that the "Year of Mystery" mentioned in the Book of Enoch, when the "Fallen Angels" are liberated, may be very close.
All this leads to an intriguing question.
Is Goode himself a modern-day Enoch being given key roles in witnessing and mediating between different human and extraterrestrial factions as the delegate of the Sphere Being Alliance, which appears to be functionally identical to the all-knowing deity described in the Book of Enoch?
If so, this would suggest that Enoch himself was an extraterrestrial contactee of the Sphere Being Alliance or a similar group, 13,000 years ago.

If the Pre-Adamites/Fallen Angels are awakened/liberated, then there will certainly be a need to deal with them and their hybrid off-spring about what roles they are to play as humanity awakens to the truth of its history, and manipulation by multiple extraterrestrial groups and elite bloodline families.


by Michael Salla
March 01, 2017
from Exopolitics Website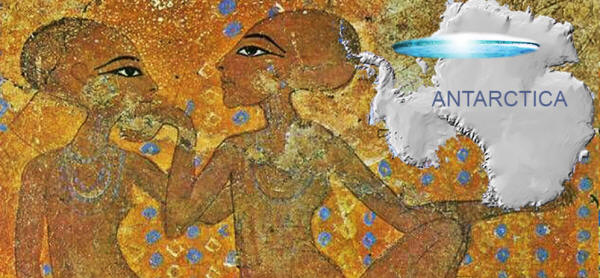 Secret Space Program whistleblower, Corey Goode, has revealed more startling information about Antarctica and its history as an extraterrestrial refugee colony established roughly 60,000 years ago.
He asserts that the alien refugees found advanced "builder race" technologies there that were created over 1.8 billion years ago.
Equally intriguing is his claim that some of the extraterrestrial refugees are still alive today in stasis chambers, located inside 30 mile long motherships buried under 2000 feet of ice below Antarctica's Ross Ice Shelf.
In Goode's February 21, 2017 Cosmic Disclosure TV episode he stated that he continues to receive briefings from a USAF run secret space program about the excavations in Antarctica being conducted by archeologists, which began in 2002.
In an earlier article, it was described what Goode said about the USAF briefings, and what he had encountered during a January 2017 visit to Antarctica with an Inner Earth civilization called the "Anshar".
In the Cosmic Disclosure episode, Goode provides more details and graphic depictions of what he personally witnessed in Antarctica.
He describes the extraterrestrials as "Pre-Adamites", who were originally from Mars and a Super-Earth (Maldek) whose remains now form the Asteroid Belt.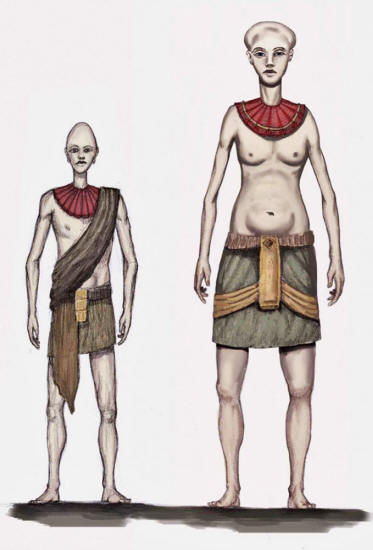 Artist depiction of Pre-Adamites.
Sphere Being Alliance
During their long history, he says that the inhabitants of Mars and Maldek fought a series of high tech wars back when Mars was a moon of Maldek.
Approximately 500,000 years ago, these wars came to a climactic end with Maldek being obliterated.
Maldek's remains hit Mars with such force that the latter's surface cities on one side of the planet were totally destroyed, and most of its atmosphere was lost.
This made life on Mars' surface very precarious at best, and led to planetary evacuation by the Martian survivors. Billions of refugees from both Mars and Maldek found refuge on our present Moon.
However, the time of the catastrophe our Moon was another satellite of Maldek, but it was artificially created with vast living areas in its interior as Goode has previously described.
The Pre-Adamites inhabited the Moon for approximately 440,000 years, and at some point during this period, according to information received by Goode, the Moon was moved into its present orbit around the Earth.
Eventually, another conflict forced the Pre-Adamites to the Moon, and they had to quickly move to the nearby Earth.
They chose Antarctica to rebuild their civilization due in part to the existence of Ancient Builder race technologies, which were still functioning as Goode explained:
Then they [Pre-Adamites] end up on the Moon for a period of time. And then somehow they ended up getting chased off the Moon.
There were some attacks that occurred, and after that they fled, but their craft were too damaged leave our solar system or make it to another planetary sphere.
So since they had to crash-land on Earth, they decided that they would go to this one continent that still had working Ancient Builder Race technology that was… 1.8 billion years old.
The Pre-Adamites only had three motherships to use to establish their new colony on Earth after a crash landing in Antarctica.
It was the technology in these motherships that gave the Pre-Adamites hope that they could rebuild their civilization:
Well, they only had the technology that they had on these three craft with them.
That's all the technology they had. So they had to cannibalize and repurpose that technology from the spacecraft once they had crash-landed. And there were three that were extremely large.
They were motherships.
This is where the interviewer, had some corroborating information to share from another whistleblower, Dr. Pete Peterson, about the size and location of one of the discovered motherships:
And I want to point out, that this was one of the absolutely stunning details in which I start to ask Pete [Peterson] on the phone, "Do you know anything about Antarctica?"
And he independently says,
"They're going to announce that they found a mothership."
He only knew about one – a mothership that was 30 miles wide, mostly circular in shape – that's been found under the ice.
Goode describes the Pre-Adamites who settled Antarctica:
They range 12~14-foot tall. They have elongated skulls. They were very spindly, thin.
This suggests that the Pre-Adamites were likely the prior inhabitants of a lower gravity planet like Mars, which would facilitate gigantism.
After spending over four hundred thousand years on the Moon with its even lower gravity field, the Pre-Adamites may have naturally increased in body height to finally result in their spindly 12-14 foot stature.
On Earth, because of its stronger gravity, the Pre-Adamites would find themselves at a clear disadvantage compared to the native inhabitants in terms of physical strength, speed and stamina.
This meant that in terms of geopolitical power the Pre-Adamites would have to rely on the advanced technologies they had access to, the most advanced of which were located in Antarctica.
The Pre-Adamites soon needed hybrids to act as intermediates between themselves and the rest of the Earth's population.
While the pure blood Pre-Adamites remained in Antarctica, close to their advanced technologies, the hybrid Pre-Adamites would be used to rule over humanity in the different colonies established around the planet, as Goode explained:
They had created hybrids because they could not operate in our environment very well.
And they created hybrids of them and the humans that were here on Earth… all of the main Pre-Adamites that were pure blood were down in Antarctica…
There was a group of these Pre-Adamites, of this Pre-Adamite bloodline, that was in the Central America, South America region, and there was another completely different bloodline group – both royals – in Asia and Europe.
This is consistent with what the Ancient Egyptian historian, Manetho, tells us about pre-dynastic times, the Gods directly ruled over Egypt, and then placed their off-spring, hybrids or demi-gods, in the leadership positions.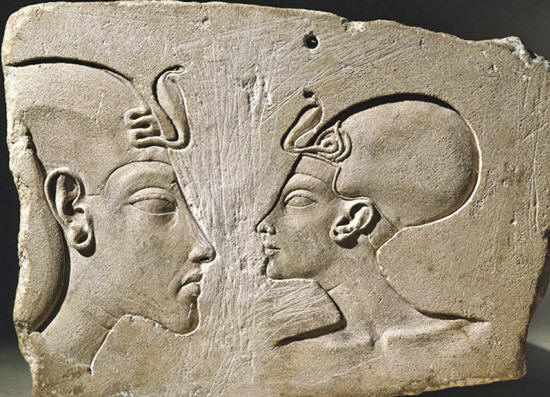 Plaque showing
Pharaoh Akhenaton and Queen Nefertiti
around 1352-1336 BCE
A similar scenario is described in the Sumerian King List, which suggests that these historic documents are not mythical accounts of pre-history, but accurate historical records.
The Pre-Adamites, however, were not the only extraterrestrial race active on Earth 60,000 years ago according to Goode's sources.
He says that among them was a non-human looking race, the Reptilians, who quickly emerged as the Pre-Adamites' primary rival in dominating planetary affairs.
Goode described the conflict between the Pre-Adamites and the Reptilians, and how to begin with, the Pre-Adamites having the upper hand due to their advanced technologies.
However, the Reptilians would slowly gain ascendance after a series of "smaller catastrophes" that were a precursor to an even more destructive geological event that was to come:
Apparently these Pre-Adamites have been in conflicts with the Reptilians for a while.
These Pre-Adamites they stated were not good guys at all, but were in some sort of a conflict with the Reptilians, and had actually kept the Reptilians in check here on the Earth during that time that they had crash-landed here.
There had been a couple other smaller catastrophes that happened where they had lost their power and the Reptilians always find an opportunity to come back in a moment of weakness.
During the major catastrophe (about 13,000 years ago) the Antarctica continent was flash frozen during a sudden pole shift, which cut off the Pre-Adamites' outposts around the world from their main base of power.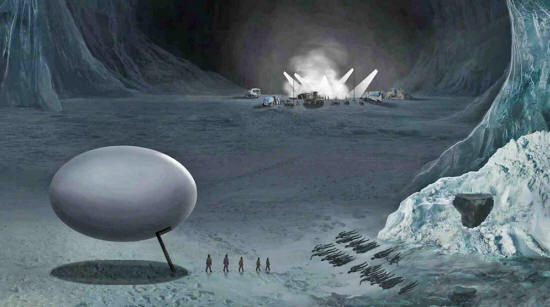 Graphic depiction of
Corey Goode visiting Antarctica excavations
and Pre-Adamite/hybrid bodies.
Sphere Being Alliance
Now the Reptilians would become dominant in planetary affairs:
…But after these cataclysms that occurred on Earth, the Pre-Adamites and the Reptilians sort of had a truce or a treaty.
And after that point, the Reptilians pretty much controlled all of Antarctica and the Pre-Adamites had zero ability to get access to their ancient technology, their libraries.
Everything was down there.
Hybrids of the Pre-Adamites were able to escape the catastrophe in their global outposts, but those of the pure bloodline were stuck in Antarctica in their giant motherships.
This [Pre-Adamite] civilization controlled the entire planet.
What little resources they had, they were able to control the planet. After this last cataclysm occurred, none of the survivors, Pre-Adamite survivors, had access to their technology.
So we mentioned the group that was in Asia, Pre-Adamite group, and there was another one in South America, Central America, they could no longer visit or communicate with each other.
They were separated.
The elongated skulls found in South and Central America trace back to the Pre-Adamite hybrids who ruled over their colonies in these areas:
In South and Central America is where they had set up most of their enclaves. And they had been set up around other Pre-Adamite structures that were now destroyed because of the cataclysm.
There were huge earthquakes that basically liquified the ground and a lot of the buildings, massive buildings, they had just fell apart and fell and sunk into the ground.
They were running the hemisphere. They were mixing their genetics with some of the indigenous people of South and Central America.
That's why we have elongated skulls beings that have a different colored skin but different genetic mix.
The two major Pre-Adamite colonies, one spanning Asia and Europe, while the other encompassed South and Central America, vied with each other in a competition between the bloodlines, which continues today through two major factions of the Illuminati:
And they had always had some sort of a competition between these two bloodline groups even before the cataclysm. This whole bloodline of these Cabal or Illuminati-type people, they trace their bloodlines through these Pre-Adamites.
If we accept that Reptilians are another extraterrestrial group that exercise great influence from behind the scenes, through their own hybrids, then we can see that the Earth's hidden rulers are divided into distinct factions with a long history of conflict stemming from rivalries.
This is perhaps nowhere better exemplified than in the Book of Enoch, which describes different groups of "angels" at war with one another.
In the Cosmic Disclosure interview, Goode says the following on this subject:
Q: So in the Book of Enoch, they're describing this group as the fallen angels.
A: Uh-huh.
Q: So you're saying these Pre-Adamites with the elongated skulls, that that is the fallen angel storyline.
A: It is the fallen angel storyline, yes.
Many of the original refugee Pre-Adamites are currently in stasis in their motherships buried under the Antarctica ice:
Well, they had a number of beings that were in stasis.
The information I received was that the surviving Pre-Adamites, the bloodline that originally came from another planet, had put themselves in stasis before this cataclysm occurred about 12,800 years ago.
They have not awoken them yet. They're trying to decide what they're going to do.
Goode then goes into some detail about the "limited disclosure" plan, which involves sanitizing the archeological site of anything having to do with extraterrestrial life:
Now, another interesting note.
We do have these archaeologists and employees of various universities that are down there excavating and documenting all of this, but what they have done, they being the Cabal, I guess you'll say.
They have used these large electromagnetic submarines that I discussed earlier to take a lot of archaeological items that they had found in other digs that they were keeping suppressed from humanity.
They had them in huge warehouses.
They were taking some of these artifacts down to Antarctica and seeding them. And this one large dig that these archaeologists are going to make public.
They are also removing any body that does not look human. And a lot of the human bodies, they don't look like they were slaves. They have tunics that have gold thread weaved in the tunics.
They look 'royal'…
The next step in this limited disclosure plan, according to Goode, is to slowly reveal in a many decades long process, the existence of secret space programs:
So they're planning on giving us a sanitized disclosure, and then over time they will disclose the Military-Industrial Complex Secret Space Program.
And after they do that, they'll say,
"Oh, by the way, yeah, we've got this fairly advanced Secret Space Program, and while we've been out to other planets, we've found very similar ruins as we've found in Antarctica."
So they're going to try to trickle the information down over decades, and not immediately tell us about the ships they found and the high technology and non-humans.
What Goode has been told and personally witnessed in Antarctica tells us a lot about Antarctica's secret history, and the role of different extraterrestrial groups who established control over this vast icy continent almost double the size of the lower 48 US states.
Goode also leaves us with a profound question to contemplate:
"what happens when the Pre-Adamites are awakened in their stasis chambers and discover our current global civilization is very different to what they may desire?"