Text
CHAPTER 9:  THE SCIENCE OF MIND MANIPULATION BY PSYCHOLOGICAL PROGRAMMING METHODS: BEHAVIOR MODIFICATION, PSYCHOLOGICAL MOTIVATION & NLP
[back]
"STRIPPED" OF FEELINGS
PROGRAMMING TO HIDE REVEALING DREAMS
PROGRAMMING LANGUAGE
EFFECTS OF PROGRAMMING
FALSE IMPLANTED MEMORIES
PERCEPTION CLOUDS MEMORY
A person's "selfhood" is hard to define, but one could view it as the central important center of consciousness to which the person has placed both trust and purpose. A professor of Pastoral Counselling defined the self as "the purposive core I have learned to trust in myself and others." Although this author prefers his own wording as written above, the definition of "selfhood" by this professor of pastors is in agreement with this author's. A mature person is a person who has developed a "selfhood", a sense of self, that is able to make creative choices in line with values and plans for his or her life. By the destruction of the "selfhood" of many of the alters, the programmers derail the ability of the slave to make creative choices in line with values and plans. Not only do they destroy the sense of identity but they also destroy the development of values.
When a normal person grows up, the values, that an individual adopts, will enable that person to integrate his or her many actions into a cohesive unified agenda for living their life. What happens when a person is not able to adopt their own values, but is force fed values? What happens when the person does not even adopt any values, except to acquiesce to the brutal demands of a mind-control handler? The natural process for developing a unified agenda for life is cut short. The thinking of mankind is predicated on socialization with other humans. It is natural for people to want to work and be around other humans. The family, neighbourhood, city and nation all give an individual nurturing that fosters a sense of identity and values. What happens if an individual is cut off from society and most of humanity, in fact is even cut off from most of their own mind and will?
What typically happens in this situation is that the individual becomes demoralized, feels dehumanized, and as a person is enfeebled to deal with life. What happens when a person is not allowed to chose values freely, and allowed to give consideration to various alternatives and the consequences for these choices? It means that the person is not going to be happy with the choices they make, but will go through the motions of life in a rather dissociated manner. What happens when a person feels powerless? Feelings of powerlessness, can lead to feelings of meaningless. And meaningless makes an individual feel trapped by life. The meaninglessness imprisons a person. The person no longer has the freedom to make choices, and without choices has no real values, and without values life becomes meaningless.
The above situations are standard results of the total mind-control programming agenda. The person's natural built-in abilities to plan their life is short circuited. The person is demoralized and feels incomplete as a human because of his or her's lack of connectedness to their fellow humans, and as a result allows his or herself to be dependent upon the master. Because they are forced to do actions without any values, they dissociate their actions from feelings. Finally, they feel trapped because they have no values to give life meaning. A sexual slave will be forced to have sex. They are not allowed to have a value system, or else they would pick and choose who they wanted to have sex with. The result is that they feel dehumanized and they dissociate feelings from their actions. Without values, life feels like one big trap, with no purpose and no goals. The only purpose the slave has is to survive the brutality of its master, that is to stay alive.
Some slaves give up along the way, and are discarded as unsuccessful attempts by the Illuminati. The programming agenda prevents the natural God-given gift for mankind to make their own choices. As explained above, this in itself reinforces several items that the programmers have been intentionally creating such as dehumanization, isolation, dependence, and dissociation. It is built into human thinking to enjoy a sense of accomplishment. This happens when a person perceives his or her life as meaningful. The perception that his or her life is meaningful results in the person feeling power. Powerlessness and meaninglessness are two items that are related to each other when we understand human thinking. A normal child in a normal environment will naturally learn when to trust itself and when to trust others. This is important to the development of values. This is important for a person to become mature. The programmers short circuit this natural learning process.
The front alters continue learning who to trust and who not to trust, and when to trust oneself, because they hold the body from day to day. However, a special purpose child alter doesn't experience this. Without learning how to trust, it becomes hard to make decisions by one's self, and so the victim of mind-control transfers the right to make his or her choices to the programmer. By arresting the natural process of learning trust, the programmers detour the mind, so that it travels right where they want the mind to be.
Normally, a child would grow up, and as it grew up would realize that not everyone can be trusted. He would also come to realize that even his own self at times can not be trusted. Yet, the child would also learn that there are times that people can be trusted. This maturation of awareness moves a person from being dependent toward being independent. The programmed slave is afraid of seeking true love, and to find authentic relationships with people. Without these things, they remain incomplete and more pliable to the control of the master, who then attempts to provide in some substitute manner some of the things the slave should have developed for himself.
Many of the slave's deeper alters do not have the capacity to creatively look forward to the future, with the understanding that they can create their own life, their own future. The process of maturation that would have given that ability to them has been prevented from taking place. If these deeper alters do not experience life outside of their programmed trance states, they will have no chance to mature and to realize that they are capable to design and create their own future. Rather, the slave endures life with anxiety and dissociation, and limits his mental horizons to the present. The big reference point the slave has is to their master and his commands.
Many of the slave's alters are limited in their freedom to really have consciousness. Their thinking is below the definitions of conscious behavior–it is simply programmed behavior. Our consciousness has a big role in how we perceive the world. How we perceive the world in turn determines our values. The programmers can disrupt the process of a slave obtaining values in life, by disrupting the consciousness. Values in life are important in determining how we build our world-view, our frames of reference. The programmer constructs various worlds for most of the alters (except for the front alters). These alters are never given the chance for what psychologists would label "conscious behavior". Reality is not part of the package. Choice is not part of the package.
In normal life, conscious behavior is developed by interaction between a person and his environment and the freedom to make real choices. The bare necessities are grudgingly provided in a haphazard way to the alters of a total mind-controlled slave, so that IF they are aware of their needs, it is at a very basic level, such as survival, and security and warmth. A fully conscious individual has gone way beyond that to realizing his or her's needs for creativity, intimacy, community, justice, integrity, and spiritual fulfilment.
The challenge for the slave master will be to balance the freedom of activity and maturity of the front part of the slave's alters, with the control that the slave master needs to accomplish his nefarious goals. It is safer to bring a slave up to have a world view dependent on others that lends itself to the owner's agenda such as witchcraft values & a witchcraft world-view, or a Mormon/ or Jehovah's Witness/or Catholic world-view of obedience to the church, THAN to have the slave's front alters becoming independent self-directed mature thinkers.
It doesn't matter whether the person's front alters are Jehovah's Witnesses, Mormon or Catholic, they have surrendered their personal sense of power and control to institutional control. The victim ceases to do things because of personal choice, but accepts institutional values as a cog in a machine; and the person, whether they realize it or not, loses meaning in their life. Personal choice, value and meaning in life are all related. Because man is made in the image of God, he has an inherent desire to have meaning to his life. Mankind also has a desire to be in unity with his environment. This is also a God-given desire. To make himself feel at home in this world, man spends much of his activity taming and domesticating the wild world to conform to what feels comfortable. What happens when this is stripped from a person?
In order to provide substitute answers to these desires of the slave, the Illuminati's covens provide rituals. Rituals make the slave feel that some order is being brought out of the chaos and nonsense of life. But true meaning in life can only come from realizing the goals of our actual Creator, Almighty God. Substitutes for this, leave people unfulfilled and weak. Of course, the unfulfilled weak sense of meaning in life of the Illuminati members, can weaken some in their ability to realize their true spiritual potential. It becomes a vicious cycle of low base evil goals. Who will provide the safety for the deeper alters to move out independently in life? and then further, who will teach the deeper alters the social skills, and the other skills to step out and grow? Even if the complex programming should break its death-grip on an alter, (which seldom happens) an alter can not find freedom without some outside support system providing safety and instruction. The bondage that most deeper alters remain fixed in, is a very complex bondage of body, mind, and spirit. This complex bondage calls for group package answers, that address the type of issues that have been raised on these last two pages. The lack of this type of answer insures that few slaves will find full freedom. Partial freedom is still slavery.
On the flip side, because deeper alters have not had a chance to develop their own values, make their own choices, and experience reality, the power of the programs will be diluted simply by real life. This occurs even in the absence of intense deprogramming. One of the weaknesses of the programming is that the handlers often fail to allow alters to ever establish real personal values. Hand-me-down values that are accepted under duress or torture, are quickly discarded if the alters ever do get free.
Illuminati slaves who accept the values of the Illuminati, and progress to positions of power can be resistant to freedom, because they have internalized for themselves a value system, have some feelings of self-worth and self-competence. The Illuminati have long understood the value in having their members progress through the levels of initiation, and to pass through tests that bestow a sense of achievement upon the slave. When the Illuminati in Bavaria had their safe houses raided, their paperwork showed extensive disciple and training programs. At first glance, raising an initiate through an initiate degree system of training may not smack of mind-control, but it is like an anchor that ties in the mind-control. It is important for the Illuminati to attach an occult value system to the mind-control so that the slave is more resistant to wanting freedom, because their self-worth and identity are tied up with the Illuminati.
Another side-effect of the total mind-control is that the deeper alters of a victim, and indeed often even the front alters are unsuccessful in morally meaningful relationships such as love and friendship. The reader may be wondering, what does Fritz mean by "morally meaningful"? Allow me to take several paragraphs to explain … Has the reader ever tried to recall a name which you knew, but your mind seems blocked? And yet, when someone offers this name or that name, you realize that it doesn't have the correct feel, the correct rhythm, the correct beginning. Your mind can recognize what it is looking for on a subconscious level, but you are not pulling the name up to the conscious. Your mind can look for things on a subconscious level and identify what it is looking for, without consciously telling you.
Has the reader ever loved someone for many years? If you have, you know that you didn't consciously think of them and your love for them every second of the day. Grief or love or another strong emotion can lay in our subconscious mind and yet still influence our thinking. It is not a matter of us turning this love on. It simply is there quietly in the background exerting its influence on our mind.
Grief, love, anger, and other strong emotions are similar to when our mind is seeking for a name subconsciously. These emotions seek out the appropriate scenes, and items in the surrounding area, and colors and sounds that go with the emotion that the subconscious mind feels. A blue person will notice "blue, sad" type things around them. Other things just don't fit the subconscious fill in the blank. In other words, our emotions determine our perspective on what we see in life. Our emotional perspective guides what items our mind focuses on. This is why it is absolutely imperative for balanced human growth that a person feel compassion, love and sympathy directed toward oneself.
Feeling loved in turn opens the mind to focus its emotional-perception-guidance system on compassion, love and sympathy. In contrast with most people, many parts of total mind-controlled slaves are never meant to have feelings, or if the parts do, they repressed, suppress, and dissociate their feelings. Our emotions play a fundamental role in a person's moral life. They transform values into actions. This is what is called strength of will, courage of convictions, etc. Emotions play a critical role in strength of will and courage of convictions.
To be stripped of feeling emotions, strips the victim of one of the ingredients to make and carry out moral choices. This helps explain why emotions are harnessed so completely by the programmers. When researchers have studied unemotional people, they find that their dealings with others are shallow, lifeless, and mechanical. The programmers want their programmed assassins, espionage agents, prostitutes, etc. to be mechanical. People rarely want to form friendships with unemotional persons. Of course, the parts that are created to interface with the public are programmed to be effacious, gracious, and to sparkle. But the deeper parts which influence the victim's own internal thoughts, which the victim wisely keeps to himself, fail to connect with the outside world emotionally.
Having been stripped of emotions, the slave is consequently stripped of one of the most important ingredients involved in morality. An unemotional or emotionally deficient person or alter may suffer from a particular kind of a "morally-weak will". This is because failure to do what a person believes is good and failure to restrain from doing what one believes is bad is a natural consequence of lacking emotions such as care, concern, compassion, courage, love and sympathy. Certain emotions are critical for doing and being moved to do what is right and in not doing what one knows is bad.
Friendships are one of the most valuable commodities a person can have. The victim is stripped of external friendships. They may substitute interactions within their own internal world as a way to substitute for this loss. In normal human activity, two people in love intertwine the activities of their lives into the complex whole of their love relationship. A walk together is not seen as a walk, but as a joint expression of their relationship.
Humans emotionally value what is good for their friends and lovers. Without emotional attachments, the relationship is only a facade. The victims of mind-control are taught how to create great facades. Unfortunately, they fool many of their therapists, and therefore don't step out of the make-believe roles they play out.
Human love and friendship is one of the most vital, powerful, fundamentally good items of human behaviour. They provide the foundation for many other things. Without love and friendship, the victim's alters live in isolation, alienation, abandonment, discontinuity, and purposelessness. Cisco's half of the book will discuss some specific programming tactics that are used to hide the "shadow" alters that are used to take any emotions that the principally used alters might develop. What we have been covering is that one of the side effects of "stripping" the victims from feeling emotions is to cripple them from taking moral stands, from seeing love & concern in the world around them, and from reaching out & forming ties to the outside world.
PROGRAMMING TO HIDE REVEALING DREAMS
The programmers realize that the mind is able to reveal secrets via dreams. During the programming a Mother-of-darkness will be assigned to a child and she will have to wake that child up when it is in its deepest sleep to ask the child what's happening and if the child is dreaming. If dreams are surfacing, the programmers know their programming is not holding.
When the child's mind which is being programmed no longer releases revealing dreams, the programmers know that their programming is holding. The front alters receive repeated programming (hypnotic commands, etc.) not to dream or to know their dreams. When the programming begins to collapse, the deeper alters will begin to dream and flood with memories. The slave must have their dream sealing programs reinstated approx. every three years. If this is not done, dreams (which are actually memories) will begin to surface. A therapist can also help the victim train their mind to remember their dreams (dream state of mind).
A skilful programmer can use language to communicate at several levels. The programmer can use derogatory tones, big words that the child doesn't understand and obscure language that confuses the child in order to humiliate, dominate and confuse the child. He can also pronounce the words with a twist in order to protect the programming. Have you ever met someone in the occult world who pronounces many of his words strange? The programmers are also big on play on words which are done intentionally to protect the programming. The victims of the occult programming must deal with symbology. Those who attempt to understand programming must also deal with the world of symbology.
The programmer must learn to think like a child and to step into the child's world. Likewise, the deprogrammer must learn to step into the victim's world. Certainly, the deprogrammer wants to stay grounded in reality, but he also wants to be able to understand the world that the victim must live in. The deeper parts of the victim lives in a magical world, full of demons and powers from other dimensions. When the Illuminati carry out programming, they often frame what they are doing in magical and satanic terms.
Most therapists do not want to step into the victim's world to communicate with them. Just as the psychologists want this author to step into the psychologists' world to communicate with them, the psychologist should realize that the victim would like the same. It is irrelevant whether the therapist believes that objects can be demonized or not. The deeper alters have spent their life-time learning how demons attach themselves to objects, and how to gain power to cause demons to attach themselves to objects. A deeper alter may have the occult wisdom to place demons into a fluid so that that fluid can be drank by a child. From their understanding of demonology, these demons are so powerful that the only non-lethal entry for them into the child is by the child drinking a particular fluid. These images are the images that deeper alters experience during the programming rituals. The language & images of the programming will be very magical, mystical and satanic.
The mind is a holographic type of memory. The psyche of the multiple personality is a multiple image hologram. The body is set up to match the mind. When one alter switches to another, another hologram seems to take control over the mind. This is like the instructions for the body are written on a card, and when the switch occurs, the holographic cards are shuffled like a deck of cards. In fact, the programming have used this analogy as part of their programming codes.
Once the truth about trauma-based mind-control began coming out, a massive counterattack by the controlled establishment occurred. This counter attack was that you can not trust the memories of the victims. Numerous establishment articles call attention to memory research, especially memory research into how to implant an illusory memory.
Two examples of this massive counterattack are Bruce Bower's article in Science News, 8/24/96, pp. 126-127 entitled "Remembrance of Things False Scientists incite illusory memories and explore their implications".& Harvard psychologist Daniel L. Schacter's book Searching for Memory (1996).
First, these countless articles prove that the controlled psychiatric research community is working hard at developing techniques to implant false memories. This is indeed a big part of the mind-control, producing cover memories and false identities and false histories for alters. However, these articles always ignore the enormous evidence of severe abuse and government/cult involvement in the lives of countless victims of mind-control. This author has seen first hand the Illuminati-satanic cult-CIA involvement in the lives of a number of these people. The events of these people's lives, which this author has often witnessed, can't be explained away by poor memory. Further, traumas that are so severe as to cause amnesia walls, are locked up by the mind and preserved. They are like a mummy in a tomb in Egypt, that is still locked up in its preserved state. Memories that aren't locked up can deteriate and be contaminated, just like a dead body that is left to rot, but programming traumas are not in that category of memory. Remember, the mind protect itself. Research shows that the mind does not want to latch onto false memories that hurt it. For instance, when researchers try to get subjects to remember a kind parent hurting them, the mind will resist the false memory.
The brain in order to be efficient uses its framework of knowledge–its world view–in which to hang new incoming knowledge. This author's Be Wise As Serpents book considered this to be the biggest barrier to people coming to the truth. Because education, television and society in general control how people's framework of knowledge is built, and these frameworks are built skilfully to exclude major truths that would expose how the World Order is controlling mankind, it is really difficult to speak to people about mind-control, and the control of the world in general.
The victim of mind-control has frameworks built into his subconscious that make it difficult to drive the truth into their thinking. Memories are stored as they relate to these frameworks. An efficient way around that is to speak and teach in way that the subconscious mind is spoken to, and the conscious barriers are by-passed. The mind puts up a grid to prevent non-approved information from coming in that doesn't fit it's accepted concept of truth. Much of this grid is fear based. The problem for the victim is that once their mind is bent a certain way by the programmers, it will naturally create a grid to protect the programmed world-view.
This is why the external philosophies-news broadcasts-disinformation from establishment magazines, etc. that are layered in on top of programming, (see Chapter 12) are like a protective coat sprayed on to make sure the foundation doesn't weather over time. For instance, the front alters of some of the most severely tortured victims have latched onto the idea that Satanic Ritual Abuse doesn't exist, and are actually some of the greatest public crusaders against people believing that SRA exists. The external politically-correct view is in this case protecting the deeper programming.
FALSE FEELINGS. Using drugs & hypnosis, and the creation story about God breathing things into existence, the "love" & "kindness" of the programmer is placed into Moriah the Wind. When this is done, should a gatekeeper alter hear something negative about their master, they instantly go into the melting (drug memory) where drugs made them feel one with their programmer. This is refrained during programming as "the peace of God."
ELDETIC IMAGERY. There is a type of visual imagery called eidetic imagery. 5 to 10 % of children have it, but it is very rare in adults. Eidetic imagery is similar to a photographic memory. People with eidetic imagery can look at any object or page of numbers and when they look away the image of what they have seen is as clear as a photograph. They can focus on any detail of the image, enlarge it, make out more details than what they had originally seen, and then they can carry this image with them for several days, just like the rest of us carry a photograph. This author has not seen much info on this, & believes that further research into this topic might reveal some more methods that the mind-control programmers are utilizing. Child-hood impressions & memories can have a far greater impact and retention than adult memories. This paragraph has only introduced this subject of eidetic imagery & childhood vs adult memory ability.
FINAL SUMMATION. The programming regimen destroys the victims sense of self, so that the person has only an identity within the cult. The victim can not express rage over their own victimization, but is encouraged by the Illuminati's satanic beliefs to express violence & rage toward others, thereby creating a mechanism to help perpetuate the mind-control. The rage also seeps out as self-punishment. A deep loneliness sets into victims, & they despair of hope. They see no place to turn to except to whatever cult is controlling them. This chapter has focused on the type of skills & knowledge psychologists study, & how this knowledge can be applied to insuring compliance by the slave.
p_9-2.jpg
[back]
CHAPTER 10: THE 10th SCIENCE — USING SPIRITUAL THINGS TO CONTROL A PERSON.
[back]
What makes a programmed multiple tick? This chapter will provide some of the most important answers to that question. In this chapter, you will be provided with important brand-new information.
CONTENTS
PART A. Intro on the importance of spiritual programming tactics.
PART C. The 3 foundations: Loss of identity, Fear, and Demons
PART D. A complete Chronology of how the victim experiences the early spiritual programming. Steps a through o. (by Cisco)
PART A. INTRO on the IMPORTANCE of SPIRITUAL PROGRAMMING TACTICS
It is important for therapists and ministers to understand the spiritual ramifications of what has been done. The witchcraft, spells, and demonology is a way of life for the deeper alters. The programming and the hypnotic trances are deeply embedded into the ritual life of the deeper alters of a mind-controlled slave. An enormous amount of suffering has transpired because therapists have dealt with obvious spiritual problems with psychological techniques that aren't even remotely related to the real problem. Secular therapists can be quick to offer glib criticism of the subject of demonology, a subject they often know nothing about. (While Christians generally acknowledge that mankind is in a spiritual war (cf. 2 COR 10:3-5), they too are generally ignorant of Satan's devices, and are not skilled in dealing with spiritual attacks from the world, flesh and the demons.) An analogy for demonology is microbiology. Many people never see a virus, and many people never see demons. Some people still debate whether the germ theory of disease is correct. There will certainly be differences of opinion about demonology–anything said about it is bound to find someone who disagrees. But just like it has been useful for many sick people's health to deal with viruses, victims of Illuminati mind-control have found it helpful to deal with demons. Demonology can be a useful subject for understanding programming from both a programmer's point of view and a deprogrammer's point of view. If this information is useful, then it will have served a purpose. Men of God, who have found themselves in remote places (where trauma-based mind-control is not practiced), have found themselves confronted by obvious cases of demon possession that have been successfully handled by deliverance prayer. This author has personally witnessed many people who have had wonderful healings due to deliverances. I rejoice in their freedom. I pray that others who portray themselves as therapists would come to the same place that they could appreciate healings even though they do not recognize the spiritual dimension of human life, or even better yet, that they would recognize the spiritual side of humankind. In Asia, it was common for this author to see flies swarm over people and food. Demons swarm around people in that type of abundance. This is why the title Lord of the Flies (Beelzebub) is the name of a chief demon, and is sometimes used as another name for Satan himself.
Page 252 …
Part B. The History of the Programmed Golem
KABBALISTIC BLACK MAGIC
A number of the Illuminati bloodlines (and sects) that are involved in trauma-based total mind-control are Askenazi hasidic bloodlines. Legends abound from the 15th century onward about how the Askenazi hasidic leaders created golem to serve them. These golem have been called "benevolent robots". For those readers who are unaware of where the word golem came from, it is used once in the Word of God in Ps 139:16, "Your eyes [God's eyes] saw my substance, being yet unformed. And in Your book they were written, the days fashioned for me." This is believed by the Kabballists to refer to Adam when he was only a body without a soul. Golem are believed to be soulless bodies. One can almost hear the rationalization in medieval times when torture, and black magic or a trance state ended up creating an alter personality that this magical part was viewed as soulless, because it was only created via magic. This personality (alter) didn't exist like real people, it was merely a golem in the magicians' eyes–therefore it could be abused or used as a robot, because it was soulless. The use of Cabalistic black magic in mainline Illuminati programming in the deeper aspects has led this author to believe that during the torture of jews in the concentration camps–Dr. Mengele was assisted by some Askenazi hasidic black magic adepts who gave him some of the secret names of God. The Cabalistic magic viewpoint is that there are creative powers intrinsic in God's names. God's names are used by the Illuminati for such alters as the gems (jewels) from which other alters are created. For instance the gems will be tortured while Cabalistic black magic is employed to create more parts. In such deeper aspects of programming, what occurs? Have the Illuminati programmers created new parts via psychologic torture techniques, have they created them with black magic or both? One thing is sure, if the "golem's mind"–that is that if parts of the victim subjected to trauma-based mind-control remember what occurred, then it will be associated with a Cabalistic black magic ritual. There are several other features of Cabalistic black magic that are important features of Illuminati programming. Many things pertaining to the mind-control have slipped out into public view at one time or another but are not recognized as having anything to do with programming. The European Jew Joseph Achron wrote the musical Golem Suite (1932) for an orchestra. The first piece of music introduces the golem and the last piece of music is the exact reverse mirror image of the first piece and it represents the disintegration of the golem. In programming, the deeper alters may have a musical cord to call them up, and the reverse of that cord will "disintegrate" them back into the mind. The following excerpts are taken from Gershom Scholem's book Kabbalah. (NY: Keter Pub. House Jerusalem, 1974.) "General summaries of Kabbalistic doctrine rarely referred to its 'practical' side [which Scholem go on to explain is black magic dealing with demons and blood]…" Of course not, the practical side of the Kabbala is occult–secret knowledge. It is the secrets of black magic. "Various ideas and practices connected with the concept of the golem [mind-controlled slave] also took their place in practical Kabbalah through a combination of features drawn from the Sefer Yezirah and a number of magical traditions." (Kabbala, p. 183) The practical side of the Kabbala which was concerned with creating golem employed trances, magic and visualization. Scholem writes, "In this circle the Sefer Yezirah was nearly always interpreted in the manner of Saadiah and Shabbetai Donnolo [who was into what is known as Satanism], with an added tendency to see the book as a guide for both mystics and adepts of magic. The study of the
Page 253 …
book was considered successful when the mystic attained the vision of the golem, which was connected with a specific ritual of a remarkable ecstatic [altered state] character." (ibid., p.40) Two other points should be made showing the connection between medieval ashkenzim black magic practices and the programming going on today. The medieval jewish magicians would use the secret Kabbalistic names of God in accordance with detailed sets of instructions to try and create a golem. The golem in turn would say the combination of hebrew letters in reverse order. This has been done in modern programming.
Further, the "Seal of the Holy One" in medieval times was written on the forehead of the golem. This is the word "emet". At some point the word's first letter (an aleph) is erased and this leaves the word "met" which in Hebrew means "dead". Such types of sealings have also been done in modern times with deeper parts of slaves.
PART C. The 3 foundations: Loss of identity, Fear, and Demons
The programming has three basic foundations, fear, rejection of God (which entails the rejection of who they are), and the entrapment by demonic possession. If the person is paralyzed in fear, unable to seek God's help, unable to know who they are in Christ & to see God's plan for their life, and lives in bondage to demons, then the Illuminati programming will hold. The Word of God states that each person is intricately designed by God and developed according to His plan (Ps. 139:14-16). A person's self-image of who they are profoundly affects everything else about them. The Illuminati want to insure that the potential for good that the person is born with is destroyed or controlled. They want the victim to feel rejected and cheated by God. This is what Colossians 2:8 warns about, & then the next Bible verse states, "…for in Him dwelleth all the fullness of the Godhead bodily. And you are complete in Him…" If the slave could ever be complete through their devotion to God, they would have no use for their Illuminati masters. The Scriptures in several Psalms teach that God made us in accordance with His plans for our lives. Even today He is not finished with us. "We are (present continuous action verb) His workmanship…" Eph. 2:10 A 124 pg. secret CIA book Manual on Human Resources, 1983, (recently declassified via the Freedom of Information Act) states, "When a threat is used, it should always be implied that the subject himself is to blame by using words such as, "You leave me no other choice but to…" He should never be told to comply "or else!"… The threat of coercion usually weakens or destroys resistance more effectively than coercion itself. For example, the threat to inflict pain can trigger fears more damaging than the immediate sensation of pain."
UNDERSTANDING THE RELATIONSHIP BETWEEN FEAR & DEMONS
Dr. W. Grey Walter, of the British Burden Neurological Institute at Bristol, England did a lot of research involving drugs, electroshock and demonology. Walter would drill from 50 to 100 holes in his patients heads and then insert electrodes into their heads. The patients would walk around with a beret-like covering over their electrode implanted heads. The suborbital area of the brain was determined by Walter as being the seat of demonic fears. Walter would cause a small lesion in the paracingulate region to calm patients who saw demons. This in effect is like a miniature lobotomy. The electricity causes a selective lesion. What his work showed was that there is a connection between the area of the brain that creates fear, and images of demons that people see.
The Word of God in 2 TIM 1:7 states categorically that "God hath not given us the spirit of fear; but of power, and of love, and of
Page 254 …
a sound mind." This means that the Spirit of fear comes from the Satan and his world system. The Spirit of fear is demonic, and it has the power to paralyze its victim. This Spirit of Fear is nothing less than a demonic anointing. That demonic anointing drives away positive angelic spirits. Christ asked, "Why are ye so fearful? How is it that ye have no faith?" The demonic anointing of fear meant that faith was lacking. If we listen to the Word of God, we get faith. (ROM 10:17). This is why it is important to the programmers that their deeper alters are programmed not to be able to read or hear the Word of God (Holy Bible). If the victim could hear the Word of God, they would receive faith, which would tamper with the demonic anointing of fear. On a spiritual level, our fears are open doors for Satan to carry out an act. It is a vicious bondage loop, because then the victim says, "I knew it was going to happen, I knew from the beginning." Little does the victim realize that the Spirit of Fear within them, opened the door for Satan to carry out his will in that area. In fact, it is standard procedure within the secret societies and intelligence agencies to identify what fears their opposition have, and then build upon those fears. It does no good to spread disinformation about things that the enemy is not fearful of. But if a fear is identified, they will play upon that as much as possible. In Howard, Michael, Strategic Deception in the Second World War. Vol. 5 of British Intelligence in the Second World War. W.W. Norton & Co.: NY, 1995, p.33-34, "One of the first rules of deception is to play on the real fears,…" Onpage 4 1-42 Howard quotes a British intelligence directive, "It may be taken as a principle of strategic deception that it is neither economical in time nor productive in results to attempt to produce in the enemy anxiety over an area concerned with which the enemy himself has had no previous fear…Knowledge of the trend of enemy anxiety was therefore of very great value…On the foundation of fear, and having regard both to inherent plausibility and to contact identifications which the enemy was likely to have made, it was possible to build up a fictitious and misleading structure and to represent Allied capabilities and intentions as very different from what they really were." In this author's previous writings, the connection between demonology and military tactics in general and specifically British intelligence have been closely documented. Military structures are based upon demon structures. It is no surprise then, that demons and intelligence groups study to determine what a person's fears are. And it is no wonder that they attempt to instill as many fears as possible into the victim.
DEMON POSSESSION & SPIRIT GUARDS
Christians are called upon to guard what was spiritually entrusted to them by the using the Holy Spirit (2 TIM 1:14). The Illuminati do a mirror image of this, by layering in spirits (evil ones) to guard things in the system. For instance, in the VoL 2 book, the programming parallels to the movie Labyrinth were discussed in chapter 5. It was mentioned how the dogs portrayed guardians. Demons named Toto are layered in to protect the spinner kittens. If one were to try to activate the spinner kittens without going through the proper chain of command & codes, the guardian demons known as Totos, or after Dorothy's Toto will be activated. The spinner's in fact are often called "Dorothys". Some other examples of guardians spirits that are placed into a system are Bes, the spirit that rules the dwarfs; Geb, the voice behind the earth God in a system; Pan, who has various roles, including being a protector of the green wood; and Shu, which is the voice "behind the wind" which controls the internal weather within a alter system's world. The foundations of a system are the demons layered in at the beginning. Spirits of Confusion, Despair, Torment are called down by the programmers and laid in. Lying and Perverse Spirits are brought in too. At first this may seem like very subjective sci-fi to the
Page 254 …
reader. Hopefully, after the programming rituals are described in detail, and a basic foundation concerning what demons are is laid, the reader will have received a more systematic understanding of the topic. The goal is teach the reader programming as a programmer would understand it. The victim should not be made ashamed of demonic attachments. That serves no spiritual benefit for the victim, and only contributes more guilt and shame, and adds to the problem of giving them hope. The victim has been a helpless victim. "Mystery" demons (which is not their actual name) are placed into the child when they are innocent babies. Part of the power of the mystery demons, is that they are able to remain anonymous within their host's body. They remain in the host secretly generally for the person's lifetime. These mystery demons have to answer to their chain of command. Within a victim's alter parts, are demons which have their own ranks and commanders. Christians who carry out deliverances will deal those commanders. The Catholic Church, which has been so active in trauma-based mind-control and in placing in the Spirits of Legion into a victim, had one of their clergy write, "Evil is Someone, Someone who is multiple and who name is legion…" (Mauriac, Francois. Life of St. Margaret of Cortona.) The Catholic Church's official public stance is that Demon possession is rare. On Aug. 15, 1972, Pope Paul VI put out a motu proprio which abolished the order of exorcist. This office had already become rather rare, and besides included men who were mind-control programmers. Cases of "demonic possession" of catholics are occasionally taken to places like Georgetown Hospital in Wash. D.C. which is run by Jesuits working in tandem with the CIA. Accounts of exorcisms of Catholics are filled with clues that the victims of "demonic possession" are victims also of trauma-based occult-based mindcontrol.
This writer, trying to explain a difficult subject (demonology), feels fortunate to be able to recommend a book which does a good job of explaining it, this is Howard 0. Pittman's book Demons. (Foxworth, MS: Philadelphian Pub. House, c. 1988). I originally read the book in 1992, and have had it recommended by those who work in the area of demonology. The book is written by a devout Christian who worked 28 years in the field of law enforcement during his life. The book explains such things as: how man is made in the image of God (and as such is a clone' so to speak of God;) How demon possession has come about due to man's sovereign will allowing it; & How demons can interact with the physical world. He explains how Satan despatches orders from his throne which go through a chain of command, and how special emphasis is placed on Christians. He explains the forms of demons, their expertise, how they can read minds, and how they have no love for their master, and no love for themselves. Nor does their master have any love for them. (I, Fritz Springmeier, your author have discovered in talking to people for years, that it is essential for people to grasp that the mind of Satan is devoid of love, and that where love doesn't seek its own, Satan's mind always has his own interest in both mind & action. Everything in his world system is functioning for a goal of his, they are not random events, because he is a control-freak.) Pittman describes warring demons–which look like giant humans and are the cream of Satan's crop.' These warring demons are assigned to formulate wars upon the earth. While Pittman is a spirit-led Christian, it is interesting that a non-Christian historian/author William Bramley, (of the Gods of Eden), who believes that the "aliens" were viewed as angels, has found traces of proof that the aliens (angels) were involved in the creation of wars down through the history of mankind. "Now the Spirit speaketh expressly, that in the latter times some shall depart from the
Page 256 …
faith, giving heed to seducing spirits and doctrines of devils; Speaking lies in hypocrisy; having their conscience seared with a hot iron;" 1 TIM 4:1-2. Pittman writes about 1 TIM 4:1-2, "In this passage of scripture, we are told that in the last days the devils would have their own doctrine. We know that if the Bible tells us that devils would have their own doctrines, then, most assuredly the Bible would tell us what these doctrines would be. Evidence of what the devils will be teaching is found in the following passage of scripture: 'But he knowing their thoughts, said unto them, Every kingdom divided against itself is brought to desolation; and a house divided against a house falleth. If Satan also be divided against himself, how shall his kingdom stand? Because ye say that I cast out devils through Beelzebub.' (Luke 11:17-18) From this very scripture, it is clear what the devils will be teaching as doctrine. They will be teaching that THERE ARE NO SUCH BEINGS AS DEMONS! Where are these demons teaching their doctrine? They are teaching it in the churches to the Christians! They are teaching their doctrine to the very ones who have the potential to believe that these demons are real and can expose these beings. If Satan did try to reveal himself and his helpers, then his house would be divided." Pittman warns, "From congregation to congregation, from one church to another church throughout all this land, we find preacher after preacher playing down the existence of demons and even the existence of Satan! Then, there are others who, when they admit that Satan and his demons are real, deemphasize their importance and capability. Not only are local ministers doing this, but many Christian authors are doing this through their books…The false doctrines of devils are intended to enhance the anonymity of Satan and his angels. Much of this misteaching is spread through good Christians who have been sold a lie and really believe what they say.'' The Word of God is clear that not one sin entered into this world without Satan. Every sin committed by mankind is (according to the Word of God) the result and influence of Satan. However, because Satan and his demons are masters at deception and at staying behind the scenes, and remaining anonymous they are not discovered. They are better at such deception than the intelligence agencies that are Illuminati fronts, and to give credit where due, the NSA, CIA, and MI-6 are good at what they do.
The programmer will be looking for methods to open up a person to demons, and he will be setting up scenarios so that the victim will reject the Spirit of God in their life. 1 JN 5:18 teaches that a person's identity in Christ protects against the wicked one, so the victim's identity in Christ will be stolen very soon by the programmers. According to the Word of God, submission and humility before God are also said to be protections against evil spirits.(cf. JS 4:7, & 1 PTR 5:6,8,9). Resistance to catching demons, involves a person "not giving place" to the demons, (Eph. 4:27) and to be strengthened by Christ (Phil. 4:13). How does this happen? The Word of God teaches us that the Spirit of God in our life repels demons naturally. A close walk of fellowship with the Spirit of God is one spiritually natural immune-builder. We need to get Christ deeper and deeper into our lives. However, the programmer will deflect this, and say that submission and humility before God means to submit to some church authority, and of course this church authority will be part of the mind-control abuse system.
The Use of Giving Demonic Assistance to entrap
One of the principles (giving tactics) of the spirit world is that if you go to get help from demons, they have a spiritual opportunity to enter into your life in other ways. This involves spiritual laws. People, who have been healed by occult healers, have discovered that
Page 257 …
it set them up for demonic activity in their life. Of course, it is easy to write this, but often only the victims of occult help, who have already learned the lesson the hard way, believe it. The ultimate that Lucifer can pretend to give is divinity. Divinity is sometimes symbolized by the Illuminati as an 8 on its side or the infinity symbol. The divine within a hierarchy member is called the High Self. It also goes by the name Dian Y Glas or Blue God in the hierarchy's parlance. The given names of Joan, Janicot, Jean, and Jonet are popular in generational witchcraft families because they mean the High Self. The cabalistic name for the High Self (internal divinity) is NESHAMAH. According to Illuminati hierarchy beliefs, the High Self can only be communicated to via symbols, music and myth that go through the unconscious mind. In other words, don't talk to it, show it. This is part of the reason Illuminati witch covens make noise in ceremonies, dance and use objects, they believe these are essential to communicate to their High Self.
The Use of Occult Focal Points
Another principle (giving tactic) of the spirit world is that focal points (occult objects) are used to bring demonic entities into a person's life. I can not write a technical manual on the mechanics of how or why the presence of evil spirits is aided by amulets, rings, occult jewelry, rock & roll albums, etc., but the fact is, that demonic entities ARE AIDED. It is common for mind-controlled Illuminati slaves to keep demonized nick-nacks given by their programmers, handlers or other contact people. Generally, the mind-controlled slave's front system is unaware of the spiritual ramifications of the occult objects.
The ancient grimoires are used in rituals & programming. Even if it is seldom that therapists work that deep in a system, it still might be useful to provide a list (for reference sake) of the ancient grimoires which are used to invoke demons:
Almadel, the

Arbatel of Magic, the

Black Pullet, the

Book of Albertus Magnus, the

Enchiridion of Pope Leo

Fourth Book of Cornelius Agrippa

Grand Grimoire, the

Grimoire of Pope Honorius

Grimorium Verum, the

Heptameron, the

Lesser Key of Solomon (aka Goetia)

Key of Solomon (aka Legemeton)

Pauline Art, the

Sword of Moses, the

Theosophia Pneumatica
The Use of giving occult power for SOMETHING IN RETURN. One of the tactics of controlling a person is to give them occult power. Generally, people who have psychic abilities and other occult powers, are reluctant to seek a true Christian faith. Because they enjoy the power they have, they will not trade leaving the occult world and their power behind for freedom.
In the case of many mind-controlled slaves, the programmer will create a legitimate spirit-filled Christian front. He knows that the spiritual principle, "A double-minded man is unstable in all his ways" will work in his favor. Even though he creates a religious front that is opposed to what the programmer wants, a thousand-minded person has no choice but to rely on the programmer. The programmer is the only one who can bring order out of chaos. The victim is so unstable with all his or her programmed and hurting parts, that these parts need their programmer to function. Evil spirits are like unwelcome visitors to our home. They can even be compared to an unwelcome mouse running and hiding in our house. That a visitor or mouse troubles us does not mean that he possesses us. Christians have problems with unwelcome mice as well as unwelcome demons. Mice corrupt our homes, likewise demons come to corrupt the House of
Page 258 …
God. The programmer knows what encourages demonic activity. This is why certain occultic structures are built into the mind, and why the systems are set up to carry Out occult rituals regularly. Some victims of mind-control are unfortunately going to witches for their therapy. A therapist who is a pagan witch, and who encourages further occult activity, is preventing the victim from gaining freedom. This is because there is a spiritual foundation to much of the control. (Readers would be surprised at how many psychologists are part of the occult world.) How much of our life has been turned over to Christ? Many Christians have what could be termed "hidden rooms" and hidden compartments in their life & their thinking which they have not given to Christ. In fact, many Christians compartmentalize their life into their secular job and their Sunday of Christianity. In this sense, their lives are like a house with many rooms, many of which are not given to Christ, but are available for other spirits. Even the non-multiple Christian will have problems with compartmentalization in life opening a door to demons. But Christ asked his disciples to go farther than just stay in fellowship, he commanded them to heal and cast out demons. MT 10:7,8. He also commanded his disciples to evangelize. The strongest deliverance have been seen on the cutting edge of evangelism, as a testimony to God's power.
DOES IT GLORIFY DEMONS TO CAST THEM OUT?
The threat of deliverance has the Satanic leaders of the Illuminati scared enough that they have actively disseminated a doctrine among the Christian churches that it gives power to Satan to believe in demons. There is a kernel of truth here, but it doesn't give glory to Satan to defeat demons and to expel them. If you were fired from your job, would that glorify you? No. Defeating demons is actually showing how weak they are, not glorifying them. Healing and deliverance are part of the ministry of freedom that Christ demonstrated to his disciples, and they are to accompany the preaching of freedom (evangelism).
PART D. A complete Chronology of how the victim experiences the early spiritual programming. (by Cisco)
Steps of Programming:
a. The mother-fetus trauma

b. The Apple-Woodsman ritual

c. The 1st Ritual Theft of Birthright

d. The 2nd Ritual Theft of Birthright

e. The Satanic Wedding Prog. Ritual

f. The Lockup of the Guardian Angel

g. The Revelation of Demons

h. Providing Satanic Toys

i. The Participation Ritual

j. The layering in of witches/monsters

k. The prog. base-Fairy Tales told

l. The Ritual to Test Loyalty to Oaths

m. Prog. building blocks- Nursery Rhymes

n. The Hell Fire Ceremony

o. The Cutting the Penis Ritual

p. The Traitors Death Ritual
It is important to understand the nature and the sequence of these standard programming rituals. I, Cisco, have decided to reveal them so that the therapists will comprehend better what the programming is really all about. We have touched on a few of these rituals in our two previous books, but we haven't spelled them out. These programming rituals in real life are extremely traumatizing, even to the hardened cult parents who often must offer their children up to abuse that even they don't want to happen to their children. When these programming rituals happen to a child, they are so severe that they split the child's mind. We don't want therapists and readers falling apart by reading about these programming rituals, so you will find the descriptions of these rituals are clinical, and
Page 259 …
are written without a great deal of emotional content.
a. The mother-fetus trauma
We have written about the traumas given to the mother and fetus in chapter 1 of this book and chapter 1 of the Vol. 2 book. Between these two books, there are approximately 9 pages concerning the traumas at this pre-birth stage. It could also be explained that the intensity and nature of the pre-birth traumas relate to whether the mother is Illuminati or not. During the 1940's-'50s the Illuminati made it a high priority to marry members of the Illuminati to Christians for the purposes of infiltrating the churches. After a 20 year period of intense infiltration to such groups as the Southern Baptists, the Mennonites, the Pentecostal Holiness, the Four-Square, and the Assemblies of God, then they could rely upon their members within those groups to generationally continue their presence within these groups. Initially, they wanted the infiltration to be covered by marriage into these denominations. If a mother were not of the Illuminati, she was typically prepared for an overwhelming trauma to be administered during her pregnancy. If she drank coffee or tea, she could be given potent herbs daily to set the stage for later drugs administered during the torture. The herbs set the stage for drugs which would make the mind more pliable to hypnosis, because many Christians are resistent to hypnosis. When the Illuminati would finally by force grab and traumatize the mother, their goal would be to see if they could get the mother to renounce (blaspheme) Christ. They hoped to use this to blackmail the person into future submission and shame. They also were gaining experience into what kind of resistance they would face in the final takeover. An hypnotic trigger would be attached to this torture memory, and then the mother would be hypnotically made to forget the
b. The Apple-Woodsman ritual.
The powerful Tin Man Ritual is described on page 103 of the Vol. 2 Formula book. It is where the parent(s) presents the child to Lucifer, "the god of light". The Tin Man appeared in the first picture (page 4) of our illustrated Guide to Monarch Programming. It was positioned there because it is often the first ritual memory. The child eats an apple that is poisoned and dies, and then is brought back to life because the coven has the antidote on hand. Next, the parent dedicates the child to Lucifer; if not, then the child will have its head severed by the Tin Man's ax. This dedication mocks the Pentecostal dedication. Bear in mind, that some parents and programmers can only justify what they do, because they feel they are following "Lucifer's orders." They will say, "We do it to please Lucifer." They feel Lucifer wants the child in its purest state, so they will do the moon child ceremony in the womb to allow Lucifer to plant his spirits in the fetus (which is a mockery of God's spirit in the Christ-Child.)
c. The 1st Ritual Theft of Birthright
When the child victim is four, this ritual typically is done to them during the 10 days to 2 weeks of rituals done around Easter. The ritual is not always done at this time. If both parents are Illuminati, then their primary job is to see their children get programmed; but if only one parent is Illuminati, then the group may have to work with the child whenever they can manipulate some time to do so. Also the Illuminati have so many children to put through programming, that many simply do not start this ritual at Easter. But if they are not done at Easter, they may be told when it is done that it is the time around Easter. The programmers have certain windows of time for certain programs and schedules to follow for each child. They can be untrue to the real calendar date, and still set the internal clock/calendars of the slave correctly later.
Page 260 …
This first ritual is to make sure the child victim experiences a staged rejection of God where they are found unworthy to be in "His' Book of Life. This ritual like all the others that we will describe in this series are sealed with rape and the implantation of demons.
d. The 2nd Ritual Theft of Birthright
This second ritual is done shortly after the first ritual, generally a few days after. It consists of a death, burial and resurrection ritual. To die means death towards God, burial means to bury all that makes up a person's worth, and resurrection means to be resurrected with a new name and birthed to Satan. This and the 1st theft ritual are designed to remove any bonds the deeper alters might ever conceive of having with Almighty God.
e. The Satanic Wedding Prog. Ritual
Within days of the 2nd theft ritual, the Illuminati will follow with a mock satanic wedding. Usually the father will marry his daughter, but there is a chain of responsibility and if the father can't sexually abuse his child, then the grandfather is next in line, and then the uncle, and then the programmer. They will serve as the satanic covering for the child. At this point the rejection by God is still fresh on the child's mind, and they want the child to at least remember the rejection, whether they remember the incident or not depends. The child may already have dissociated the previous week or two, so the programmer may simply tell it "REMEMBER THE FEAR WHEN GOD DIDN'T LOVE YOU."
The child may really be looking forward to this wedding. They may have been dressed up nicely, and may be excited about marrying their father, even though he looks like a giant to the little infant. When their dress is pulled up and they are abused, then the fun stops.
f. The Lockup of the Guardian Angel.
The Internal Self Helper, also called the Guardian Angel of the mind, is magically locked up by the demonic power of the programmers, and a shrewd lying demon substituted in its place. The evil spirits that will be laid in will be the totems of the victim's bloodline–the spirits of the person's bloodlines who are to help guide the person. Many people in the New Age movement who are under total mind-control speak about their guardian angel or their totem guiding them. An example of a total mind-controlled slave doing this are the indian spirit guides that help Loretta Lynn. Hillary Clinton consults the spirit Eleanor Roosevelt. In order to familiarize the child with the proper demons they will be dressed up in a costume that resembles the bloodline spirit they are to become acquainted with. They will participate in a ritual in this costume.
g. The Revelation of Demons.
At this point, both the front (the light side) and the deeper occult dark side alters will be allowed to see the demons that are layered in. The front side sees them in their Luciferian form, and are scared out of their wits. They may respond to this by having an ongoing fear of monsters under their bed. The front's fear will keep the front away from trying to go deeper into the system. Later on in adult life, the Illuminati may want the front part of the system to go through a "deliverance", so they will think they have dealt with everything, and they don't need to look further. (For instance, this trick was done to a programmed multiple this author has worked with, the result being, the victim gave up any type of therapy or helpful work, because they were sure they'd received the answer to their problems, which would be nice if it were true, but isn't.) On the flip side, even though the dark side alters are also scared of the demons, who are quite terrorizing when seen by humans, the inherent need of humans to look for supernatural help pulls them toward the demonic. It is an inborn survival trait in most humans to look to supernatural help. By seeing
Page 261 …
the spiritual (even though these are dark spiritual forces), it becomes a normal function for the deeper alters to commune with the dark spiritual realm.
h. Providing Satanic Toys
The deeper alters will be given candles, knives and other ritual paraphernalia to play with. The establishment department stores with all their demonic toys are helpful, for the parent only needs to go to the local department store to buy his children occult toys.
i. The Participation Ritual
Soon after the wedding ceremony, another ceremony takes place where the child dresses up in the cult's red and black ceremonial robes. This is meant to integrate them into the cult family. It is an opportunity for the child to feel like it is part of the group and its rituals.
j. The layering in of witches/monster scripts
The normal American fairy tales, which are filled with stories of monsters and witches, are read to the child. The goblins, warlocks, vampires, and witches they hear about will help lay a mental foundation for what will happen later.
k. Cult Fairy Tales are told.
Next, the people in the child's life who are guiding the programming will tell the child programming stories, such as the Wizard of Oz stories and Alice In Wonderland. In the SO's and 60's, the Tall Book of Make Believe was popular. For instance the character Mr. Moon became a foundational part of the programming. Over the years the Wizard of Oz, Alice In Wonderland, and Mother Goose seem to have been overall favorites. The child will most often be in a trance state when these story lines are told. The children will have the stories repeated and they are expected to memorize these scripts. Because the programmers will build upon the child's awareness of these stories, the stories are modified to better fit the future programming. For instance, if a programming team is going to use the Goldilocks and the 3 Bears story, they might modify the story like this: The 3 bears and Goldilocks went for a walk. Goldilocks was somewhere she shouldn't have been, so she was eaten up by the bears. Bears will eat you up. Policemen are like bears. A Policeman found her? Do you know what happened to her? Goldilocks got locked up and put in a cage. Or maybe they might say, Goldilocks was sitting where she wasn't supposed to.– At that moment the chair is pulled out from underneath the child and the child is probed with a stun gun. In the last 20 years, tens of thousands of children are getting "Pleiadian" programming, and it is not known what base fairy-tales are being used for this type of programming, or if they are using sci-fi stories as the base. There are tens of thousands of children with programming that can be activated to make them think they were raised on Alcyone in the Pleiades. This is to part of the Grand Deception of the End Times.
l. The Ritual to Test Loyalty to Oaths
The next step is to test the loyalty of the child slave to the oaths that were extracted from it. To prove the child's loyalty, the coven demands that the child sacrifice another child. From what we witnessed, even after all the abuse and hypnotic tampering of the child up to this point, not one single child was "loyal" to the oath. The inborn aversion to taking a human's life is strong, and the child will still refuse to do it. Therefore, the cult will have a member guide the child by taking the child's hand and forcing it to sacrifice the innocent little life before them. In spite of their reluctance, the forced act begins to rip the fabric of the child slave's mind and to sear its conscience. The cult will be sure to insure that the child is made to feel responsible, and that they are given guilt and shame for the deed.
Page 262 …
Once the innocent victim is sacrificed, the child slave is required to cut the bloody heart out and eat it. The child has already been groomed for this, because the cult has been feeding blood in their milk as a pablum. The child has been allowed to get very hungry and then given blood so that in the end hunger is associated with death, and blood is associated with satisfying that hunger.
m. Prog. building blocks- Nursery Rhymes
The Nursery rhymes are now layered in. There is something mentally powerful about rhymes. Mother Goose nursery rhymes have been popular for over a half century for programming little children. The child's mind will refuse some things (such as it distaste for killing an innocent child in the previous ritual), but the child's mind doesn't realize anything devious about the adorable nursery rhymes. The child's mind will not put up any barriers to learning them. The child has no idea that by hearing these rhymes they are helping lay the foundation for their own mind-control.
n. The Hell Fire Ceremony.
This ceremony is basically the burning up of a child to instill in the child victim fear of disobedience and to show them what hell is all about. The reason this is done will be explained soon. This ceremony is done with one of four possibilities,
a. a real baby,
b. a dead miscarriage,
c. a stage pretend child,
d. movies.
For sure, the Illuminati will have a real bonfire, and there will be the stench of death. They will play tapes of screaming, terrified children to amplify how bad it will be in hell. Why do the Illuminati want the children to fear hell? First, if they ever do learn about the Bible, they will "know for sure" that this is the punishment that the God who rejected them wants for them. Next, the Illuminati tell the children that IF they are bad, they will suffer in hell, but if they are good in the cult, Satan their father will protect them and let them rule with him in hell. They want the child to be terrified of Hellfire and Brimstone. This ceremony is often done where there is a crematorium. The Presideo in CA was popular because a underground crematorium was there. Bear in mind, that the child by this time has lost its true self, and is simply in terror at watching a child like themselves turned to ashes. In certain types of hot fires, the child is turned to ashes so quick that the child's figure becomes a silhouette of ashes. The Illuminati will then begin teaching the child an important item, they will teach it to take on the spirit of the child through guilt manipulation. They'll say, "Don't you feel really bad that this happened to her, but you can fix it by internalizing her to yourself. Take the spirit of the child into you."
o. The Cutting the Penis Ritual. This ritual is just as it sounds.
The child is forced to emasculate another male. This ritual is intended to be severe. It again forces the child to choose between following their oaths or following what their heart tells them is a right. Because they will again refuse to carry out their oath of obedience, and will again be helped to obey, they will be an easy preplanned target of lots of shaming and guilt. This is one of the primary foundations for the shame and guilt that is built into the dark side alters. The child will be hit with sticks by the cult, while the Illuminati coven snarl, "Shame on you, you didn't obey as you promised." It is at this ritual, that the Illuminati coven will first begin to double-bind the victim by threatening them, "It's you or them [the person the child slave is to hurt], you choose." The little child sees two kinds of people in life, victimizers and victims. He or she will generally choose to be a victimizer. There will other times when the slave will not be given a choice and will have to suffer pain during the rituals.
p. The Traitor's Death Ritual.
The child victim will be left relatively drug free so they can
Page 263 …
have full awareness of the Traitor's Death which they witness. A person will receive the horrible traitors death during a ritual. The strong satanic alters will be built off the dissociated pieces caused by this ritual. And as is standard practice the ritual is sealed by a rape of the child to layer in more demons.
**This ends Cisco's very informative chronology. Let's sort out some of the specific programming maneuvers.
Part E. Specific Programming maneuvers. The MANIPULATION OF NEAR-DEATH-EXPERIENCES (NDEs)
People, who undergo Illuminati programming, will be candidates for near-death experiences. In several of the programming scripts, the victim is brought to the point of clinical death and then revived. In hospital settings, resuscitation of heart failure and other deathly events like surgery has produced tens of thousands of cases of Near-death experiences (NDE's). According to Raymond Moody, who worked with or experienced people experiencing NDEs, the typical NDE involves the person hearing himself announced dead. Then a loud ringing or buzzing noise occurs and a long, dark tunnel appears with a light at the end. The person will meet others and a being of light, and this light-being will play back events in the person's life, and evaluate his life, and then the person reaches a point where he must go back. People, who experience a NDE are profoundly changed. Any profound change that follows patterns can be manipulated and the Illuminati have discovered this is simply just another way to manipulate people. The NDE experiences follow patterns. We will not go into the details of why most of the NDE explanations can't be the actual explanations, but the bottom like is that most explanations fall short and do not explain the phenomena. The frequency and consistency of a tunnel being seen with a light at the end rules out hallucinations in terms of symbology. The mind could just as well see a gate, or keyhole, or a door as an entrance to a new world but doesn't. Some researchers believe that the answer lies in the structure of the visual cortex, and that the dying person's center of the visual field receives an ever increasing electrical noise while dying which produces an ever increasing circle of light being seen. On the flip side, for those who have a biblical perspective, there are explanations that also seem to explain the phenomena. At any rate, it's been known after Heinrich Kiuver published his research in the 1930's that the brain has four constants in its Near-Death hallucinations: the cobweb, the grating (or lattice), the spiral and the tunnel. Drugs have been found to produce an experience similar to NDE at times too. Whatever spiritually and physically happens to cause a NDE–and there is lots of debate as to the mechanics of the cause–the common experiences that people have during NDE's provides a pattern for the programmers to manipulate. Various people, the Illuminati, some Christians, and others believe that Eccl. 12:6-7, –which is talking about when a man dies ("dust return to the earth as it was") and his spirit returning to God who gave it,–these various people believe that the silver cord spoken about in verse 6 is a cord that links a person to his god. This verse makes a good verse for the Illuminati who do program in wheels and silver cords into their slaves linking them to their pretending-to-be-god masters.
FINE-TUNED
One of the side "benefits" of the brain-stem scarring, the repeated tortures, the attention that is expected if the slave is to survive, etc. is that they may develop extremely sensitive perception. This extremely sensitive perception may come across as ESP, but it is really subconscious understanding of things such as body language.
HIDING THE INTERNAL SELF-HELPER
Page 264 …
Psychologists have discovered that deep in the mind is an area of thinking they refer to as the Internal Self-helper. Psychologists who attempt to help programmed multiples have been told to find the ISH (internal self-helper) of the victim. Sometimes the "ISH" have surfaced as ''angels'' and ''spirit guides'' in a system. They may regulate which alters come out and hold the body. The therapist may point out to a person that angels and spirit guides are never internal, unless they are demonic. The Christian is permitted scripturally to only be led by one internal spirit guide, and that's is the Holy Spirit. In some systems, the slave's "Holy Spirit" may turn out to be a cult ISH. The programmers were many steps ahead of the psychologists. Even years before the psychologists began looking for the ISH to help them, the programmers had foreseen this and had their bases covered. In everyday life, for normal people, the internal self-helper serves as a type of guardian angel over each person. The programmers during the early LSD trips watch for the ISH. When it surfaces, they lock it up in the person's mind, and replace it with a demonic generational spirit, which is commanded to report any work done in the system to the master. When psychologists find the ISH and ask for its help, the ISH does cooperate with them, but this demonic ISH is also one of the principal reporting agents that reports back to the master in photographic detail everything that the therapist does. This is one big reason the programmers have always been several steps ahead of the therapeutic community.
INTERJECT DISKS
Splintered souls captured on Interject disks is a subject that is beyond verification but is mentioned here because therapists and "UFO abductees", and SRA victims of mind-control may run into it. Readers must draw their own conclusions as to what soul interjects are–whether merely a deception, a new technology, or magical demonic manifestation. Hermetic magic is a nasty form of magic from ancient Egypt. There are a few of the top Illuminati Grand Masters who believe they are capable of carrying out rituals to raise the dead and create interjects onto interject disks. Specialized magic is performed on the dead to raise zombies in order to splinter the zombie's soul. The Grand Master then believes he can place the splinters of the soul on interject disks, and place these interjects into live slaves. Interestingly, humans claiming contact with "aliens" have claimed that the aliens can separate a human soul from its body, keep it captured, recondition that soul, and finally implant the soul into another body. Some researchers are claiming that they have evidence of a holographic energy template that is associated with a physical body. Is this the soul? They believe that this template works with cellular genetic mechanisms. There is certainly more to learn about what humans are, perhaps some day these claims about zombie souls will have some scientific merit, but for now they lay in the realm of Illuminati Grand Master high magic.
I have reported upon Illuminati beliefs and practices. Likewise, an anthropologist will report on the practices & customs of a people, whether or not the anthropologist personally practices or believes like the people he observes. Of course, these luciferian (or should one say satanic practices) are abhorrent and the author has never practiced them, so the author can't speak from the viewpoint of a witness, but he can describe as a reporter the views of Illuminati witnesses. One Illuminati belief is that they have managed to design equipment that can catch the soul of a dying person. This capability will play a role in the reign of the anti-Christ. When the Anti-Christ dies, his soul will be captured and he will be resurrected with demons animating the body. When a very high ranking Illuminati adept goes berserk, the Illuminati will insure that they preserve the soul of the man by killing him with equipment that is portrayed in
Page 265 …
the recent movie Lord of Illusion. This is a mask-brace that fits over the portals of the head and then is screwed into the head to capture the soul as it tries to escape the dying body. Then demons are called in to live off the soul matter. Normally, according to Illuminati occult knowledge, the demons can only live a short time within a body, but by the mask-brace capture of a body's soul, the demons can inhabit a body for a longer length of time and create the walking dead. This is that "line between heaven and hell" that the movie refers to. The Illuminati believe that the highest gift they can give Lucifer are captured souls. They will place souls into jars. This is the highest most secret magic of the Illuminati. Notice, that during the Lord of Illusion movie, jars are smashed during the ritual where a soul is captured. Interviews with alien abductees reveals that some of them believe that the aliens are stealing the souls of mankind. The similarity of the Illuminati beliefs about demons, and the perceived actions of the aliens by abductees are remarkably similar. Also the Illuminati have secretly used special tubing during millions of abortions performed by their abortion clinics to capture the souls of the aborted children. (This is author is not making any claims that they do or don't succeed, but they believe they are succeeding.) The movie Lord of Illusion is full of Illuminati/high level Masonic symbology. The movie begins with programming concepts, first the galaxies & stars, then the yellow brick road, then a dust storm… An Illuminati phrase "Flesh is a trap, magic sets you free" is mentioned in the movie. In contrast with the movie, these things are not written to entertain the reader, but with the good-natured intent that therapists and victims may gain something by knowing better what is going on to these Illuminati mind-control victims. The Illuminati believe that they can suck the life spirit out of a person through intercourse with what they call the Eye of Horus (the anus). This is why the leaders of this World Order (such as George Bush, Bill Clinton, and tens of thousands of others) are into sodomy, they are trying to vampirize all the years of life out of the victim to gain a longer life. Some of the sad child victims, who have been kept exclusively for this purpose do look like the life force has been sucked out of them. Sodomy has its own secret chamber on the cabalistic tree of life. A metaphysical UFO type magazine entitled WE Walk-Ins for Evolution puts out articles on how souls walk-into a body and how souls braid themselves to other souls. For instance, there was an article "Soul Braiding" in the April-June, '96 issue of WE. This appears to be a refraining of various practices that the Illuminati carry out to demonize and control the minds of their people. Rather than speak of a demonization or an interject, front alters of slaves who are not Christians can use metaphysical terms like "soul braiding". The words soul and spirit, and concepts attached to those words are important in programming. Programmed Mormon children will think they have the "Spirit of Elijah" in them, and will robotically sing their programming, "Follow the Prophet, follow the prophet."
WHITE GOLD, other information
Since writing about powdered white gold's ability to make a person clairvoyant, in Vol. 2, it's come to my attention that Nexus magazine has had a recent article on this. For those who are interested in crystal travel, crystal travel is an OBE also known as astral projection and is covered in the Vol. 2 book as astral projection. Besides the silver cord, some victims have mentioned a supernatural dark red violet umbilical that connects them to the AntiChrist.
Page 266
picture 1 p_10-1.jpg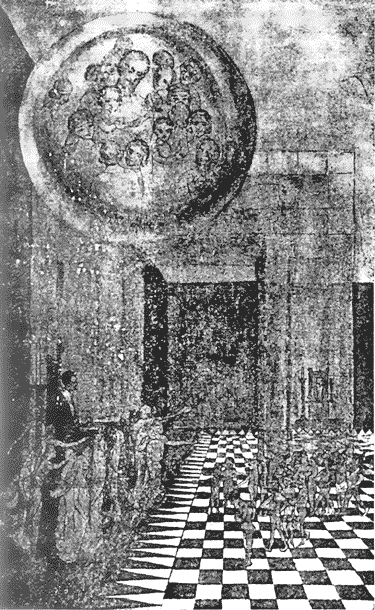 information about the picture
This is a masonic drawing called "The Second Portal". it shows nude boys facing a throne undergoing some type of magical ritual. The drawing appears In The Hidden Life in Freemasonry after pg. 198. in 1926, Charles W. Leadbeater, a 33º Freemason, printed his book The Hidden Life in Freemasonry. This book was written for people involved in Luciferian rituals In the higher more occult rites of Freemasonry. in the preface, Leadbeater talks of butterflies (pp viii-ix), which has the double meaning in the occult of souls (spirits). in the last chapter, chapter 10, he gives masonic rituals to Invoke angels (demons) through egyptian magic. In these Masonic temples, the checkerboard square is used in a similar fashion as a magic circle for a coven. This picture is given as a paper trail to show the sex-magic rituals that take place within various masonic groups.
The illuminati Sisters of Light alters rarely appear in therapy because they are used in horrendous masonic rituals, and must be buried very deep in the system. Typically, a Sister of Light would be blindfolded and taken down many flights of steps and through tunnels and would end up in an elaborate underground masonic temple. She would be used as a nymph. In one ritual, for example, she'd be given a golden circle band for her forehead, a cloak with a red lining, and a tunic of black silk with golden rays. The hall would have important masons of society who would be sitting in a semi-circle. The Sisters of Light are given to Beelzebub in an excruciating marriage ceremony. There is a veil which fails into 4 equal parts, which mean the 4 corners of the world. The sisters take oaths around the compass, so that the victim feels locked in no matter what corner of the world they go to.
picture 2 p_10-2.jpg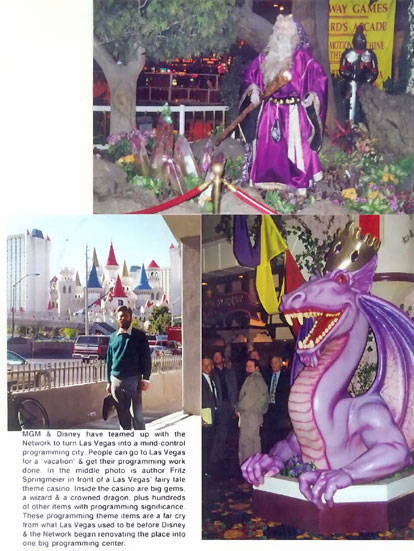 p_11-1.jpg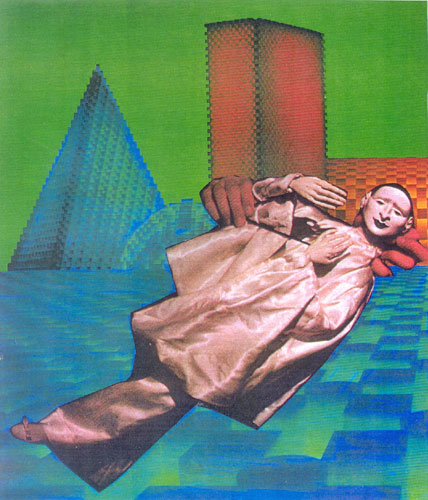 about the picture
This was some early art work by Cisco to convey what her mind felt as a mind-controlled slave. What the picture shows is the hand of the puppet master controlling his puppet. The puppet is floating–not grounded in reality, but dissociated from the external world in order to survive. All the cities and internal worlds are grids. Everything attaches to grids. The color programming can be seen in the Green, Blue, Silver, Gold, Red, and Yellow colors of the grids. The puppet is totally in the hands of the puppet master and its hands are in a submissive hold, while the puppet master has his fingers covertly wrapped around the left side of the puppet's head.
Page 267 …
[back]
CHAPTER 11:  SCIENCE No. 11- INTERNAL CONTROLS
[back]
A. TEACHING OCCULT PHILOSOPHIES
B. INTERNAL COMPUTERS
Installation of the Standard Programming
Front Programs of Front Computer.
Misinformation Computers.
Beast Computer.
Programmer Access to the Computer Areas.
C. INTERNAL HIERARCHIES
THE INTERNAL HIERARCHIES form RATIONALES
A. TEACHING OCCULT PHILOSOPHIES
This is an important ongoing aspect of the mind-control. Vol. 2, introduced this subject:
"Learning plays an important part in perception. The Programmers try to get their victims to subscribe to philosophies and ideas that will make it hard for them to rebel against their controllers. This is what is termed indoctrination. The same methods of teaching that others [any other educator would] find useful are employed. Ways of thinking are incorporated by the slave via handlers, programmers, and the cult they belong to. "Everyone tries in their own way to make sense of life. This is a natural brain function, so that the human mind can understand how to deal with the future. The mind takes raw data, and then applies some type of logic, and comes to conclusions. Once accepted these conclusions can be as hard as nails, and they will defy any attempt to change them, even in the light of new evidence. If the Programmer is smart enough, he can get an alter to logically believe anything. Once the belief is embedded, it will remain there tenaciously."
In the previously book, it was discussed how indoctrination is done. I will provide more of the details on how indoctrination is accomplished, because it is not being done via rational logical thinking. Rather, the programmer or cult leaders want to access a person's non-logical imaginative right brain. In order to do that he must distract the left brain.
Bill Clinton, an Illuminati handler of slaves, and a good liar, has his speeches prepared in such a way that they take advantage of the brain's natural functioning to manipulate it. Bill Clinton, when he gives a speech will initiate it by pushing everybody's green buttons. He will say a number of things that everyone wants to hear and will agree with. This is called "generating a YES SET'. There will be a number of these, the number of these often desired is 3. Then the second stage is to bring in TRUISMS that are facts that after the audience has already been mentally saying yes, the audience will probably accept these facts without any disagreement. Finally, after the approx. three YES SETs, the approx. three TRUISMS, Bill will plant the suggestion, such as "support me in such and such."
On important points, Bill will move his left hand, to help imbed certain commands to his viewers. He will also use some subtle hand signals/codes to trigger mind-controlled slaves too. He will ask during his talks for people to imagine or visualize what he wants for them. Again this is manipulation directed at the right brain.
One of the most crucial things that protects the mind-control of the Illuminati is the frame-of-reference and world-view they build into people from the cradle to the grave. Our previous experience and the information we have available directly influences how we assign meaning to information we receive. The Illuminati's control over so much of society allows them to create people's frames-of-references. Fragments of information that people receive which do not relate to the person's frame-of-reference will be discarded. A person needs a place in his frame-of-reference to hang information on. The person may puzzle over the tidbits of incongruent fragments, but being unable to relate them to his world view, he finds himself unable to file the fragments away in a meaningful manner.
Some of the front alters of very well controlled slaves have had world views (frames-of-references) that believe, a. there is no such thing as Satanic Ritual Abuse, b. there is no such thing as a conspiracy, c. there is no such thing as absolute truth, d. there is no such thing as sin. e. There is no connection between God, living a moral life, and finding Truth. f. there is no such thing as Multiple Personality Disorder. g. My religious organization can do no wrong.
Making a fundamental change in our frame of reference is a frightening task. This is why victims of total mind-control who have been A. programmed not to believe that a New World Order conspiracy exists, and not to believe Satanism and SRA exist, and then they are B. placed in a culture that reinforces this programming, end up being extremely hard to break free of their mind-control.
Conferences where mind-control victims can begin to see the significance of all the fragments of clues that they discarded are very valuable. This author has met a number of mind-controlled victims who didn't know what their problem was, but had countless clues in their life. But these clues were useless fragments of information until they were given a framework to use them.
For instance, one victim of Illuminati total mind-control knew nothing about the significance of the Illuminati bloodlines, nor who the bloodlines were. She stated that her relatives were so and so, and it was then pointed out to her that she was from Illuminati bloodlines on both sides, and the significance of the bloodlines was gone over. Now a meaningless piece of information (her genealogy) had been given a framework of meaning. But this was just one area of many which the establishment has carefully controlled us to have misunderstandings about. Understanding her heritage, allowed her to understand why she was selected for mind-control, when it seemed to her that others might have been better candidates.
Occult philosophies by their very nature create frames of references that make it hard to see reality and to see the Truth in Jesus Christ of Nazareth. The New Age, Witchcraft, and Hindu idea that all paths lead to God, is utter nonsense. The idea that Christians are narrow minded is nonsense, but is a common idea taught by many people. It is narrow minded to insist that Christians must go to the same place Hindu's end up, if Christians seek truth. The New Agers see only one track for truth seekers, since they hold all paths lead to God. The concept is even illustrated by the wheel in India's flag. All spokes on the wheel lead to the same center point of the circle.
The Biblical Christians see two tracks for truth seekers–some don't find God and Truth, but rather find an imitation of the truth and end up eternally lost, while some do find God and Truth. Perhaps at this point the reader is getting slightly upset because he or she is thinking, "Fritz is preaching what he believes," and is also thinking "there is no absolute truth." That is exactly my point. By accepting the lie–the programming lie–the frame of reference–the paradigm that there is no absolute truth, then every time a fragment of absolute truth comes to you, you will reject it.
When I showed evidence to two followers of J.Z. Knight (J.Z. Knight was/is a mind-controlled slave, who has set up an Illuminati front religion in Washington State where converts are subjected to mind-control techniques) that children were being sacrificed by Satanic covens and that this was evidence of Satanic ritual abuse, their world view could not accept the concept of absolute wrongs and sin. They responded, "These satanists may well be killing their babies, but that is not abuse, that is only your idea. It's just your idea that it is abuse. It's not abuse to these people."
In review, one of the hardest shells protecting the programming of a total mind-controlled slave is when the front part of their system, which holds the body regularly, has been indoctrinated into a frame-of-reference that will not allow them to see the reality of what is being done to make and keep them in slavery. A final example of this, are the zealots of the False Memory Syndrome Foundation who are mind-controlled zealots. These zealots, who are launching a counterattack against books like this, have had their world-views carefully constructed by a combination of several techniques of persuasion, a. mass indoctrination, b. subliminal messages via the T.V. and other places in their lives, c. controlled education, and Neuro-Linguistic Programming, in addition to all their regular trauma-based programming. It's like their world-view is the hard varnish that is first seen & heard, protecting people (even themselves) from realizing that the underlying motivation of these zealots is not their world-view, but Total Mind Control Programming.
Within witchcraft, the cosmology that is taught is that a person was originally swirls or vortexes of energy. This coupled with a belief in reincarnation, allows the mind-controlled victim's witchcraft alters to believe that they began with some molecules of energy forming, and that death is nothing, because everything continues on a vast wheel of reincarnation. The beliefs that are inserted into people via witchcraft are conducive to locking the person into their servitude. European culture, which has been based on Christianity, has had a respect and value on life way beyond the oriental view. For centuries Europeans have marvelled about how little value human life has in the oriental view. This is because these Oriental views are identical with what is now called New Age beliefs, which are also about the same thing as witchcraft. Gnostism/ witchcraft philosophy justifies seeking and having power. Persons, who are power hungry, gravitate to this philosophy. Persons who are inculcated with the desire for power rationalize their behavior with the witchcraft philosophy which they are raised in, or programmed to believe, or "discover" to set their minds at ease.
Internal computers are elaborate arrangements of dissociated parts and memories built into the slave's mind to cause the victim's mind to have mechanical computer-like responses.
For years, the internal computers escaped the detection of the therapeutic community. The illustrated Guidebook introduced the subject to readers and the Vol. 2 gave the first major & so far to date the only comprehensive expose of these computers. This Deeper Insights book will provide a number of pages to deepen the readers understanding of this important subject. This is all fresh (never been exposed) material so don't write and ask what book it came from. You may have to refer back to our previous books for a complete understanding.
Installation of the Standard Programming.
The Illuminati take a screen about 6' by 6'. On the screen is a grid with a Greek or English letter. In front of the screen are colored flashing lights. The flashing colored lights prevent the conscious mind from seeing the screen, but the subconscious mind sees the grid. An Alpha symbol or capital A with tails at the base will be shown on the grid screen for Alpha programming. A Beta or B will be shown for the Beta Programming screen. The programming that is placed in using the different programming associated with various Greek and English alphabets can be read about in Chapter 4 of the Volume 2 Formula book and Chapter 4 in this book. The victim is strapped into a chair with their head locked in place and their eyes forced open. They must endure the flashing lights and the subliminal grid and letter on the screen.
There is a paper trail that they are using flashing lights for hypnotic control of a subject in order to place in messages at the subconscious. One of the pieces of the paper trail was an article "New Device To Induce Hypnosis Developed" in the Chicago Tribune (June 7, 1959). The article was about a Dr. William Kroger, who had tested the use of flashing lights on 200 obstetric patients at the Edgewater hospital in Chicago. Interestingly, this Dr. Kroger lived in Beverly Hills, CA and worked with a Sidney Schneider of Skokie, IL.
Schneider was skilled in electronics and Kroger was an obstetrician. The article said, "The pulsing pattern in reality an electronic brain wave 'achieves control' of the brain's alpha rhythm, thus inducing a drowsy state, according to Dr. Kroger." "The apparatus…operates on the principal of subliminal and photic stimulation of brain waves…about 30 per cent of the subjects who had received no explanation or had no knowledge of what the brain wave synchronizer would do were hypnotized to various degrees." Now these type of machines are available to any bozo who knows where they are sold.
Another piece of the paper trail is a government study by the Defense Intelligence Agency of July 1972, entitled Biological Effects of Electromagnetic Radiation (Radiowaves and Microwaves) –Eurasian and Communist Countries, ST-CS-01-169-72. DIA,, July, 1972, pp. 77-86. This study, of which this author has a copy, in part VI is written about "Light and Color as a Means of Altering Human Behavior." Although the report claims the communists are the ones who are using flashing light and color to alter human behavior, the real inventors were the Illuminati, and both the Americans and Russians are using flashing colored lights for programming.
This DIA study also reports on an American symposium held in the at Tulane Univ., Covington, LA in 1957 concerning the effects of flickering light on the brain. The participants of the 1957 American symposium drew up a paper with 11 conclusions, which included a. flickering light interferes with the human nervous system, b. flickering light can put a person to sleep or into a trance, c. flickering light can interfere with the brains s alpha waves, and d. "photo driving of the EEG by periodic flicker is a well known phenomenon although many subjects do not show the effect…"
During the '50's through at least the '70's, the Illuminati used flickering lights to place into the subconscious the grids used for the various computers. Each block on the grid would have codes, programs, memory and alters attached to it. In other words, dissociated parts of the mind become parts which are built into computers. The mind of victim is hijacked by the programmer.
To fully understand what the computers are, we must understand the mind-set of the programmers. The programmers are looking to Lucifer for their inspiration. An imitation of God's Book of Life for people, is for Lucifer to construct an internal computer that will contain all the history of all the alters. It might be helpful if some items that were in the illustrated Guidebook and in the Vol. 2 book were briefly touched upon again, as we discuss how the internal computers are made. Remember, that a computer is placed one per layer (section) and that they also build in back up computers, and that the computers have coded memories stored in them, as well as coded programs.
The deepest computer is called the Beast computer, and it has an eye (the all-seeing-eye) that opens and shuts like a camera lens. It can go behind the veil, and this is in mockery of the rent veil of the Holy of Holies. When the internal computers are built, the Illuminati use a doll house with different colored rooms for the child to visualize what is being done. Each room in the dollhouse has a different color. Each family of alters (a group of alters that are on the grid together) has the exact same color code. In the Vol. 2 book, we showed the color coding differently–we showed the color coding running diagonally across the grid, it can be done in any fashion, but generally the color code for a single family (alters a-through-in on the chart) is the same, and the cover program to hide it is that the colors run diagonally. What that means is that an entire family of alters, say alters Mary 1 through Mary 13 will all be connected by a color ribbon alter (who works just for them) back to that same color of computer room. All the family get the same programming, although they hold separate memories.
This will help therapists understand the behavior & programming patterns of various alters. The Beta and Delta alters, who as the readers realizes live in entirely a deep trance imaginary life, have entirely negative programming in their computer section. The Betas and Deltas have two ribbons per alter, which is an exception to the rule. This is so they can function together–espionage, seduction, and assassination all go together. Another type of alter who gets two ribbons are the 13th alters which connect two levels. These poor alters have so much programming going off, and mixed signals, that they are real basket cases.
When a system is seen in its entirety, the more powerful system hierarchy and Illuminati hierarchy alters will be coded with Platinum, Gold, White, Purple, Bronze & Silver. Front alters who will be helpful will be coded pink and yellow. Orange alters will be perceived as helping alters, but they are actually guards, protectors, and they protect sections of the system below them, which they usually can't see, and often don't know that they guard. Alters coded brown, tan, grey, or clear will give the therapist & support team fits, because they are full of deceptions & cover programs, and illusions. Host alters or key front alters may have a clear or white diamond as their gemstone. Alters who cover things up may have obsidian as their gemstone. Other alters who play along with the programming may have such gemstones as Fire Opal, Topaz, and Turquoise. (Also see Vol. 2 , p. 328-29.)
Front Programs of Front Computer.
The front computer that is linked to the front section will be different than the deeper computers. It's big difference is that its programs (which are linked to all the front alters) are logical. The logical programs of this level provide the alters with logical reasons and excuses to believe the lies, and to reason their life out. Of course they draw false conclusions from good logic using faulty information.
Misinformation computers are laid in on the 3, 6, 9 and 12 levels. Thousands of demons are placed into the Misinformation computers to not only run them, but to dispense misinformation. Since the demons are not under drugs or hypnosis, they are under full awareness and are very crafty in their deceptions. When memories are too clean and too complete, the therapist should suspect that they are getting a demonic false memory. Bear in mind the child is in a drugged state during much of the programming and has blurry eyes and may have their eyes rolling in the back of their head. They have their short term memories splintered by electro-shock, and are fed lies about their memories via hypnosis. Real memories are in bad shape when retrieved. (This is why some persons apply "hypnotic correction programs" to restore the memories back closer to the original event, such as reversing the hypnotic air-brushing/blurring of faces that was programmed into deeper alters. The mind put in the distortion program and seems in some cases to be able to reverse the distortion program.)
End time names such as Gog, etc. are believed to be given to some of the computers within recent years, to represent the names of the 10 countries that will make up the global government of the New World Order. For years the computers have been called "Beast" computers with the big important Beast computer laid in at the bottom of the mind in the hell pit. Remember that the core is at the bottom of the mind below the hell pit–but she is almost always never connected to the Beast computer. This is because the core receives very little programming. The core is told she is sleeping beauty and that her father Lucifer, who she is married to, will someday return for her and wake her up. Lucifer wanted the purest virgin bride he could get, so he marries as his top bride within the system the innocent core. The core is told she belongs to Lucifer. The core is protected by the false trinity in the pyramid and the Grand Druid Council. The core is linked to the Grand Druid Council, but not the carousel. In the VoL 2 book, we reported the cover program, which is that the core is in the carousel. If therapists want to take out computers they need to take them out from the first computer that was laid in, the Beast computer (at the bottom of the mind), and take them out in the sequence they were put in.
Programmer Access to the Computer Areas.
When the external programmer wants to put information into the computer he opens up the various "rooms" (areas or programs so to speak) and then the internal programmers take over. The story line used to build in access to the computer is the King's Chamber story in Alice In Wonderland. The king comes to the chamber and he has the right to make 3 wishes (the 3-part access code). If he doesn't make 3 wishes, everything disappears like in the Alice In Wonderland story. 3-part access codes are usually DATE, COLOR, ALPHA-NUMERIC CODE. But they could be three objects within the room, or they could be a sound, a touch, and a third-sight signal. Generally, the Illuminati have used the actual date that an alter (a part) or a family of alters was created as the actual code for that chamber of the computer. That chamber will then be linked to all the alters of that family. So lets say a family of alters was created on 4-30-64. This would normally be written on the charts as 43064 or because the Illuminati often work with things backward, some programmers will write it 46034. Which ever method, forward or backwards, will then be used consistently as the first part of the access to that family's computer chamber.
There are 26 rooms in the dollhouse, or in other words, 13 families of alters on a grid with 13 mirror images to mirror those 13. This was very standard for years. When the programmer places the information in it is put on a mental imaginary "computer disk" or in the older models "spools". The reader needs to remember back to the hypnotic surgery that we discussed in the Illustrated Guidebook and the Vol. 2 book, to remember that the victim has their insides hypnotically removed and the spools or computer disks placed inside of them.
Let's say a therapist touches one of the misinformation computers, which are the most assessable. These computers will then activate mirror images and lots of demonic activity. The therapist may end up integrating demons, and working with constructs and mirror images, and the proper excitement by the real alters is even programmed in. These are what may be termed "FALSE HOPE PROGRAMS". The system will rest and relax and the therapist will declare everything finished. (For years, the two authors have tried to explain this, but it seems to be a hard subject for therapists to understand.)
Finally, a very important warning, tampering with the computers is serious business, from the co-authors experience in working with therapists, we strongly advise them not to tamper with the computers, because the self-destruct programs are so strong. The self-destruct programs will turn the person into a vegetable, or into pure insanity if the victim survives the suicide programs. The skill level among the therapeutic community is not yet at the level needed to tamper with the computers, but we hope with the publication of this book and with more experience that that will someday become a reality. This author, Fritz, is aware of therapists that have tried to tamper with the computers, but the programming has beaten both them and this author. For instance, it took lots of work to discover that this author's week of work with a front computer actually was only playing with a misinformation computer and its FALSE HOPE PROGRAMS.
OVERVIEW.
The internal structuring of alter systems are built with alters being arranged in hierarchies. Often the hierarchal arrangement is a mirror of the group carrying out the programming. The CIA and other intelligence groups use SECTIONS. You will find the grids of alters arranged in SECTIONS. The Illuminati have a Grand Druid Council and other councils, which will be mirrored within the system. Alter families will be set up as mini-covens within the system, often with 13 to an alter families. HUBS will be created in reflection of how Satanic groups are organized into hubs.
THE INTERNAL HIERARCHIES form RATIONALES
Some of the structures within the programmed alters reflect the philosophies of the ancient occult world. The structures are buttressed by the occult beliefs that are connected to them. Cisco, who has helped me co-author two books on mind-control, pointed out how the ancient world had a god which could only be adored by one family. Each city had its own gods, and religion was tied to the family and the city units. This was the Religion of the Hearth, as some have called it.
The Roman Gens was an extension of this, the Gens were political associations of several families who collected into a religious union, as the Illuminati families have done. When we see how the ancient religious customs were, we see how the internal Illuminati structuring parallels this thinking. Each internal city or world is assigned a god (demon) during the programming. The Illuminati families have collected themselves into a Gen. This is an example of how the internal structuring is buttressed by some occult philosophy which will in turn buttress itself by its claim to antiquity, as if length of practice makes a mistaken superstition valid. The myths of the occult world and their symbology are very extensive. The programmers have many items to choose from as they construct the deeper internal worlds of an Illuminati slave. There is a twisted logic to many of the names they give.
The Magna Mater is the sybil, the symbol of truth, a goddess who can take the form of a city in the occult world. To apply the name MAGNA MATER to a part of the mind then creates a triple or quadruple pun–we have something that can be truth, a city, a goddess, and a sybil. The programmers thrive on puns. The personification of the stages of spiritual life which are called fairies are named White Ladies, Green Ladies, and Black Ladies. Dissociated parts of the mind can be given the name Green Ladies, and then the secret meaning attached that they are fairies that connect to the system's spiritual development. The possibilities seem endless. Since cabalism is behind much of the Illuminati programming, and double images are so important–some systems may incorporate the dual being known as Metatron on top, and Samael on the bottom. This is the occult concept that all phenomena has an essential ambivalence. This is the Gemini concept.
Another Cabalistic concept that appears in programming is the silver palace also known as the silver thread that connects man to his origin and to his end. The palace in the occult world was to have secret chambers (dissociated areas in the subconscious) which hold treasure (programming truths). In the occult world's beliefs, it has been said that the palace of glass represents the magically appearing ancestral memories of mankind from the Golden Age. In Druidism, the horse was linked to the solar wheel, which had more wheels within itself.
During programming: Concepts are linked in series, Concepts are mirrored, and Concepts are related to the whole. The function of occult symbols lends itself to such applications.
p_11-2.jpg
p_12_1.jpg
about the pic
Barbie Dolls are used for the mind-control programming. Interestingly in 1995, while fighting over Barbie dolls a 6-yr. old girl in Modesto, CA stabbed a 7-year-old playmate with a knife while telling her she was going to kill her. Police did nothing with the girl who had used the knife except to have the parents take her. One wonders what was this all about. Meanwhile Barbie Dolls have drastically changed and are now very occultic.
[back]
CHAPTER 12 SCIENCE No. 12-EXTERNAL CONTROLS
[back]
Advertising & Trauma-based programming.
ASSET CONTROL
SURVEILLANCE.
HARASSMENT
CAR COLORS
TELEVISION
BUILDING FAMILIES AND COMMUNITIES THAT HAVE INTERWOVEN PROGRAMMING
ISOLATION
BOARDING SCHOOLS & BODY PROGRAMMING.
When controls fail, THE FINAL SOLUTION.
The Programmers
Advertising & Trauma-based programming.
The Oregonian newspaper, Sat. Mar. 9, 1996, (p. E1) ran a story about women entitled, "She sells, She purrs, she percolates, she's a power player: Ads reflect society's view of women." At the top right is an ad with a Marilyn Monroe type of model with puckered lips selling cigarettes. Below her is a picture of a girl with the caption, "You were born a daughter. You looked up to your mother. You looked up to your father. You looked up to everyone. You wanted to be a princess. You thought you were a princess."
The themes in this article match the thinking within Monarch type programming scripts. Is this coincidence, or just a sign of the times, that so much in our lives echoes programming scripts? Some of the ads in today's magazines are obvious manipulations of the Monarch trauma-based mind-control. For instance, Royal & Sun Alliance Insurance Group controlled by the Rothschilds had an add in a recent popular magazine which has nothing but an entire page of violet-blue haze with an eye [an allusion to the All-seeing eye] staring out of the haze along with the big caption "YOU HAVE OUR ATTENTION." This would reinforce many of the mind-control programs. Ostensibly, the ad was for insurance.
Another ad that is an obvious manipulation of mind-control programming is an Aveda ad placed in Vogue & Vanity Fair magazines, where a woman's face is broken up into 4 pieces and put into a glass bottle along with a white daisy type flower & a yellow flower. The caption reads 'You, bottled." the subcaption reads "what would you be if you came back as a pure-fume?" Notice the play on words that the programmers love.
Another more subtle example is a Virginia Slims ad which is designed to hit the subconscious of the Monarch slave. This ad has three thrones across the top of the page. In front of the three thrones is the Virginia Slims lady. The first two thrones have a chubby queen sitting on them & the third on the far right is vacant. The 3 queens are an allusion to the 3 hierarchy queens and the maiden-mother-hidden crone sequence in programming. The queen holds a scepter which adds some more power to this as a subconscious trigger. The caption reads, "Virginia Slims remembers the shortest reign of a female monarch. Queen Katrina of Valenski was crowned at 10 past the hour, lit a cigarette at 12 past the hour and was dethroned at 13 past the hour."
The hidden meaning behind this is that the front woman, remembers on a subconscious level the threat that if you don't remember the authority & power (thrones), and the power structure (the triad), then you shall remember the programming threat. This ad subtly reinforces the programming threats to slaves.
Other ads that manipulate programming use Wizard of Oz, Alice In Wonderland and Star Wars themes. They use allusions to the programming scripts and show subtle occult symbols. The hypnotic eye is very popular in ads. Some ads simply seem to be a reflection of how our culture has become part of the programming, for instance a Sportsman device that is sold by an add with a big caption "Split personality", or a Merit cigarette ad that sells its product with the caption "Split personality." A watch ad for Bulova has an empty chair with a banner over it "Personality of the year' and the caption "Is your watch making you a missing person?"
During the programming, shifts in time certainly do make certain alters disappear, so although this ad is may not be a direct attempt to manipulate programming, it certainly is a product of today's mind-controlled society.
>>>On the next pg. is an ad appealing directly to the thinking of a programmed multiple.>>
p_12_eve1.jpg
p_12_eve2.jpg
Over the years of watching the Illuminati manage their slaves, it is clear that they like to have their slaves under constant surveillance. Often times they use friends of the slave to keep tabs. For instance, the teams that they put together are great for using to monitor other team members. If they find that the acquaintances and friends of the slave are not contributing enough, they will send out people to keep tabs on the slave.
Surveillance of a slave is done either to let the slave know that he or she is being watched (obviously as an intimidation device), or is done in line with common intelligence/police type tactics. Many times the Illuminati surveillance is so obvious, that this author has to conclude that it is intentionally so. For understanding undetectable surveillance, Hollywood movies are not teaching manuals. To watch someone's house the people working for the Illuminati will often try to maintain about 2 blocks distance. If they have to they can use battery operated bugs or bugs installed using the wiring in the house. If they want to get high-tech they can use fiber optics or even go to satellite-ground antenna monitoring of what a person is doing. If you are looking for a bug, get a counter that will go up into the higher ranges, & expect them to stick bugs away from equipment like refrigerators and air conditioners which make a lot of noise.
They also have directional microphones called bionic ears which can be used to pick up outside sounds from a distance. Sophisticated filters can be placed on their listening devices to screen out background noise. Lasers beamed onto windows can be used to listen to conversations within a building, but these have the drawbacks of picking up building noises, & noises from the street. Laser listening devices are going to function better at night. Telephone taps are commonly done by the Network to control and monitor their slaves. There are low-tech and high-tech ways to do this. The bottom line is that all telephone conversations in this nation (U.S.), all CB-radio traffic, all radio traffic has been totally monitored since before the 1970's. It is a given that anything you say on the telephone will be fed into a large computer which has words to watch for. Unless you believe you are a high-profile person, who is monitored 24-hours a day, it is best to stay away from mentioning trigger words in your conversation.
Often times, the people monitoring slaves team trail the slave. Teams of people can track a person on foot or in a car. Using a team is the best method in many situations. Often they tag team follow a person. They also have team formations that are used to keep track of a person, such as one person on the opposite side of the street, and one immediately behind and one far behind. Having a distant tracker allows the close one to avoid being caught if the slave tries to take evasive action or to ambush the stalker.
If the person watching the slave gets really concerned they may end up using special headlights called "blackout lights" to shadow the slave at night, which are shielded to keep the beams of light from showing in front or to the side of the car. These special lights light up the road in front of the car only, so the car remains unseen by the stalked mind-controlled victim.
There are a number of secret devices to aid the abusers in their control over environment that the slave must live in. The intelligence groups often use a radio device called AGENT ALERT which looks like a ballpoint pen which sends out a continual beeping when it is activated.
Besides their Global Positioning Satellites, intelligence has Pegasus, a ship that can monitor & record electronic transmissions while sailing offshore. After reading the mind-control significance of Pegasi, it clearer the Navy picked an appropriate horse to record electronic transmissions. Even though all slaves have Reporting Alters, & are tracked in other ways, the Illuminati often has redundant safety features to monitor their "human assets".
Because the slave is monitored from so many different unseen methods, it does begin to seem hopeless to some to ever be free of Big Brother. If you add to all this, that the slave has been programmed repeatedly that there is no escaping their All-seeing eyes, then it is easy to see why so many slaves acquiesce & just comply.
A Vol. 2 reader, who caught onto to what the book is about, pointed out how the new film The Juror reflects their approach to control. The movie shows a controller who is obsessed with who he is controlling. This holds true in real life for the programmers too. Even though Dr. Mengele programmed thousands of people in his lifetime, he had his "pets" (Lieblings), pet slaves that he was obsessed with. In the movie, the controller says, "Do what I say." and "If I can keep you scared, I can save your life." These could have come straight out of a programmer's mouth. He picks out a juror who is creative & intelligent to control, which are the criteria for selecting victims in real life. The movie illustrates some of the concepts which actually happen that this chapter 12 is trying to describe.
One of the things that the Network does to any slave that tries to break free, and the Illuminati does to any of their hierarchy slaves (like this book's co-author Cisco) who tries to get free is to harass them constantly.
Stephen Knight who researched the Freemasons wrote a chapter in his book The Brotherhood, The Secret World of the Freemasons about how they harass any opposition. (See chapter 16, pp. 140-149). When Knight interviewed ex-Masons they were in abject fear of the Masonic system. They didn't even want to talk about how much power the Freemasons have to ruin careers, spy, and harass people. Since Knight's book is available for the reader, and since there are a number of books (like those from Loompanics) that are very detailed on harassment techniques, this book will only briefly touch on the subject. However, just because it is only briefly mentioned please don't mistakenly think this is a minor topic.
The Illuminati and their co-workers the Freemasons, the Mishpucka, and CIA put outrageously great amounts of efforts into harassment.  It is not unusual for a recovering victim of mind-control to find their favourite pet killed, or human faeces in their oven, and other bizarre harassments that show the warped character of the controllers. The CIA, the Masonic leaders, and the Mishpucka keep extensive files on everyone for purposes of blackmail, and coercion. The Masonic leadership of Freemasonry in a given area will have thousands of "blackmail" files on essentially everyone of importance in their area. Upper echelon people such as judges, lawyers, and politicians are generally controlled via IRS infringements, and many of the lower echelon people are controlled through weird sexual items. This is where the Delta and Beta Monarch slaves are so helpful to the Illuminati. The Freemasons can have a sexual alter seduce a man, contrive a scene, and then an alter that is in a death trance takes the body so that the target of blackmail thinks he has killed the woman. It works great for blackmail. (This information comes from several witnesses who are informed about the blackmail files & their methods for blackmailing.)
The Vol. 2 book apparently neglected to relate how the colors of cars are used to access victims. Some victims around the U.S. are programmed to red & white cars. Autos with both colors will arrive. Red & White are the great mystical colors assoc. with the 2 headed eagle & Janus. White cars are for high ranking slaves. Very specific sexual slaves are picked up in red and black cars. In N.Y. brown Volkswagens were frequently used for accessing slaves. Two tone cars will be used to trigger particular alters to come out. Another common practice that is occurring across the U.S. is for the draconian enforcers to borrow cars from dealerships so that they can't be traced. The license plates of cars are also used as access triggers for some slaves.
The all pervasive television, which has been so common place in the lives of Americans, is used a great deal to manipulate trauma-based mind-controlled slaves. Tests by researcher Herbert Krugman have shown that TV watchers used their right brain twice as much as their left brain and released Beta-endorphin into their brains. In other words, TV watching trains the mind to go into an altered state. If a blank black frame is interjected every 32 frames on a show, a 45 beat/minute pulsation is created that puts a person into a hypnotic trance. In Vol. 2, it was brought out how the Lawnmower Man movie, displayed the symbols used to program many of the slaves. The movie was advertised with the slogan "God made him simple…Science made him a god." This is a slogan fitting for an Illuminati member who has been programmed to think he is a god, and yet he must serve his superiors.
BUILDING FAMILIES AND COMMUNITIES THAT HAVE INTERWOVEN PROGRAMMING
The Illuminati has increasingly wanted to keep their members within Illuminati family settings. They have had more problems with placing their members into families which are not part of their mind-control than they have had with children which are raised within Illum. or cult type settings. If one or both of the parents have programming, the Illuminati often weaves the programming together so that the entire family becomes one programmed dissociative mechanism.
For instance, on a ritual night the child as it is being tucked in bed will say to the mother, "MAY I HAVE A DRINK OF WATER." This is the code trigger for the mother to give a drug in a drink. The child is to say another trigger to the parent when they get the drink, then is programmed to drink the drug. The second trigger causes the parent to switch to a personality that feels compelled to get the family into the car and drive. The family all mechanically click into a series of alter switches and end up at a ritual. They mechanically trigger and reinforce each others programming as they return from the ritual, and end up at home with everyone's front alters not knowing what the family has been involved with. Here we have an entire family whose testimony could reinforce each other that they did nothing but sleep at home that night!
There are some locations, for instance, two entire towns in southern Utah that are a strict offbeat shoot of Mormonism, which are entirely programmed multiples. There have been some television shows about entire towns being caught up in secret satanic rituals. It is true, but they also have occult mind-control programming along with those rituals. Here we see how an entire city can trigger each other's programming and all be involved in the insanity of all this without full awareness. This is in fact, where the entire world is headed very rapidly.
While control mechanisms are put into place world-wide, the Illuminati still must keep their children isolated from the world. To successfully raise a child slave, the mind-control's success depends upon isolation. Children involved in cult rituals do not talk to other children. If they are caught talking, the standard punishment is to tie the child to a dead child. They want their children to shut down, and only do what they are told. They want the child to respond only to the Programmer and its Mother of Darkness. They heap lots of guilt upon any child that breaks the rules of no communication. Children still manage to learn to speak with their eyes and fingers. They become skilled at this even though they know the punishment will be severe if caught.
BOARDING SCHOOLS & BODY PROGRAMMING.
Most people would naturally think that this topic would belong to this chapter. Actually, this topic DOES NOT belong here. But it was placed here on purpose, because its placement here will emphasize its point, while not detracting from the Cranial Manipulation and Genetic Manipulations sections of Chpt. 8.
Boarding schools not only give the elite a chance to isolate, educate, and indoctrinate their children, but it is also a great way to layer in body memories that instil a subconscious ethic of elitism. It is an attitude of elitism that allowed the Pharisees to crucify Christ, the Nazis to kill Jews, and Moslems to kill Hindus, etc.
How does this layering of body memories happen? The memories of our bodies are buried within the cells of our bodies. Therapists have known about body memories for some time now. Cellular level body memories are way beyond the grasp of the consciousness. Buried into a deep unconscious repression are the body memories of the social values (elitism) that are contained in how the social elite walk, hold a spoon and knife, how a person must stand up straight with good posture, and how the person holds and uses their facial muscles. The boarding schools teach an entire world of elite mannerisms such as "keep a stiff upper lip" to "don't hold your knife in your left hand."
West Point performs the same programming of body memories, to insure that their West Pointers develop an elitist attitude. The effect of these body memories is to subconsciously encourage the mind into thinking that it is elite. The erect posture and military gait that this author was taught carry with them the implication of superiority. While the conscious awareness of this elitist indoctrination can be gotten in touch with and defused, there are none-the-less buried elements of body memory that resist tampering. This author would ask his fellow West Pointers, how do they feel if they walk like a general around civilians?
This type of body programming contributes to an ethic of elitism. How it is created and how it works has not escaped the detection of the elite bloodlines. This is why the British boarding schools are so strict about "good manners." Through a plebe year of bracing, the mind develops body memories of how to stand in a military brace. Some cadets are so traumatized by their first year, they never return to a normal posture. A military brace has been proven to not be the healthiest posture. It's this author's contention that the military brace is insisted upon for mind-control, and not for health reasons.
Victims of mind-control have been placed in many humiliating body positions, as well as many painful body positions. It takes years of slow subconscious work as well as deep massage to pull these up and work with these body memories. For instance, during the tortures to create cat/kitten alters, the children often crouch like cats. Kitten alters will retain their body memories of crouching (hunching the shoulders) like a cat. Sometimes when their masters begin to beat on kitten alters, they will reflexively crouch like a scared kitten. And what's with the woman called Queen Sheri who has been managing the two professional wrestlers Macho King and Randy Savage? Both of these professional wrestlers are part of a "family" called the New World Order. Queen Sheri walks around in a cat costume and facial makeup that makes her look like a real wild cat. Is this wildcat a Monarch wildcat?
When controls fail, THE FINAL SOLUTION.
The World Order can send out teams of professional killers. (What's new?) These killers often emotionally distance themselves from their victims by thinking of their "targets" as inferior forms of life that they are "liquidating", "terminating", "cleansing from this planet", etc. In 1996, a 4-member hit team took out the entire Bill Mueller family (Bill, Nancy, and 8 yr. old Sarah). Bill was a member of the Special Ops Group SOG of the Navy Seals. He had become a Patriot and a big gun dealer living in Arkansas. Someone decided he was too much of a threat and sent a team in to take not just him but his entire family out. Booz-Allen & Hamilton, Inc has been hired by the NWO to infiltrate the militias. This author has known in this area several disobedient slaves, and one therapist who lost their lives to assassins, as well as another one who committed suicide according to programming. But anymore what isn't dangerous? Crossing the street and eating at a restaurant can kill you too. The reader knows this. This author also knows of several who were going to be killed but escaped. One troublemaker was to have been sacrfficed but broke free and hid, another was ritually tortured, buried alive, and left for dead, but managed to survive.
p_lewis.jpg
[back]
APPENDIX 1 – PROGRAMMERS/RESEARCHERS
[back]
DIRTY PSYCHIATRISTS involved with MIND CONTROL
DIRTY RESEARCHERS
DIRTY TAVISTOCK CONTROLLERS
SOME OF FREEMASONRY'S MIND-CONTROL PEOPLE
REMOTE VIEWING MIND-RESEARCH
ODDS & ENDS
LIST of PROGRAMMERS (continuation from the list given in Vol. 2)
A FEW random CIA/INTELLIGENCE MEN involved WITH MIND-CONTROL
Anton LaVey–Profile of a trauma-based mind-control programmer
WHAT TO LOOK FOR.
MICHAEL AQUINO, a military/cult mind-control programmer
HIS CAREER
PERSONAL HISTORY.
UNDERSTANDING The CHURCH OF SET
UNDERSTANDING SOME OF AQUINO'S PROGRAMMING.
BACKGROUND
SEQUELAE OF ABUSE
The Illuminati set up the Josiah Macy, Jr. Foundation to direct some of the mind-control its research, and its financial affairs. Harold Abramson became one of its leaders. One of the Macy Foundation's directors has been military intelligence chief and relative to Winston Churchill, Gen. Marlborough Churchill. Both Winston and Marlborough are of the corrupt Illuminati Marlborough family.
DIRTY PSYCHIATRISTS involved with MIND CONTROL
Dr. Van O. Austin, Utah
Dr. George Brock Chisholm, Tavistock
Dr. Lawrence D. Ginsberg
Dr. Robert G. Heath
Dr. Paul Hoch, Scot. Rite Mason
Dr. Robert Howell, Utah
Dr. Nathan Kline, Columbia Univ.
Dr. Nolan D.C. Lewis, dir NY State Psyc Inst. & Scottish Rite Mason
Dr. Amedeo S. Marrazzi, Missouri Inst. of Psychology
Dr. Sudha Tayi
Dr. Ross Adley, formerly of the Brain Research Center at Univ. of So. CA, now at Loma Linda Univ. Med. School, CIA, worked on ELF waves and the brain, and EM radiation.
Dr. Emmanuel Donchin, head of Psyc. Dept. at Urbana-Champaign's Univ. of IL, worked on thought-controlled machines.
Dr. Wayne O. Evans–U.S. Mil. Stress Lab, Natick, Mass
Dr. Dave Morgan, Lockhead-Sanders, worked on the syntel
Dr. Arthur Upton, head National Cancer Inst.
W. R. Byon
Richard Crossman
H. V. Dicks
Ronald Lippert
Brig. Gen. Dr. John Rawlings Rees
SOME OF FREEMASONRY'S MIND-CONTROL PEOPLE
Dr. Robert Hanna Felix–33°, dir of psyc. research for Scott. Rite, oversaw the Lexington KT programming facility
Dr. Franz J. Kailman-jewish Nazi who did research at NY State Psyc. Inst. while at Columbia Univ.
Seymour Solomon Kety- exec. of Scot. Rites psychiatry experiments, & nat. dir. of American Eugenics Soc.
Winfred Overholser- overall leader of Masonic research into mind-control, sup. of St. 'Elizabeth's Hosp. a mental hospital in Wash. D.C.
Private organizations doing research into RV in the U.S. are run by "retired" intelligence people.
Joe McMoneagle — "retired Intelligence officer" left govt.'s Stargate to set up "private" RV research.
· Hillary Clinton, who is a Grand Dame in the Illuminati, started in the early 1960s a group of mind-controlled slaves which is called Royal Project. She reportedly exercises power in the White House via 16 staffers who have been given authority over the different departments of government. One mind-control victim claims that one of Clinton's talks gave triggers for him to kill. One of Clinton's never mentioned cronies, who works closely with him, and travels to meet him at various locations is Charles Whitmore of Arkansas.
· One of the big areas where a great number of mind-controlled slaves congregate are MUFON meetings. An example of a slave handler, who is also a programmed slave is Dea Martin, who tells people she has worked for the government and who does aura readings. She controls her sidekick Jim Courant, a commercial airline pilot. An example of a programmed multiple with "alien" programming was serial murderer Robert Moody. Film taken of Moody in jail shows his MPD (DID).
· Kleinknecht was National Director of NASA during the Moon Flights when lots of mind-control programming was being done by both the Masonic lodges and NASA. C. Fred Kleinknecht was not only director of NASA but the Sec. General of the Scottish Rite 33°.
· The Doors Singer Jim Morrison used the occult code name Lizard King and The Exterminating Angel. He was involved with mind control.
· Col. John Alexander, (also called Doctor) who has been living in Arizona, and who has been in charge of making psychic warriors for the U.S. Army, has the inside reputation of being the Illuminati's top mind-control programmer.
· James Monroe. It turns out that there have been two James Monroes involved in programming. The first one was bn. perhaps in the 1920's, was 6' tall, and he was the CIA man who set up the Society for the Investigation of Human Ecology, a CIA front for mind-control, He had a very polite front in spite of being a sadistic programmer. The second one was James Monroe Martinez, bn in 1938, 6' tall, who was busy setting up underground bases such as the one at Los Alamos under the cover of working for GE. One report said he died in 1965. His mother owned a Catholic half-way house in Albuquerque, NM.
· There are all kinds of events happening around us that show evidence of mind-control. One example, is the case of a Catholic man quitting the monastery and becoming a NASA physicist.
· Part of the success of the mind-control lays within their child procurement abilities. The' corrupt Finders group, which consisted of FBI/CIA men who helped procure children, were led by Marion Pettie, who was called "the Stroller" and "the Game Caller" by Finder members.
* The establishment allowed CIA programmer Dr. Louis Joyon "Jolly" West to examine Jack Ruby in his jail cell. When Ruby refused to admit to insanity, West labelled him "paranoid and mentally ill" and Ruby was placed on pills, which were called "happy pills". Ruby believed he was being poisoned by the establishment.
· Part of the success of the mind-control lays in the fact that there is such a widespread network of pedophiles. On Channel 5, May 6, 1996, during a show "Priestly Sins," it was stated that "at least 3000 [catholic] priests are sexual abusers of children." The program stated that 600 priests have been reported to law enforcement within the last few years for complaints of sexual abuse of children. The show stated that catholics are silenced and punished if they speak up. Priests who speak out are penalized. For instance in 1985, a senior official at the Vatican's embassy in Wash. D.C. discovered rampant sexual abuse and wrote a report on how it should be dealt with responsibly. The church promptly buried the report.
LIST of PROGRAMMERS (continuation from the list given in Vol. 2)
Stephen Aldrich
Morse Allen
Dr. Charles L. Brown
Col. Campbell
Dr. Cleghon
Hillary Clinton
Jack F. (Uncle Jack) & Jill Coogan
Sen. Alan Cranston
"Gen." Earman
Don Ebner
Dr. Charles Evans
Dr. Tom Fox
Floyd & Mildred Frost & dau. Carol Frost Buls
Dr. George S. Glass
Dr. Goldshe
L. Wilson Greene
Dr. James Hamilton
Dr. Robert G. Heath
Richard Helms
Dr. Paul Hoch
Dr. Hyde
Dr. Korim (sp. not known)
Dr. Lowenstein
Mateland
Dr. Gary E. Miller
Dr. Moore
Dr. Martin Orne
Dr. Rosenberg
Dr. Woolsworth Russell
Cpt. George White (nickname/cover name Stormy)
Dr. Robert E. White
A FEW random CIA/INTELLIGENCE MEN involved WITH MIND-CONTROL
John Bacon
Tennant (Pete) Bagley
Col. Matt Baird
Bill Brown
Richard L. Conolly, Jr.
Burt Courage
Cong. Bud Cramer
Jerry Droller
Robert Feldman
Jim Ferguson
J. Peter Grace
Cynthia Hausman
Richard Helms
William J. Hood
Jack Kindschi
John McCone
Charles McKay
Cord Meyer
Comm. John R. Miller
Herbert Quinde
Wade Thomas
Anton LaVey–Profile of a trauma-based mind-control programmer
When someone coined the phrase "dynamite comes in small packages" the phrase was an apt description of Anton LaVey. (Released photographs of LaVey prevent people from realizing how short his is.) In a personal letter which Anton LaVey wrote, "With my swastika, I'm strong. My Satanic amulets give me power. I'm not a misfit anymore, with pimples and a heart murmur and flat feet."
Anton LaVey is famous for having started the Church of Satan. He chose Walpurgisnacht, April 30, 1966 to start the Church of Satan in San Francisco. Previously he had began holding midnight magic seminars in 1960. He and his occult friends held Magic Circle meetings until he founded the Church. His Church of Satan is officially recognized by the U.S. government and the military.
He turned an old Victorian House, at 6114 California St., San Francisco into what has been called "the Black Castle". It was for years indeed black on the outside, and LaVey would drive a hearse. Anton LaVey kept a full grown 400 lb. Nubian lion named Togare from Ethiopia at his house (which was allowed both inside & outside) that scared the neighbours when it roared. He also has kept a black leopard.
LaVey loves to play his Hammond organ music in his black castle as if his house were a stereotypical horror house. Inside the house are rooms used for rituals, occult books including books on cannibalism, coffins, a maze of secret passageways, and LaVey's private saloon called the Den of Iniquity. He called his satanic covens "Grottos."
This author is aware that the Church of Satan got Grottos going in the following cities: Amsterdam (Magistralis Grotto, Neth.), Boston, Chicago, Dayton, Denver, Detroit, Edmonton (Can), Indianapolis, Kansas City, Las Vegas, London (Eng.), Los Angeles, Louisville, New York, Paris (Fr.), Phoenix, Portland (OR), St. Petersburg, Seattle, Silverton (OR), and Vancouver (Can).
Undoubtedly, there are other groups, as well as a scattered following of individuals. The Church of Satan has had many Ph.D.'s. The church has had a high percentage of professionals such as: doctors, lawyers, teachers, former FBI agents, IBM executives. Cult underground film maker Kenneth Anger was a member of the Church of Satan. An ex-high priest of the Church of Satan told this author how he was recruited for the position of high priest. He was promised anything he wanted in life, any woman, any money etc.–and they made good on much of that promise. As high priest, he micromanaged everyone's lives in his grotto. His people came to him for permission and advice and orders for everything. It wasn't just mind-control, it was total control of their lives. But giving orders and micromanaging the lives of many people became a drag.
One of Cathy O'Brien's abusers was LaVey's High Priest Merle Kilgore, father of Steve Kilgore. LaVey (bn. April 11, 1930) comes from a Rumanian bloodline from Translyvania. As he grew up he love the story of Frankenstein. As a teenager he loved the occult. He dropped out of high school to be part of the Clyde Beatty circus.
LaVey likes to work from dusk to dawn. Like his ex-right hand man Michael Aquino, another mind-control programmer, both LaVey and Aquino are fascinated with the Nazis. (Michael Aquino's wife Lillith Sinclair was formerly the head of the Church of Satan's NY Lillith Grotto.) LaVey sports a Van Dyke beard, and a head shaved in the same fashion of executioners during the middle ages. Most of his followers never see him. Although LaVey has gotten wide press coverage, thanks to William Randolph Hearst's newspapers and his publishing companies like Avon, LaVey is a very secretive person and very rarely shows himself to even his high priests, or even talks to them.
His Church is a collection of self-sustaining dictators. He exaggerates the numbers of his church, apparently by claiming people who come in contact with his church. Before we discuss more about his organization and their rituals, let's touch on his role as a trauma-based mind-control programmer. Anton LaVey has openly advocated the creation of android humans. Even more startling is a music video shown on TV in which Anton LaVey personally gives a graphic description of how Anton LaVey intends to make the listener into his "mind-controlled sex slave". The audacity of this is mind-boggling. But then LaVey has tended to be more frank than other occult figures. The approach seems to be "I'll shock you so boldly, that you will not believe what I am saying, but will think its an act."
Taking inspiration from Orwell's 1984 LaVey wrote, "Up is down, pleasure is pain, darkness is light, slavery is freedom, madness is sanity…" This is actually the language that is used at times in the mind-control programming! Anton LaVey has been the mind-control handler/programmer of a number of Hollywood actors & actresses, including Jayne Mansfield and Marilyn Monroe, who both serviced him as sexual slaves. Jayne Mansfield, who was a High Priestess in the Church of Satan, shocked people when on a USO tour in Vietnam she asked for a satanic religious service. Sam Brody, one of Mansfield's handlers, had a bitter struggle over who would control Jayne, and one of LaVey's followers claimed to have tampered with Brody's car. Anton LaVey has also been the programmer of his daughters such as Karla and Zeena and his son. An ex-member of a satanic cult in the Ozarks said, "If LaVey says jump, you jump." Some of his followers call him ''Uncle Anton" as if they were programmed by him. LaVey's cover is that he is simply a showman, a buffoon. His cover has fooled many people, the truth is the man is not to be trusted and has a lot more evil power than people have realized.
LaVey has always had what some describe as a "warm relationship" with police. In fact, he was on the police force in the 1950's as a photographer. The police were reluctant to question LaVey about the death of Jayne Mansfield (4/19/33-6/28/67) who was one of LaVey's high priestesses and slaves in his Church of Satan. Her color was pink. Anton LaVey has been seen going onto military programming bases, and was at the NORAD area in Colorado for a while.
Dick Russell interviewed Anton LaVey with his approval. Russell wrote up the interview in "The Satanist Who Wants To Rule the World", (Argosy, June 1975, p. 41) that the Anton LaVey believes that he and an elite force of Satanists will rule the world. LaVey took an obscure occult tract from the 30's and some thoughts from HG. Well's book The Island of Dr. Moreau for a ritual. From this, he came up with a ritual which includes these stanzas:
"Man is God. We are men. We are gods. God is man."
When the reader is done reading this book, he will see how this ritual can fit in perfectly with trauma-based total mind-control. In fact, when people attend the Church of Satan's secret rituals, once people enter the ritual room two hooded guards prevent people from exiting prematurely through the closed doors. The rituals have been reported as being very disgusting. It well publicized that LaVey uses naked human altars for rituals, after photos were published of his satanic baptism of his 3 year old-daughter Zeena in May 1967. Does the Church of Satan involve summoning demons and worshipping Satan. Yes, most definitively. For instance, here are the some of the words of an important invocation used by his satanic rituals:
In nomine Dei nostri Satanas Luciferi excelsi! In the name of Satan, the Ruler of the earth, the King of the world, I command the forces of darkness to bestow their Infernal power upon me!…By all the Gods of the Pit, I command that these things of which I speak shall come to pass! Come forth and answer your names by manifesting my desires! Hail Satan!"
LaVey's book The Compleat Witch (NY Dodd, Mead, 1971) p. 266 advocates that one achieve self-understanding and "embrace and cherish the demon within him." In LaVey's book The Satanic Witch (LA: Feral House, 1969) he states that a witch to be successful must make a pact with the devil. His church loves to chant "Hail Satan". They like Crowley's law, Do What thou Wilt. LaVey & some of his members teach that at the core of each person is a demon waiting to be released.
LaVey loves Black Masses and desecrating anything sacred to Christians. LaVey urges people in his books and talks to bring out their "darkest" urging. He hints at human sacrifice in his Satanic Bible, by having a section on it, but is careful not to go too far out on a limb publicly. He always publicly denies that Satanists should do human sacrifices. One of the doctors of the San Francisco Church of Satan is said to have brought LaVey's church a severed human leg from the hospital he worked at, which was basted in Triple Sec and eaten by LaVey and his group. Most of the rituals are done in secret, there are no way to confirm rumours that they eat human flesh, but knowing the mentality of some of his church members, they would do it just to check it out as a new experience.
Illuminatus William Randolph Hearst gave Anton LaVey some big help. His Avon Publishing published his Satanic Bible in 1969 (it was first released in Dec. '69). Since then it has reportedly gone through over 30 printings. LaVey's next book The Satanic Rituals also was published by Hearst Avon in 1972. It talks about the power that blood sacrifices give the magician. Hearst's papers also gave him publicity.
LaVey is always thinking of ways of promoting his theology. Years ago, he had a topless witches Sabbath on San Francisco's North Beach. In 1990, the Church of Satan went into the Heavy Metal music business. The Church of Satan puts out a monthly magazine The Cloven Hoof which for most members is their main indirect communication from Magus LaVey.
One of the most asked questions is, "Fritz, what does one look for?" One of the best covers for Illuminati kingpins is religion. Another is philanthropy. Philanthropy ties in with Illuminati beliefs that your good deeds must balance your evil deeds to gain power–it's a Gnostic cabalistic view point. The Illuminati kingpins are great philanthropists even though much of their philanthropy is self-serving.
Perhaps giving an example of a family that is suspect due to their circumstances would help illustrate this point. There is such a family which has gone almost undetected for years, and although some people fear them, they have not been reported on. Just because the police place a person on the suspect list, does not mean that the person is guilty. Everyone deserves the right to treated as innocent, until proven guilty.
One of the groups that concern this author are the rich ultra-secretive ultraconservative Talmudic Jewish groups. This exclusive group keep their children away from contact with the outside world and send them to exclusive, semi-secret schools. An example of this would be the Reichmanns of Canada, who are billionaires, and have had some connections to the Rothschilds of England. It's not that this author has problems with people observing their religious beliefs strictly (or in the ultra-conservative Talmudic groups, "ultra-strictly" better describes their extreme strictness). It's great that people have standards of belief and conduct. However, the author sees the same patterns of legalism and secrecy that pervade Old Order Amish groups, — except in the case of families like the Reichmanns, the potential for mischief is great, because they are not involved with milking cows, but international banking.
While most people are simply ignorant about the Amish but are not fearful of them, people who know rich billionaires like the Reichmanns scared to death of them and a heavy cloak of secrecy envelopes them. Renée Reichmann was the great matriarch of the Reichmanns of Canada who are Talmidim Chakham, followers of the Talmud. They are not Hasidic. She is a descendent from King David, and King Solomon. She lives in Toronto. Her great-grandfather, a Gestetner, was one of the wealthiest men in Hungary. Most of her family lives in Montreal, two of her sons live in Toronto. Her children are Eva, Edward, Louis, Albert, Paul & Ralph. Samuel Reichmann is the father of the dynasty in Canada.
In 1929, his egg business made him rich. He learned how to work finances and currency exchanges between different countries to make money by tricks to circumvent legalities. Their family has also gotten Rothschild financial help, and during W.W. II they worked with Koppel, who ran the Rothschild's City Bank in Gibraltar. Their family did a great many things during W.W. II from the trading center Tangier in North Africa. Tangier was located in a position to trade between the Axis and the Allies. Also during W.W. II, under the direction of the Bank of Spain the Reichmanns and others kept the Spanish currency artificially high, by creating an artificial demand for the currency. The Reichmanns made perhaps millions of dollars on currency exchanges during the war years.
Don Eduardo Reichman was the administrator of del Real Estate & Commercial Bank of Tangier. Eva Reichmann married a British merchant banker. Albert Reichmann is President of Olympia & York Developments Ltd. Paul sits on the board of the Canadian Imperial Bank of Commerce (CIBC) & on the board of Rockefeller Center Properties, Inc. (a real estate investment trust for some of the Rockefeller properties in Manhattan.) Albert sits on the board of the Mt. Sinai Hospital in Toronto, and on the board of Landmark Lands Co., Inc. which owns some of the great golf courses in Palm Springs, CA. The Ontario Ministry of Consumer & Commercial Relations has offices in buildings owned by them. They tried to buy banks in Israel. Their sect of Judaism has a Yesodeh Hatorah school for ultra-orthodox boys. Their children have very little exposure to outside world. Their children do not have access to newspapers, television, or radios. Ralph and Paul were privately educated in England at Gateshead. It's a perfect setup for trauma-based mind-control.
Samuel Reichmann is known among his kind of Jewish sect as a philanthropist who supports Torah institutions. These Talmudic families consider pedigrees and genealogies very important, which is very much in line with the Illuminati's mind-set. The reason that this family is mentioned is that the Reichmanns haven't been mentioned in my previous books, and the circumstances that pervade the family have the earmarks for what this book is about. It may be that this family of billionaires consists of only wonderful people, but it is a given that most of the readers would be considered animals by these strict Talmudists, who would never allow any of us of the wrong bloodlines to be accepted into their "in" group. Obviously the Rothschilds are of the right bloodline.
Likewise, international bankers tend to be a Machiavellian clique, (that is not this author's opinion, but the opinion of honest hearted person who have ran in those circles.) Why has this clique accepted a family like the Reichmann's from such a narrow-minded judgemental sect into their fold? This paragraph is not written toward anyone specifically, it simply calling our attention a family of billionaires that no one knows about, which lives in veil of secrecy, and a religious setting that would make mind-control as easy as imaginable. (The Reichmanns would deny what's been written here.)
There are victims of mind-control coming in to therapists from conservative Jewish groups, and at least some of these are Illuminati. The religious front could just as easily be Christian. Some of the readers of Vol. 2 reported back that the book helped them unveil the religious fronts that had helped derail their suspicions of puzzling situations that don't add up. The next programmer to be written about uses the front of being a leader of a Satanic Cult. I say front, because Michael Aquino has created a public image for his satanic cult, and hides behind that public image. Anytime someone wants to reveal the ugly truth about him, he hollers to the effect that he is being persecuted by a wild witch-hunt. He hollers that people are just having a knee-jerk reaction to his satanic occultism, and that he is really safe.
MICHAEL AQUINO, a military/cult mind-control programmer
An OVERVIEW. Michael Aquino has been a trauma-based total mind-control (Monarch) programmer for the DIA Psychological Warfare Division. He is also a prominent public satanist. A photo of Aquino in his military uniform is in the center picture section of Carl A. Raschke's Painted Black (San Francisco: Harper & Row, 1990.) Other books contain various pictures of him in satanic garb with ritual items. Most of the programmers have chosen to remain in the background, Aquino with his enormous ego, has chosen otherwise.
Senator Byrd (KKK leader & Freemason) and Aquino have done a great deal together over the years, and have been like a team. With the legal expertise of U.S. Sen. Robert C. Byrd, Aquino established the Temple of Set, a satanic cult as a legal religion recognized by the U.S. government and the U.S. military. This exclusive cult was designed to give these unchallenged criminals of the Network:
A. a legal organization whose membership consists of a mixed group of slaves and handlers, B. a market outlet for their illegal drugs and porn, C. a good public, legal, openly satanic front with which to attack all media coverage of ritual abuse.
The controlled media could now excuse itself from covering ritual abuse, by saying that they had been threatened to be sued by the Church of Set. Although the Church of Set has had the entire power of the establishment protecting it from investigation and criminal prosecution, the climate of control over the United States is still not complete enough for Satanists to openly get away with their mind-control. By identifying itself so intimately with the Church of Set, U.S. military intelligence has given the world an open trail of clues to help whistle-blowers expose the mind-control that has been going on throughout most of this century. Michael Aquino openly associated with men like President Ronald Reagan at the White House, again giving us the leverage to expose the secret satanic philosophies of America's leadership. Most of these men lead double lives, and due to the mind-control it has been hard to establish (except for eye-witnesses) that they are secret Satanists.
The army has known about Michael Aquino's Satanism from the beginning, clear back in 1968. Aquino (and some of his satanic lieutenants) received a High security clearance (reportedly level 6), and he served with the World Affairs Council.
A dozen leaders within the Temple of Set were Military Intelligence officers (for instance, Capt. Willie Browning and Intelligence Officer Dennis Mann). Aquino wrote "From PSYOP to Mind War: The Psychology of Victory" published in the establishment's prestigious Military Review magazine. Aquino writes in this "From PSYOP to MindWar…" article, "…we shall create MindWar. The term is harsh and fear-inspiring, and so it should be: It is a term of attack and victory…" Aquino is a sadistic programmer, who loves to inflict pain on others.
Aquino has a doctorate in political science. He has two masters degrees (one is in political science, Univ. of CA, Santa Barbara, where he also got his doctorate). Aquino is Airborne qualified. He studied at the U.S. National Defense University. He was in Military Intelligence in Vietnam & Germany, and the Presideo. He was a Defense Intelligence Agency attache, and taught political science on the university level. He reported directly to the Joint Chiefs of Staff and worked one on one with the Secretary of Defense Cheney. He is a pseudo-intellectual whose ego and astronomically-large pride gets in the way of real learning.
He was the former national commander of the Eagle Scouts Honor Society. (The Boys Scout system is heavily influenced by Freemasons and contains unfortunately some perverts that try to take advantage of the system for their own perversions.) There was a massive coverup in the Presideo Day Care scandal in which Aquino was involved in. There were hundreds of witnesses of the abuse. The military and intelligence put strong pressure on the San Francisco police to get them to back down from doing anything to Aquino. During that time period, the Pentagon transferred Aquino from the Presideo back to the National Defense University, Wash., D.C. (And later he wound up in the St. Louis area.) During the investigation of the Temple of Set, the FBI claimed they had no record of such an organization. The military at the Presideo, had a spokesperson tell the press that Aquino was a good soldier who did his job. Aquino hides behind his religion. In his Scroll of Set Aquino accuses the father of the girl who pointed him out as her abuser as persecuting him because he is a Satanist. Aquino writes, "Also relevant is his profession as a Christian clergyman; I certainly doubt that he would have made such an outrageous accusation against any Lieutenant Colonel who was not known to be a prominent Satanist." (p. 4 Oct. XXII)
The truth that everyone will realize on their own is that any loving, caring father when he discovers some pervert has severely sexually molested and tortured his daughter is going to go to the police no matter what religion the villain belongs to. In 1985, U.S. Army major Grady McMurtry of Berkeley, CA and Kenneth Grant's OTO got into a legal battle over who was the actual chartered OTO lodge in the U.S.
Col. Michael Aquino of U.S. Military Intelligence watched the legal battle, and wrote these comments in the Scroll of Set Vol. XII no. 5, Oct. '86, "While sitting in the courtroom watching Judge Legge preside sternly over the slug-out, I couldn't help wondering if he had any idea he was ruling on which group had legal claim to anal sex as the supreme religious sacrament in the United States." Witnesses report that one of Aquino's favorite types of sex is necrophilia, which of course can also be carried out with alters that are in a death state.
Michael's father was an Italian Catholic. A Canadian police document that this author has indicates that Michael's mother was Betty Ford. Michael's wife is Lillith Sinclair. Besides being a Satanic High Priest & Ipsissimus, and an Military Intelligence Officer in Psychological warfare, Michael was a stockbroker for a while. In 1970, he joined the Church of Satan, and led a grotto in Kentucky. Michael gave lectures on Satanism at the University of Louisville, and used his house in Louisville for rituals. Aquino claimed to be anointed as the Second Beast, the one that Aleister Crowley prophesied in The Book of the Law. (See Aquino's The Book of Coming Forth by Night.) While LaVey shaved his head and wore horns to look the part, Aquino cut his hair in a widow's peak, plucked his eyebrows, and had a 666 tattooed under his scalp.
UNDERSTANDING The CHURCH OF SET
His Temple of Set was set up using ranks borrowed straight from the secret Illuminati–Priests or Priestesses, Adepts, Masters (Magus or Maga), and Ipsissimus or Ipsissima. (The Order of the Golden Dawn also uses the rank of ipsissimus. His cult uses new terminology such as Setian for Satanist. It's a common tactic of cults to use new terms to separate the cult followers from the external world.
In Aquino's bi-monthly periodical The Scroll of Set (Vol. XIII, No. 5, Oct. XXII, 1987, pg. 2 Aquino states, "Christianity is finished as a serious contender for the minds of intelligent humans." Aquino's brand of Satanism attempts to pre-date Christian ideas and goes make to Egyptian Hermetic magic and mythology for its symbolism.
Aquino also studied the Black Order and the SS in Germany and attempts to incorporate Nazi occultism and symbology into his satanic orders. The Temple of Set advertised in occult magazines, computer bulletin boards, and ads in the San Francisco Yellow pages. When the Temple of Set expanded to Britain, David Austen from Kent, England, became Aquino's High Priest in Britain.
To let the reader see just one more example of collaboration behinds the scenes of the Network, a Jesuit member of the Temple of Set continued teaching at a Catholic School after he joined the Temple. Aquino coined the word Xeper (pronounced keffer) to mean the process of evolving a higher consciousness. Scientifically conducted research by Graphoanalysts has determined that a preoccupation with x's means a preoccupation with death. Aquino and some other Satanists show their preoccupation with death by their fascination for words that begin with the letter "x". Aquino's girlfriend Linda Blood has supposedly left the Church of Set and was at a conference that this author attended. She was very antagonistic toward the victims of mind control at the conference, and acted in every way like a cult plant. She was very disruptive of what the victims of mind-control were trying to gain at the conference.
He has written in favour of black magic and left hand path, but since most people don't know what black magic & left hand path is, buzz words. Aquino stated on Ophray's show that Satanists work "for the good of humankind." How? By exploring the "freedom of the will." The undercurrents of his writings in his publication The Crystal Tablet of Set is that he and his followers have power while the rest of us are basically wimps. Witnesses report how actual human sacrifices have been alternated with faked sacrifices in the Temple of Set so that it is difficult for witnesses to tell the real from the fantasy. The Temple of Set, like the Illuminati have strict rules that members are not allowed to keep incriminating items. Their precautions to go undetected resemble the Illuminati's precautions.
UNDERSTANDING SOME OF AQUINO'S PROGRAMMING.
Like so many programmers, Aquino flies all over the country, and has victimized people in numerous states and military bases. Michael Aquino's programming is standard military-type programming. Aquino puts in his own spirit guide into people. He likes to use his own version of Star Wars, with himself as Darth Vader, for his programming scripts. He programs in sexual and death (suicide) programs–such as the Rivers of Blood suicide protection program, and all the rest of the various types of programs.
His Temple of Set functions as a programming vehicle. The rituals are designed to break the practitioners grip on reality and logic and take them into the world of visualization, and creativity. Members of Set take on a magical name, they attempt in rituals to become another persona, which is a magical double of the person called "KA". And this ka work is done on the astral plane. Aquino is friends with Paul Kantner who is part of the mind-control scene and who put out an obvious programming song entitled White Rabbit.
In the Vol. 2 book, the significance of Leviathan was covered. The Church of Set has an Order of Leviathan headed by James Lewis VIº of Baxley, GA. Michael Aquino is familiar with all the standard programming, the Wizard of Oz and the other fairy tale themes. He is very proficient at programming, having many years of experience. In 1981, he used Cathy O'Brien to make two HOW TO films for training military officers in the skills needed to program slaves. These two training films were entitled "How to Divide a Personality" and "How to Create a Sex Slave." (See Cathy O'Brien's monograph "Dick Cheney and Reagan's 'Hands-On' Mind Control Demonstrations" written/released 6/92.) President Reagan respected Aquino and encouraged the military to learn his programming techniques.
Aquino likes to work with Catholic mind-control victims. He is proficient at manipulating the concept of hell and of doing satanic reversals like the Black Mass.
On the following pages are a little of the paper trail on Mind-control Programmer Michael Aquino:
· Some favorite photos of Michael Aquino in satanic garb.
· A two page letter of Aquino showing his fascination with Darth Vader. He rewrote his own version of Star Wars to use as a programming script. Programmers are given the freedom to decide what scripts they want to use.
· last page of a letter by Michael Aquino showing his preoccupation for Hitler and Nazi things.
· two pages showing the trauma that therapists discovered in children that Aquino had sexually traumatized at the Presideo Day Care Center. As readers are aware the Judicial system never pursued the case against Aquino.
· A page from the police report where the girl who claimed she had been sexually molested by Aquino was interviewed.
p_aquino.jpg
p_xeper-2.jpg
……. of women, is as much an act of violence as it is a sexual violation, it is argued here that the abuse reverberates in a chain reaction of violence-related responses in the child victim, in his or her family, and in the mental health system that is meant to serve the child. The Presidio case was made particularly poignant by the setting (the U.S. Army) and by the necessity for the victims' families to face simultaneously the abuse of their children and the failure of goodness of the government that serves them.
At the Presidio Child Development Center. in 1986-87. a single incident of suspected child sexual abuse led to a full-scale investigation during which all the parents were informed that their children may have been victims of sexual abuse at the Center and were invited to come to the army's Letterman Medical Center if they observed any unusual physical or emotional symptoms in their children. Here the children received medical and psychological evaluations by U.S. Army representatives.
Over time, the army, the FBI, and the San Francisco Police Department became involved in the investigations. Accusations of ritualistic abuse were made against a teacher (G) and a lieutenant colonel ("Shamby") and his wife (Mikey'): Shamby was also a high priest of a satanic sect. It was attested that children had reported group sexual activities with other children and with a doll: playing 'games" in Mr. G's bed: and being brought to a house with a black room, where sexual activities of an occult nature ensued with Shamby and Mikey. Both boys and girls reported acts of fondling and penetration by Mr. G. their teacher. Clearly, this was a newsworthy event and it was quickly picked up by the media across the country.
Three years later, the army had made out-of-court financial settlements with the families of the alleged victims and the teacher was reported dead of AIDS. This case-study analysis is based on the author's participation as an evaluator of and psychotherapist for the girls (boys were assigned to male therapists) who were alleged victims. The author's involvement began two years after the occurrence of the alleged events when a team of lawyers was filing suits against the army on behalf of alleged victims and their families. Using process notes and evaluation records from the assessment and treatment of two of the girls (aged 3-4 when they were allegedly abused) and their families, along with anecdotal evidence from other cases, this ar-tide addresses the consequences and sequelae of institutional molestation for the child, the father, the mother, and the family system (consultation with therapists of the male victims revealed similar overall findings). More specifically, it underscores the unique features of sex and violence in the nursery when the perpetrator of the abuse is that historic symbol of patriarchal protection, the military establishment.
· All the victimized children who received a medical evaluation tested negative for the HIV virus at the time of their initial evaluation. Recent research, however, indicates a possible incubation period during which negative test results can be found.
Finkelhor and Browne (1985) proposed that the experience of sexual abuse should be analyzed in relation to four trauma-causing factors: traumatic sexualization. betrayal, powerlessness, and stigmatization. In addition, they recommended assessing both the preabuse and postabuse situations in determining the psychological effects on the child victims. In the case of extrafamilial abuse, this model is applicable to the victims' families, as well as to the victims themselves. According to Finkelhor and Browne's model, the preschool child who is a victim of sexual abuse is at risk of severe levels of trauma, of which, in addition to the obvious sexual traumatization. betrayal and powerlessness are particularly salient factors.
Often, when a child enters a day care center, it is his or her first contact with the institutional world outside the family. At a young age, the child is asked to trust a stranger for care, succor, and daily guidance. The child relies on the parents' assurance that this unfamiliar situation is safe and healthy. Given such assurance, the child typically allows an attachment to develop with the day care provider or teacher and literally puts him- or herself in that person's hands.
At the Presidio, it was that very person who victimized the children, first by violating them sexually and then by warning them that, if they ever told their parents great harm would come to them and their families, and that they would probably never see their parents again. The majority of the children did not tell their parents, who did not find out about the situation until the Center sent a letter warning them that their children may have been abused.
As with incest, the preabuse situation in which the child has trusted an adult who then accosts that child creates great emotional and cognitive confusion ("If this person is caring for me and I am totally dependent on him, he couldn't possibly be doing anything bad"). In addition, it engenders strong feelings of betrayal when the child comes to recognize that this person did do something bad to him or her and that mother and father did nothing to stop it. The severity of the trauma for children at the Presidio was immediately manifested in clear-cut symptoms. Before the abuse was exposed, parents had already noticed the following changes in their children: vaginal discharge, genital soreness, rashes, fear of the dark, sleep disturbances, nightmares, sexually provocative language ("Go down on the doll-69." "Get it up the butt," "Lick the doll's twat," "Hump on the doll"), and sexually inappropriate behavior (a four-year-old girl grabbing her older male cousins genitals).
In addition, the children were exhibiting other radical changes in behavior. including temper outbursts, sudden mood shifts, and poor impulse control. All these behavioral symptoms are to be expected in preschool children who have been molested (Haugaard & Reppucci. 1988: Mac Vicar. 1987: Sink. 1988). Of particular note were the children's responses when they were first asked by their parents if something bad had happened to them at the day care center. One child screamed and ran out of the room. Another whimpered, "They're going to hurt you if I tell," and still another said, "I can't tell, or they'll kill you."
Only later, after they were reassured that they would be protected, were the children able to report that "Mr. G touched my private parts," "Mr. G had me touch his penis," "We passed around a doll and were told to touch the doll in certain parts," "Mr. G took me to his house to see his beds," "I had to do something embarrassing in front of all the kids."
These responses highlight the second salient feature of the children's trauma: their sense of powerlessness. The children had felt powerless to tell their parents because of the grave harm they believed would coma to their families if they did. This was not paranoid or fabricated fear a trusted adult, a representative of the U.S. Army, had actually told them so. But, left to the devices of their own fantasy lives at the age of magical thinking, the children elaborated on these rears, sometimes to a bizarre degree. Their only choice was to channel the anxiety and trauma into formation of symptoms, until their parents, on the basis of the warning letter, began to question them on the matter. Only later, once the children entered the mental health system, did the full cycle of trauma, terror, and rage unfold. This phenomenon can best be understood by tracking the children and their families through the postabuse process, from discovery to treatment.
p_presidio.jpg
[back]
APPENDIX 2. THE PROGRAMMING SITES
[back]
Some MAJOR MIND-CONTROL PROGRAMMING SITES with explanations of their programming. (Fritz Springmeier originally exposed many of these sites in 1993, so it is possible they have made some changes since they were originally exposed. Most of these operated for years, and may still be operating. We are aware of that some of their programming bases have been moved after exposure.) Besides these major programming sites, there are countless minor ones. For instance, some of the programming sites for water-beach tortures have been visited by the co-authors, but are not listed. The massive Boeing Plant in the Seattle, WA area with its large amount underground tunnels has been used for programming, as well as the ARCO Beaver Valley Plant in Pennsylvania. So has the chapel at the Coast Guard Academy at New London, Conn. which was built by A.W. Mellon of the Mellon Illuminati family via their Mellon Foundation. This list is not put forth as comprehensive. Without question, this list is only the tip of the iceberg.
29 Palms, CA —

Area 51 (Dreamland, Groom Lake

), NV–Area 51 is also known as Dreamland. There are a number of extensive underground facilities in the area. This was one of the first genetic research facilities in the U.S. and perhaps the first major genetic research facility. The people/workers & victims are brought in by airplane and tube shuttle. The worst cases of UFO/alien type of Monarch programming is coming out of Area 51. The eggs from slaves are being harvested and weird genetic creatures are being developed from human eggs which have been genetically mixed with other things.

Bethseda, MD–The Bethesada Naval Hospital

Bingham, UT–A red brick house, which was a closed House of Prostitution. The building was used for KKK programming. Child porn was produced in the basement, and upstairs programmed child slaves serviced KKK members. The KKK activity in the area connects in with the Illuminati controlled Kennecott Copper Co. (aka Utah Copper Co.) Russell G. Frazer, head of Bingham's Klavern & doctor for Kennecott Copper Co. did the electro-shock to split personalities.

Black Forest, Germany–Because the U.S-U.K. and Germany do so much programming, and some of the people in the U.S. were programmed in the U.K., Germany or Russia, it is worthwhile to mention some of the German programming sites. A number of witnesses report about castles in the Black Forest which are used for programming & ritual. Basal, Sw. on the border with Germany is a important Illuminati center. Frankfurt, Berlin and Zurich are all important programming/ritual sites. The Jesuits and the Catholic churches are very active in programming in Germany.

Boulder, CO–The headquarters for EMC, a type of electra-magnetic mind control that is being broadcast to modify the thinking of Americans, and to control slaves.

Butner, N.C.–Center of Correctional Research, all types of mind control are carried out and experimented with on the inmates.

Camp Peary, VA–The CIA's The Farm is located on a narrow strip of land between the York & James Rivers near Williamsburg, VA, used for programming CIA slaves. It has red brick buildings, and looks similar to a small college. The official crytonym was ISOLATION. People who are brought in who don't know where they are for training are called Black Trainees.

China Lake Naval Research Base (Inyokern), CA–This facility had a country store, and hangers, and a hospital (address for the hospital is the code- 232 Naval Air Weapons Station) which all provided sites for programming. This site has been operational since the early 1950s. Large numbers of children (batches of 1000 or 2,000 or 3,000 children were run through this facility at a time. This facility did much of the original traumas and mind-splitting tortures that created the MPD. Other facilities then specialized in further programming that was then layered in on top of the original China Lake programming. A great deal of dehumanization in cages was done to large numbers of tiny children at China Lake Naval Facility. Nimitz Hospital did drug testing of the children prior to their programming.

Colorado Springs, CO–The ALEX system programming and end-times Military programming is coming out of Colorado Springs and is connected to NORAD. One of the Colorado sites is doing alien programming with mock UFOs.

Dillsboro Nike Base–Monarch programming of many kinds

Disneyland, CA–Disneyland has been an off hour site for Illuminati and satanic rituals for years. Programming has gone on using Disneyland as one big prop for programming. Many of the Disney movies are used for programming, and some Disney scripts are especially tailored for Monarch slave programming. The Peter Pan programming can use the ship. The space programming can use the space props. The satanic programming can use the castles. Lots of mirror programming is done at Disneyland, and Disneyworld. There is also Magic Mountain programming, and programming using the Around the World Dolls, and its theme song. Some of Wizard of Oz and the Cinderella programming was also done at Disneyland using costumes. Preverbal children are taken to Disneyland to get them ready for the scripts.

Disneyworld, FL–Disneyworld was created as the eastern counterpart to the Disneyland programming site. One of the rides in Disneyworld plays "It's a small, small world" which is Disneyland developed programming theme.

Ft. Campbell, KT–Base programs are placed in here.

Ft. Detrick, MD–involved with medical/biological experimentation

Ft. Holabird, MD–This site is no longer in existence, but was the Army Intelligence School. CIC used the school. The place was known as "the Bird."

Ft. Hood, TX–programming involving military uses of Delta Monarch slaves was done here.

Ft. Huahuachua, AZ–HQ for Army Intelligence.

Ft. Knox, KT –The 1st Earth Batt. was developed here.

Ft. Lewis, WA–involved with the Psychic warfare part of the Monarch Programming.

Ft. McClellen–Ft. Meade, MD–The National Security Agency was created on 4 Nov 1952. Its headquarters were Fort Meade, VA. The National Security Agency (NSA) employs tens of thousands of employees and has a budget larger than the CIA. It has also been kept far more secret, while the CIA has been used as the fall guy to protect the National Security Agency's reputation. In the late 1960's, under Operation Minaret and Program Shamrock, the NSA and its British counterpart GCHQ began monitoring much of the communication within the USA and UK. The NSA monitors all American calls via computers using trip words, specific names, specific addresses, specific telephone numbers, etc. NSA has several computer to record all the millions of conversations which the computers have examined and deemed worthy of recording. How the NSA can get any use out of millions of recorded telephone conversations is beyond me? What intelligence agency could adequately process so much information?

These organizations now monitor all communications within both countries. At least one congressman got upset that his phone was bugged by the NSA. (see David Corn's article, "The case of the bugged senator" in Nation, Feb. 6, '89, p. 152.)

The NSA has developed a fiberoptics network called Internet computer network. An orange book is used to specify some of the NSA's security levels.

An informant in the National Security Agency states that establishment newspapers like the Wall Street Journal and the New York Times are used to communicate secret messages which are placed within want ads, buzz words in editorials, and via other methods. Because of some of what this person told me, I have given some possible examples in this newsletter of how people might be using the papers for secret messages. For instance using Michael Jackson with his hands making some type of sign might be a signal. Manfried Adler and the US Senate Committee investigating the CIA found that 90% of the CIA's secret messages are transmitted via the media, with the aid of coded texts and pictures.

A raised forefinger or two raised forefingers while a speaker is talking means that the message is a masonic message coming from a masonic speaker.

The Illuminati uses code words within the large establishment papers to warn their people what they are going to do with the economy. In this way, people in the Illuminati can take appropriate responses.

Goddard Space Flight Center–NASA mirror-theme programming

Grissom AFB, IND–

Hollywood, CA–One of the programmers/handlers in the Hollywood area is surprisingly Anton LaVey. This is one reason Anton LaVey has followers who will carry out his very wishes. LaVey's children of course were programmed too. His own girls have been participating in the nude in satanic rituals since little children.

Homestead AFB, FL–

Kirkland AFB, NM–Lampe, MO–This has been the site of a CIA near-death trauma center where slaves are programmed. It is an R&R center for the CIA where they can have any sexual perversion or drug they want. This has been a large cocaine supply depot also. Hal Meadows was director of this center which is deep in the woods surrounded by cabin chalets overlooking a small deep lake. A gravel road leads to the site which is fenced and well-guarded. Hal Meadows address was Box 27, Lampe, MO 65681.

Langley, VA– Slaves for the wants of intelligence.

Las Vegas (sites in and around Las Vegas), NV–MGM's Grand Hotel and Theme park were built for programming, but there are also some sites outside of the city used. In the general area of Las Vegas in remote sites, the elite gather for slave auctions once a year where Monarch slaves are sold and traded. One of the favorite slave auction sites was 20 miles out of Las Vegas and 10 miles off the main road into the site. The Mob is involved with Monarch slaves in Las Vegas. A blue-eyed 11 year old girl will go for $50,000. Toronto, Canada is another regular site for Monarch slave auctions.

McClellan AFB, CA – Very bad Child and adult porn using Monarch victims is distributed through this base as well as the other bases listed in this list. A T.W. Sanderson worked with Monarchs at this base.

MacDill AFB, FL –Near Tampa, FL

Maxwell AFB, AL —

Montreal, Que., Canada -McGill Univ., McGill Psychiatric Training Network, Allan Memorial Inst., St. Mary's Hosp.- The Zombie Room (Sleep Room) in the basement, the Isolation chamber and the Grid Room at St. Mary's Hospital were used for programming.

Mt. Shasta, CA–Underground facilities around this huge mountain in the Lake Shasta area are putting out Monarch programming that makes the people think they are in communication with aliens. This facility is for torturing & reprogramming captured runaway Monarch slaves. People are brought into the area via helicopter, plane, or flying saucer. This site is probably the largest mind-control programming center. It is in a remote wooded area. It is heavily guarded, has fences, and a large contingent of black helicopters. Mt. Shasta is equipped with state of the art high tech programming equipment. Mind-controlled slaves who are soldiers are programmed and trained at the Mt. Shasta facility.

Nashville, TN–These sites work with the Country Western Music Industry which is actually a CIA front for moving drugs to finance their dirty black activities. Fiddler's Inn, Nashville fits in with the Monarch Programming.

Papillion, NE–

Patrick AFB,–Portland (Old OMSI, New OMSI, Bldg. Near Monarch Hotel at 8800 SE Sunnyside Rd., Mormon Temple, etc.), OR. The Old OMSI building had a back door on the west side in which slaves were taken in to the bottom floor and reprogrammed. Although security guards aren't visible, they are there with electronic surveillance. The people running OMSI are tied in the Illuminati. The DC-3 airplane outside of the building was used in the programming as a hypnotic trigger. The submarine docked outside of the new OMSI building is also used as a programming hypnotic tool. The new Mormon Temple has an extremely high tech underground tunnel facility for programming built underneath it. Witnesses have collaborated their testimony on this high tech programming site under the Portland Mormon Temple. Although building plans are to be public information, the city of Lake Oswego makes it very difficult to view the temple's building plans. The plans show that the foundation walls are far thicker than any conceivable earthquake would ever call for. The reason is that the foundation helps house an underground arena for the Illuminati & and their guests to watch perverse shows.

Presideo, CA (incl. Alcatraz, San Francisco)– The Illuminati and various Satanic cults used the Presideo for their programming. Split-brain & other programming was done at Letterman hospital. Fort Point was used for Illuminati ritual & programming, as well as a number of churches, underground gun emplacements and the large circular Greek column art building at the Presideo. Alcatraz, abandoned as a prison, was used for water tortures and other programming. Tunnels connected buildings, and the Mule/Horse buildings and the cemetery also were used. This is one of the older programming sites. Psychic warfare activity also was experimented on in this area. Letterman Hospital has been used for the initial drug testing of the infants before programming. Lots of isolation programming in damp cold places was done at the Presideo. Lots of porn and military programming have also been done here. Redstone Arsenal, AL– San Antonio, TX– Salt Lake City (Mormon Temple)–This underground facility works in conjunction with the Mormon hierarchy who are allowed to create slaves. The Illuminati put in base programming that still gives them ultimate control beyond the control that the Mormon programming has.

Scotty's Castle, Death Valley, CA-Mengele (Dr.Green) programmed in some of his "internal boxes" as well as other Illuminati programming was done at this site. Mengele had a large circular red bed in the castle which he stocked with his little girl slaves, who already had kitten sexual alters. Scotty's Castle is a castle located in Death Valley CA. It has a very interesting history. To reach the castle one is required to drive through many miles of desert. If one drives to lnyo County, CA, the same county that has China Lake Naval Testing Grounds, and Inyokern, and then you drive on Hwy. 190 into Death Valley National Monument (it is not a park or forest, dead valleys are called monuments), next you go north on a road after Stove Pipe for 35 miles.

The man who built Scotty's Castle was Walter Perry Scott (1872-1954). Walter P. Scott was the son of an alcohol distiller and horse breeder in Kentucky. Walter did not get any formal education. He left home and went west where he worked as a mule driver, and a water boy. From there he became a horse wrangler. Because of his talent with horses Buffalo Bill made him the feature rider along with Annie Oakley in Buffalo Bill's family show. The show travelled and Scotty was with it eleven years. During this time, Scotty made many important friendships with men of power and wealth. In 1900, Walter married and left the show. He got a loan from Julian Gerard, a NY banker, to go prospecting for gold which he failed to pay back. Julian Gerard was repeatedly sending people to hassle Scotty to get his money back. In 1905, Walter Scott ("Scotty") scattered gold nuggets and $100 bills from N.Y. to L.A. Where he got all this gold and $100 bills is a mystery, but it wasn't from prospecting. The idea of finding a secret mine was very obviously a cover for however Scotty managed to get his money. Scotty is well-known for his penchant to throw away $20 gold pieces as if they were candy wherever he went. Nobody believed he had a mine, strangely the IRS never got interested in Scotty. Why? The IRS went after Charles Caughlin who was exposing the elite, the bankers, the Freemasons, etc. in the early 1930's on his radio show. There was no reason to suspect Caughlin of any cheating on his Income Tax, and the audits found the IRS actually owed Caughlin money.

However the national papers printed front page stories of the IRS investigation, and practically ignored that the man was exonerated. Yet, the IRS left Scotty alone. Hmmm. Although Scotty was married, he became intimate friends with Albert Mussey Johnson (1872-1948), a Chicago millionaire, who was v.p. from 1906 to 1926 of the National Life Insurance Co. Albert M. Johnson was born in Ohio, and lived in Arkansas and Missouri before moving to Chicago. Johnson came out and stayed in Death Valley. The stay helped his health, and he and Scotty remained close friends. In 1924, construction secretly began on a castle in Death Valley. The best of materials were used and the materials had to be hauled clear out in the desert by truck to Grapevine Canyon where the castle sits. Hundreds of workers were hired. The castle got its kitchen tiles from Spain. Special rugs were made on the European island of Majorca for the castle. Tiles for the incompleted pool came from the Mediterranean. Many of the furnishing of the castle came from cathedrals and palaces in Spain and Morocco. Draperies made for the castle were hand-tooled in selected sheepskin leather. Sixty hand-carved panels, each of a different design, were installed in the music-room ceiling. A Welte Mignon organ reported to have cost $160,000 –the finest of its kind in Western United States was placed in the music room, even though Scotty could not play the organ. Twelve bathrooms were installed. Several kitchens were installed. Tunnels and secret rooms were built under the buildings. Around $2 million (dollars of that time period) were spent on building the castle, supposedly from Scotty's "gold mine." The castle became known as Scotty's Castle. It is ideal as a Satanic ritual site. It can accommodate numerous people. It is remote. It has hidden rooms and areas and tunnels.

Tavistock, England–This has been the primary programming center for England. The Rothschild programmers work out of Tavistock. A large number of slaves in America have been programmed there.

Tavistock has been doing mind-control since before W.W.ll. Under the supervision of London's W Board & 20 Committee MI6 and MIS's Section BIA ran double agents and mind-controlled spies/couriers during W.W. II. MI6 has had an office at Century House, No. 100, Westminster Bridge Road. MI5 offices have been in part on Curzon St. MI5 has operated behind a number of fronts, incl. their fake travel agency Casuro Holidays. MI-5's address for mail is Room 055, The War Office, London. Special Intelligence Service (SIS) dealt with all types of mind control. Tavistock was under SIS. The British government has had their own telephone exchange with a 222 prefix, which was later linked to another secret exchange YTAN. Outsiders could dial 222 8080 to get into the secret govt. exchange. Men like mind-control expert/hypnotist Eric Trist worked for Tavistock. A six-man team which wore black berets also helped w/ mind control at Tavistock.

Two people who became terrorists after their visits to Tavistock are Angela Davis and Stockley Carmichael who went to a conference at Tavistock entitled Dialectics of Liberation in 1967. It's main building is a bland 6-story building. The address is The Training Office, The Tavistock Clinic, 120 Belsize Lane, London, UK NWs SBA. Tel. no. 071-435 7111. The chief exec. is Anton Obholzer. The Chair of Prof. Comm. is Nicholas Temple. Both are skilled in psychology. The Tavistock Clinic was founded in 1920, and in 1946 the Tavistock Institute was created as an independent body to assist the Tavistock Clinic. The Institute does more of the research. The Royal Free Hospital at the University of London works with Tavistock Clinic, as well as the Science Policy Research Unit (SPRU) of Sussex University. A large number of Britian's psychologist, social workers and police get their training at Tavistock. Tavistock has set themselves up as the authority on ritual abuse and MPD (DID). In other words, the primary programming site, is pretending to be the leading institution trying to solve the problem! That's a good cover.

Tinker, AFB, OK–Tinkerbell programming is carried out here. This programming makes alters think they are like Tinkerbell in that they will never grow up or age.

Titusville, FL–At the Kennedy Space Center. Mind control testing is done, and base programming such as the Wizard of Oz programming is done here. Also NASA high tech programming is done here.

Tulsa, OK—Believed to have an Alice In Wonderland theme to their programming. Oral Roberts University is used for programming. The programming to infiltrate and capture the Christian church via the healing/charismatic movement has centered around Tulsa and Oral Roberts University.

Utah State Prison–The prison has carried out mind control for over 30 years on their inmates for the intelligence agencies with the help of the U.S. government's power to cover it up.

Versailles, IL—Brain implants are put into Monarchs here.

Washington, D.C. area–The basement of the Pentagon and other facilities around Washington D.C. such as the Jesuit Georgetown Univ. Hosp. are involved with Mind-Control. Presidential Models are moving in and out of Washington, D.C. carrying messages and performing their sexual acts for the lusts of politicians. There is also a NASA Mind-control Programming Center in Washington D.C. Secret tunnels connect the White House to other buildings. These tunnels are used to bring in slaves. Some secret rooms in the lower White House are set aside for rituals.

Wright-Patterson AFB–Near Dayton, OH, Virtual reality programming is carried out here.

Youngstown, OH–The Youngstown Charm School has been run by Illuminatus Prosser Seward Mellon along with a U.S. Congressman named Jim Trafficant. The old stone building originally belonged to one of the railroad elite. This school is for Beta models and gives them advance sexual charm training. This school produces about 6 new Monarch slaves every three days. Mafia deals are carried out on the second floor of the charm school. A slave who is being trained/programmed at the Charm school will take a course that last a few days. The first day may be spent hanging in a dungeon which was once a basement wine celler. The torture dungeon has all the traditional torture devices, a stretching rack, whips, hanging chains, etc. In the dungeon rooms were a black Nubian goat "Satan", a small donkey "Nester', and a small white pony "Trigger", as well as dogs and snakes. The slave is taught silence in the dungeon as they are subjected to bestiality.
Click here for picture 1
Click here for picture 2
Click here for picture 3
Click here for picture 4
Click here for picture 5
Click here for picture 6
Click here for picture 7
Click here for picture 8
Click here for picture 9
Click here for picture 10
Click here for picture 11
Click here for picture 12
Click here for picture 13
· We have just touched the surface of the vest network of programming sites. Two examples of an entire series of programming sites–1. the Coast to Coast campground resorts & 2. the Jesuit-run institutions, which are often programming sites incl. Jesuit College, WV. An example of the former is the Park City Diamond Caverns. KT Coast to Coast resort, which has had a sensory deprivation tank, headphones for state of the art harmonic programming. etc. These membership camp sites are used to program children. Nor have we touched upon the large numbers of programmed Russians & Eastern Europeans that are coming Into this nation. When this book was written more people immigrated to the U.S. from Russia than anywhere else. Europe is teeming with prgmg sites. incl. the Vatican. Sebulun Zuflucht in Marienheide, Ger. is about the only european attempt at deprogramming.
p_cloning.jpg
click image to enlarge
[back]
APPENDIX 3. CLONES, SYNTHETICS, ORGANIC ROBOTOIDS AND DOUBLES
[back]
PUBLICLY ANNOUNCED GENETIC EVENTS
Section A. The "Future Shock" that this topic subjects the common person to
Section B. Instructions on how to clone a person
    A TECHNIQUE–INSTRUCTIONS HOW TO CLONE A HUMAN
Section C. The four types of "clones" that are used by the Illuminati,
   1. actual clones,
2. synthetic people,
3. organic robotoids,
4. doubles (look alikes)   How the memory of a person is transferred for the organic robotoids
Section D. Secret cloning sites (See also Appendix B, where D.U.M. bases are listed.)   Simon Wiesenthal
   OREGON'S UNDERGROUND SECRET CLONING FACILITY
   FURTHER INVESTIGATIONS AT DULCE'S UNDERGROUND CLONING FACILITY
SUMMARY OF THE FOUR METHODS.
FINAL NOTES.    Clintons
PUBLICLY ANNOUNCED GENETIC EVENTS
1890– A rabbit embryo was successfully transplanted to a foster mother rabbit's uterus.
1944– A human ova was fertilized in vitro, that is in layman's terms an egg was artificially inseminated in a test tube.
1952– Briggs & King in Indiana University clone a frog.
1970s– Rand Corporation predicts that "para-humans" will be genetically created to do menial tasks in the future. In a totally different affair, Lord Rothschild, who is a physiologist who has studied genetics, warned that self-centered fanatics might set up cloning shops privately. Lord Rothschild suggested to genetic scientists that a clone controlling organization with world wide jurisdiction to license cloning be set up to protect the world from evil men who might want to clone people for evil purposes. He called his suggestion 'Commission for Genetical Control."
1977– Announcement of the first successful cloning of a person, which was done for someone very wealthy. This whole affair came under strong attack by the establishment. The book giving the shrouded details came out in 1978. The author went into hiding, and our Congress had a parade of establishment research doctors testify at a hearing to debunk the book and to reassure the public that medical researchers were too concerned about ethics to clone people. The author was convinced of the veracity of the cloning event, although the media/establishment doctors claimed the author wrote the book merely as fiction.
1980– Twinning (bisection of an embryo), which is a form of cloning was successfully done with horse foals, sheep and cattle had -already been cloned in this fashion in the previous years.
1981– Mice are cloned. And embryo transfer for cattle becomes a thriving business.
1983– A water buffalo embryo was successfully transplanted to a foster mother buffalo.
1984– A human embryo was successfully transplanted and born with a human foster mother.
1997–A successful human clone is publicly announced.
Scientists working in secret got serious about cloning in the early 1960's. Abortions began to be performed wholesale at this time to provide fetal tissue for their cloning work. The young generation of Americans are asking, 'When will cloning of people take place?" The answer is that it already has long ago. An article recently written by Andrew Kimbrell that was placed in many leading daily papers across the U.S. is quite revealing. He comes right up to almost telling people what has been going on. The article was entitle, "Science is about to Deliver." (June 22, 1993) "…most Americans are unaware of the real-life exploits of current genetic engineers, science facts which in many cases are as chilling as any science fiction….Pigs have been genetically designed to contain human-growth genes in the hopes of creating "super pigs" that would have more meat. "…U.S. government and private researchers have expended billions of taxpayer dollars in the creation of tens of thousands of genetically engineered animals never before seen….One prominent scientist predicts that we may soon see "five-ton cows and pigs 12 feet long and 5 feet tall. "Genetic engineers.. .have cloned higher mammals, including cattle….One writer notes that "genetic engineering has the potential to create a vast army of identical clones, each produced to some preset specification. Canon fodder, scientists, opera singers, all could be manufactured to order…" "The New York Times has editorialized, 'Life is special, and humans even more so, but biological machines are still machines that now can be altered, cloned, and patented.' " –(WOW! Readers do YOU REALIZE THAT BETWEEN THE LINES THEY ARE TALKING ABOUT BIONIC ROBOTOIDS–the robots that are now being created to take the place of people in high places. And the chilling idea that human-like machines will be produced that will not be treated as anything but machines–that is a chilling idea too.
In this author's September, 1993 newsletter there were two article by this author on cloning, one entitled "Clones, Synthetics, Organic Robotoids, and Doubles" and the other article "Dulce Genetic Research/Cloning Facility." In the month following my September '93 newsletter's release, the establishment came out with stories about humans being cloned. [I felt that this was confirmation that God's had directed me to publish the information I had on cloning 1/2 months before the secular media came out with their stories about the "first" laboratory duplication of a human embryo.]
This '93 cloning was the first publicly revealed & publicly accepted human cloning, but the truth is that it had already been done for about 30 years secretly. In December, 1993's newsletter I had a followup article on cloning where I reviewed what the media was telling people about cloning after the 'first" human cloning had been announced. My article also discussed the novel Multiple Man which is about how exact copies of the President are made. The book has some surprising similarities with what they actually did with President Carter!
Finally in September of '96, this author's newsletter came out with its fourth article on cloning. This appendix is not the final word on the topic. The whole topic about clones, synthetics, robotoids and doubles could have a great deal more said. This appendix is merely a review of what those four articles contained. Cloning also relates in a big way to the cranial/body manipulation that was introduced in this book. It also relates to the group mind/proxying that is being done. Perhaps at some point this author can go into the deeper intricacies of cloning, but for now this appendix will provide its information in the following format:
Section A. The "Future Shock" that this topic subjects the common person to.
What happens when a technologically backward people are suddenly confronted with a technologically advanced people? What happens is that people are called on to change, in many cases the stress is what Alvin Toffler described and called "Future Shock". The overstimulation of new ideas, new decisions, new ways of looking at things can cause great distress to the mind and body. Radical changes to adapt to the new situation are demanded. In the case of the Navajo, one can see pickups parked beside hogans. In Nepal where I lived, the Nepalese had never gone through a horse and buggy era, so they had no word for drive in their language. When cars suddenly appeared–the first was carried into Katmandu on the backs of porters, they had no word for "drive", so they used the words they had "sit and go." So where we say "Let's drive to town." They would say literally, "Let's sit and go to town."
The American people have in general been kept in the dark about the limits of scientific developments. The known reasons people have not learned are varied. The Cold War was one reason. Capitalist corporate advantage is another reason. They call it trade secrets. Scientific pride and the ability to outstrip other researchers is another, and for the public just their technical jargon is enough to prevent people from closely watching the level of research going on.
But underlying most of the coverup is this: that the overall satanic plan is to keep people ignorant of these scientific advances BECAUSE they are being used quite often to control and manipulate the world. What has developed is a situation where the American people are no longer in touch with where the elite's secret technology is. It is clear that the elite know this and are aware that some of the "Future Shock" needs to reduced if they don't want to self-destruct society. You need to be aware (mentally prepared) that most of the readers of this will experience future shock when they read that cloning of humans is possible & has gone on for decades. The elite had a dilemma. If society isn't moved forward to match their secret scientific advances, it will soon be like cave-men meeting modern-day men. Society won't be capable of adjusting–only self-destructing. On the other hand they certainly can't tell us what they are already doing, because they are using this technology against us to control us. For this reason they are giving us movies that show us things that they have already invented–but these are put forth as fiction in these Hollywood films. They hope to lesson the Future Shock, which their own secrecy has greatly contributed toward creating, while maintaining control over the general population.
SOME OF THE FILMS THAT SHOW EXISTING TECHNOLOGY:
Clone–cloning; Jurassic Park–cloning
Genesis II–underground genetics laboratories that are connected by tube shuttles.
Terminal Man–brain stem implants
Star Trek–various items. In addition to some of today's secret technology being shown, the attitudes and beliefs shown on the two series, especially Star Trek the Next Generation are the attitudes the Satanic elite want people to have.
READERS PREPARE FOR FUTURE SHOCK
The Scriptures give strong indications that genetic monsters, the half-breed Nephalim will exist in the end times. God's Word also forecasts that the mark of beast will be needed for buying & selling.
One item conveyed by the Bible's book of Revelation is that totally unexpected sudden change will characterize the end times. Christians need to be prepared for unusual big changes. So great will these changes be that the nations will be distressed, and men's hearts will fail them for fear (LK 21:25-27). The Bible predicted that knowledge shall increase in the last days before Christ returns. (DN 12:4) But that knowledge will be used for evil, because the Bible also says that the world will be totally corrupt as in Noah's time (MT 24:37)–which was a time of the genetic monsters, the half-bred Nephalim. It also says men and horses will be out of work. (ZEC 8:10) And it is believed that Nahum 2:3-4 must be describing automobiles, and that Isaiah 31:5, and 60:8 are describing and prophesying airships in the last day. The description of the "mark of the beast" is startlingly accurate in describing the microchip which is being inserted into people's hands and foreheads.
The information that is allowed out for the public to access has been heavily censored. Still in spite of all the intense secrecy, if a person takes the time to dig and to find key items written by scientists, enough of a shadow picture develops to allow a person to realize that they already can produce several things the public is unaware of. Many times the articles will discuss only a tiny aspect of a larger process, or will say we have the knowledge to do such and such but the actual doing is years away. And somehow people swallow that we could have the capability to do it, but aren't. For instance, in a book that was published in 1979, Robert Gilmore McKinnel, Professor of Genetics and Cell Biology, College of Biological Sciences, University of Minnesota, wrote "It has been reported that mice and some large domestic animals have been cloned. Humans have not. Because the reproductive biology of humans…is similar to that of mice and other mammals, it is likely that humans could be cloned." Some of the men who know what is actually being done, are afraid to tell what they know. However, I do not have neither a professional reputation nor a job to guard. I have never taken any oath of secrecy to any of these organizations of the establishment. I can simply tell you the truth without fear.
Section B. Instructions on how to clone a person.
For those who want the medical description of just one way that cloning of people can be done (and this capability has been around for at least a decade–and much longer secretly.) The idea that we don't have the knowledge to do it is simply a myth for public consumption. Any microbiologist worth anything knows that we have the knowledge and the means–they can only claim that cloning of humans hasn't happened because supposedly no one wants to do it.
A TECHNIQUE–INSTRUCTIONS HOW TO CLONE A HUMAN:
The ovulation and ovaries of the woman can be monitored. Just before natural ovulation, there is an increase of luteinizing hormone which is called the luteinizing hormone surge. This can be detected by either blood or urine samples. The growth of the follicle can be monitored by visualization with ovarian ultrasonography. Ultrasound diagnosis will reveal on which side of the woman's ovaries the ripening follicle is found. This procedure will allow people to know when the follicle is ripe for the retrieval of the oocyte.
When the time is appropriate a hollow aspiration needle is inserted into one or several ripe follicles under visual guidance of the laparoscope. The oocyte is removed with some follicular fluid. Experienced laparoscopists have a success rate over 90% in recovering the oocyte. Prior to this, it is likely that the woman will have been given Clomiphene citrate, or this drug used in combination with another drug so that there will be several eggs that can be retrieved at one time.
The oocytes obtained from the ripe ovarian follicles are not fertilized when retrieved, although another process would be to fertilize first, before extracting. If they don't fertilize first, then they can take the harvested oocytes and incubate them in a culture medium for several hours to get maturation. They need maturation because they have been taken from the ovary before ovulation, and are not as mature as spontaneously ovulated ova.
Thawed or fresh semen is washed and centrifuged so that it will be diluted to the proper concentration to fertilize in vitro. The in vitro fertilization is carried out. After some amount of hours, (about 12) both pronuclei are identifiable for enucleation. The enucleation is accomplished with either one of two well-established methods. One method is to surgically enucleate it with a micropipette, another is with a bleb of cytoplasm containing both the male and female pronuclei. Either method has worked fine. These nuclei by the way have been obtained from the inner-cell mass of an early human embryo. This again is a well established practice.
Let us digress slightly and explain the method to obtain the nuclei. The zona pellucida must be removed from a cultured embryo, the trophectoderm separated from the inner cell mass, and then, the cells dissociated with an appropriate enzyme in a calcium-and magnesium-free salt solution. Going back to the cloning process, there are several methods for doing a donor nucleus (obtained from its source using the just mentioned method) with enucleated cytoplasm (obtained from the woman's in vitro fertilized ovum). One might be to surgically implant it with a micropipette, another is fusion with an inactivated Sendai virus. Whichever way is considered most viable by those performing this will be used. And then the human nuclear transplant will be cultured until it can be placed into a human foster mother.
When the clone has reached the 8 – to 16 cell stage it will be transferred into the foster mother. If needed, the transfer can be done later, and the clone is simply frozen. When the transfer takes place, the clone is drawn into a fine plastic tube (a catheter) which, then in turn, would be introduced through the cervical canal into the interior of the uterus. — This is just one process for successfully cloning humans. Other more refined techniques may well be in use.
Section C. The four types of 'clones' that are used by the Illuminati:
This is a person who has been grown from a test tube (called "in vitro") or implanted womb, which has the identical genetic makeup to another person–an identical twin so to speak in terms of genetic makeup. The genetic coding has reproduced, and a new person who is an identical twin is now in existence.
These are "persons" who look everybit as real as a real person, but simulate human beings. Certain tissues extracted from cattle are the starting point. (This is part of the reason for cattle mutilations.) The process is an advancement of a process discovered in the late 1950's. This 1959 experiment was reported in a book in 1968 called The Biological Time Bomb by Gordon Rettray Taylor. Taylor describes the experiment done in France, "They had extracted DNA from the cells of the khaki Cam phells and had injected it into the white Pekins, thinking that just possibly the offspring of the latter might show some character derived from khaki Campbells. To their astonishment the actual ducks they injected began to change. Their white feathers darkened, and their necks began to take on the peculiar curve which is a mark of the khaki Campbell." The scientists working under the auspices of the Rothschilds, (who are directed by Satan himself) developed this process by working at secret breakneck speed. They developed an advanced development of the process they discovered with the DNA chicken experiment. By the late 1970's, synthetic people could be produced by the Illuminati.
This is an "artificial life" form that is created through processes that are totally different than cloning or synthetics. Organic robotoid technology is being made to make exact as possible copies of important people such as Presidents and some of their staff. For instance, the Jimmy Carter who came to Portland a few years ago who I stood two feet away from and examined visually was not the Jimmy Carter that had run for President.
On Easter, 1979 the first robotoid model of Jimmy Carter replaced the man Jimmy Carter. By the time "Carter" was seen by me, they must have been on at least robotoid no. 100. This is why a friend of mine who was recently in Washington D.C. almost bumped into President Clinton jogging. My friend was surprised by the lack of security.
Kaiser Aluminum News which is put out by Kaiser Aluminum & Chemical Corporation put out a series of articles to a specialized audience in the 1960's. This material was also published under the book title The Dynamics of Change (Prentice-Hall: Englewood Cliffs, N.J., 1967).
Under the title heading "GENETIC MANIPULATION" we read,
"The ability to control the formation of new beings may be one of the most basic developments of the future. Recent discoveries about the nucleonic acids, the basic building blocks of life, have led to the belief that man may some day be able to treat genes in such a way that desired characteristics can be realized…"
Under the heading "MAN-MACHINE SYMBIOSIS" we read,
"…Computers exist which can learn, remember, see, seek goals, reason, walk, sing on key, talk, be irritable, play games, grasp, adapt to an environment and even design improvements in themselves.. .man-like computers may one day contain plasma circulating through a viscera-like envelope, allowing them to be self-healing."
Under the heading "HUMAN ROBOTS" we read,
"…An electronic circuit that imitates two neurons, the cells of the human brain, has been built, and has enabled a robot to deal with some unexpected situations, but the neuron structure was bulky. The brain has billions of neurons, meaning an incredible miniaturization job will be necessary before truly 'human' robots are developed."
As the reader knows since the 1960's when this was written an incredible miniaturization job has been done in computers. What the public knows of that miniaturization is incredible and that is only part of what has actually occurred. In fact, scientists are now able to manipulate DNA to create computers.
A basic thing that is needed to create a computer is material that will consistently change given some type of "signal". This is because the computer works off of base two–or what is simply an on–off switch system, or a 0 or 1 system of numbers. Living biological material is superior to other material for making computers because the heat created by the methods in conventional computers slows the speed. For super-computers to work at great speeds they need to use biological material that will not heat up. This type of miniaturization has already been done. It creates computers far beyond what we are familiar with. Organic robotoids are amazingly humanlike, so humanlike that it is hard for the scientists who have created them to get used to the idea that they are not humans.
Biological computer brains for the robotiods came as a result of research into holograms. If you tear up a conventional photograph you ruin it, but if you tear up the film that produces a hologram, each piece still contains almost all the same image. This is why part of the brain of people can be removed and the brain regain what it had lost. A holographic image of a person's brain is made, and then when the brain of a robotoid is made, the biological computer in its head is caused to form according to the holographic record of a person being copied. Some deviations from the holographic record are needed, because the "person" is a robotoid and not a person. The brain of the robotoid has almost all of the correct memory of the person reproduced, but the robotoid brain is really a computer made from biological material which is programmed, it is not a human brain.
First, "Clinton" has the energy to jog because it may well be a robotoid, and second thing, an assassination of a robotoid is not so serious. These robotoids have a biological computer-brain that is programmed. They can think in the sense a computer thinks, but secret advances in understanding the human brain, have allowed the makers of organic robotoids to have the memory of a person at a given point in time transferred to an organic robotoid. The key then for making what appears to be a clone–but they are not a real clone–is to capture the person to be copied and make a holographic copy of the brain memory and transfer that to the robotoid.
How the memory of a person is transferred for the organic robotoids.
In order to successfully make human organic robotoids–in a sense to make bionic robots–the ability to simulate the personality of the person being copied was necessary. The only viable solution was to learn how the brain coded memory and duplicate that process. The brain is entering into its memory about 10 million bits of information a second. The incredible storage capability of the human brain which weighs on the average 3.25 lbs in human males and 2.9 lbs in human females is incredible. The brain can easily store 100 million billion bits of information. It's no wonder we don't use it all.
All the computers in the world put together do not compare with one intelligent person's brain. Numerous tests and experiments from many different angles all showed investigators that the brain stored information as a hologram. The place in the brain where a memory is stored isn't in just one location. Memories are stored in synapses in sequence, but they are stored in a holographic method. From what I understand, rhythmic pulses radiate from a small area of the brain like a stone creates ripples in a pond. Waves go through the cerebrum, in the way that laser light is used to create a hologram. Different frequencies are used by the brain and different neuron impulses are used to reference (tag) the different details. These tags are the brain's own codes or reference standards for cataloging information. The brain has to be able to access the encoder/decoder (holographic code standards) for a particular piece of information to be retrieve for the conscious.
Brain injuries can destroy one decoder, and leave other decoders for a memory intact. When a multiple (a person with MPD/DID) is created layers and layers of amnesia walls (actual walls) are built into the brain, and then specific codes are created which cause the mind to bring these compartments of memory to the surface. Each compartment is built into an alter (personality) or a functioning part of the System (built somewhat like a series of computers). Where a normal person may be aware of a conscious and a somewhat subconscious track running simultaneously, the mind of a multiple runs several tracks at once.
On a local level within the brain, researchers have called a memories storage unit an engram. Polypeptidenucleic acid holds a piece of information, such as a trauma memory. Proteins and other substances are involved in the memory process. How a person eats can influence their mental abilities. But it must be born in mind that a memory is retained holographically in countless locations in the memory storage area of the brain, just as the ripples of a stone dropped into water flow throughout an entire pond. The mind will have a number of reference points from which a particular memory can be decoded. The information that is stored in the brain is both dynamic and holographic. It is not stored like a book. If the dynamic impulses of the brain cease, so do the memories. Freezing and reviving a human brain will serve to erase its memory.
I will try to explain things in clear terms if the reader will bear with me. The reason that we recogmze objects so quickly is that the brain performs what is similar to what researchers call a Fourier transfer. Messages are transmitted through Fourier-transform messages. What is a Fourier-transform message? A Fourier transform is a mathematical method where a complex wave, or a complex pattern is broken down and converted into a basically longer, but precise signal of simpler frequencies. In other words a squiggly line is hard to communicate, but via the Fourier transform it becomes a string of numbers which is quite easy to transmit. In other words, a complex squiggly line and a straight line after the conversion are both just as easy to record. The brain stores information in a form similar to a Fourier transform, so that when it must look for similar patterns, it can quickly overlook everything but another identical Fourier transform pattern. A mental comparison is done so quick that it gives the ability to the brain to "instantly" recognize people who one hasn't seen for years. The Holograms of memory that the brain makes are transmitted through Fourier-transform messages. Holograms are hard to destroy, for each piece contains the whole. Rip a holograph in half and you still have the same picture. Rip it in half again and the same picture remains. After a great many cuts in half the holograph begins to get a little fuzzy, as it loses some of its detail, but the entire picture is still there. That is why memories begin to get somewhat fuzzy, because we are only puffing up a small piece of brain that recorded the memory. However, if we can pull up more of the holographic image of the memory we get a more distinct detailed picture.
It was secret research into holograms that gave Illuminati scientists the ability to copy the memory of an entire brain. A holographic image is made of the host's brain and that is transferred into the biological matter functioning as a brain of the robotoid. Since the body and brain of the robotoid are not identical to the original person being copied, adjustments have to be taught and programmed into the mind of the robotoid. The entire process is sophisticated, but then so are many manufacturing processes today.
There is an ongoing program to find look alikes for prominent people, as well as a program to create secret identical twins (which are separated at birth and never see each other).
George Bush's double was promiscuous, while George Bush is a pedophile. His double was living in France after Bush was no longer President. By the use of doubles, (or one of the synthetics or organic robotoids) the elite are able to sneak away and perform satanic rituals. On certain occasions, if Clinton or Bush only needed to do low level tasks in front of the public, they could have their double substitute for them. The Illuminati working with several organizations has had a look alike operation where doubles of certain key people are found and then used.
In the book Desert Shield and The New World Order pub. by Northpoint Tactical Teams, Topton, NC, if you look on page 32 you will see a picture of the original FDR who had a mole over his eyes and then you will a see a picture of the double of Roosevelt who they used, who had no mole and had different ear lobes. Roosevelt may have died prior to when it was actually announced.
Over the years I have seen numerous photos exposing either the Robotoids or the doubles that they use. This author's previous S' '93 article had some pictures about the dead Pope Paul VI, who my Be Wise As Serpents book said was murdered. This recent Pope was replaced with a double who had had plastic surgery. As a double gets older the plastic surgery will not look as convincing, because time changes people differently. One ex-Catholic said the whole thing sounded like science fiction. It does sound far out at first, but the evidence is there for people to see. For myself, the ex-Illuminati have told me about the double's program. From what I understand the double or look-alike program has been more successful than the robotoids and synthetics. The reason is that people live longer and are more dependable in some ways. The project to find look alikes for prominent people has been very successful. Plastic surgery has also been done to help touch up the doubles.
Section D. Secret cloning sites (See also Appendix B, where D.U.M. bases are listed.)
Ada, Oklahoma's underground facility is being used to clone humans. The other cloning facilities are turning out weird creatures. Due to the processes involved they give off lots of gamma radiation (Gamma is at the far end of the electromagnetic wave spectrum–it is even a longer wave than ultraviolet). Because they give off Gamma radiation, these facilities must be deep underground. The cloning is done at level 7. The average depth (according to one of the men who built these Deep Underground Facilities – D.U.M.) is 5,600'.
The secret government has been building them no stop since W.W. II. I personally have only been in an underground city in Oahu, HA, but I have spoken to others who are wanting to save humanity and stop the NWO, and these witnesses know a lot about the underground facilities.
One of the men who betrayed the human race and helped with the cloning was Austrian born Simon Wiesenthal. Simon Wiesenthal, was a US intelligence agent with a photographic memory (perhaps a scarred brain stem). Wiesenthal seriously hunted Nazis that were not on the CIA's payroll or CIA associated groups. Simon Wiesenthal, under the disguise of being a great Nazi hunter, actually assisted protecting the FBI's and the CIA's agents who were Nazi criminals. Wiesenthal tried to stop CBS from doing a show exposing the FBI-Nazi connection.
Jewish Intelligence (the Moussad) knew all about the hundreds if not thousands of Nazi War criminals that worked for American Intelligence and the FBI, but never went public about it. Instead they occasionally used the information as leverage against American intelligence. One of the code no.s for Simon Wiesenthal given by a Monarch slave was something like 063 097. If someone else knows the full and correct code for him, go ahead and share it.
Unholy Trinity is a book written about how the Vatican, the US State Department, and MI-6 smuggled Nazis out of Germany at the end of WW II. An entire book could be written about the thousands of die hard Nazis who have been working for American intelligence, however Simon Wiesenthal's name is mentioned here because he helped start the cloning for the worst elements of the NWO.
OREGON'S UNDERGROUND SECRET CLONING FACILITY
In at least one of my newsletters, the secret cloning facility at Bull Run near Mt. Hood, OR was discussed. Bull Run is a large tract of forested land with some water reservoirs/lakes that is set up to help provide water for the Portland Metro area. My house on Lincoln St. was also near 8 reservoirs that were built at nearby Mt. Tabor. These reservoirs at Mt. Tabor were for Portland drinking water too. The Mt. Tabor reservoirs have simple single fences on their perimeter, and people are able to throw garbage into these reservoirs if they want to be nasty. However, the Bull Run water supply which is very isolated is extremely well protected. It is rare that people would stray up into the area anyway. People are told that this large tract of land is simply for Portland's water supply, and yet several years ago a Patriot military unit reconned the area after getting info from me. They were able to identify 3 strongly guarded rings of defense at the Bull Run reservoir. The area has lots of electronic surveillance, etc. It is either the most valuable water on God's green earth, or there is something else in the vicinity of Larch Mountain (south of the famous Multnomah Falls which sit on I-84)–something besides a water reservoir. Of course, those in the know, know that it's an underground facility which the CIA use. It's not an accident Tektronics here in the Portland area does work/research with holograms.
FURTHER INVESTIGATIONS AT DULCE'S UNDERGROUND CLONING FACILITY
My article about Dulce [which I investigated in person on foot] also sparked a small group of dedicated Christians to try to retrace my steps and find the Dulce facility. They reported back to me that they found nothing and that the reservation police and the local people claimed they'd never even heard of any underground facility. All I can say is that, doesn't that strike you as fishy that all kinds of people have been up in that area looking for the site, interviewing the Jicarilla Apaches that live in the area for years, talking about Dulce over Art Bell's Radio show, etc. and locals have never heard anything about it?? At the very least they should know that other people looked for the site. The reservation and town of Dulce, NM have a small population. There is little that everyone doesn't know about what goes on in the area, and yet they are surprised by the topic of an underground facility? The whole thing smells like the key people in the area have been convinced to keep their mouths shut & pretend they know nothing.
My comments: sometimes when you're looking for a rat, you'll smell it before you see it. According to someone who has worked in the Dulce Underground Facility the openings on the north and SW face (Aztec Cliffs) are still in use. Actually the cliff that has a face that looks like an Aztec on Mt. Archuleta has been cemented shut because hikers kept straying into the area. A deep needle detector which could detect metal or magnetism deep down could reveal the Dulce Underground Facility–but people who get this close often disappear.
This Appendix covers 4 different methods that have been used to make copies of people, these were cloning, creating synthetic duplicates, creating organic robotoids, and finding look alike doubles. [Programs for all four of these methods have had almost unlimited funding by the intelligence/Illuminati elite.]
Next, the basic principles for creating a synthetic human were covered. Synthetic humans were in some ways found to be superior to the robotoids that were created. The first few years of robotoids were fraught with problems. [Since my inside information is somewhat dated, I cannot give readers the status of current robotoid abilities, however, I believe from what I've seen that the program continues.]
The synthetics were people who had their genes altered to look more like the person they were to copy. The robotoids were the formation of new beings that look human but are actually bionic robots. Their memories were created by using living "brain tissue" which is some type of programmable living biological matter, and programming this material as a sophisticated computer. In order to get the memory of the person being copied, a holographic image of the person's brain is made and transferred to the robotoid. Because the robotoid "brain" is not functioning like a human (although the end result is nearly identical so that viewers have to know what differences to look for), there are of course some adjustments that have to be made after the holographic image of the host is transferred to the living biological matter that will function as the brain of the robotoid. Lord Willing, this author may write some more on this topic later. The ability of the Illuminati to copy people using the 4 methods listed above, are not going to be the deciding factor in their moves to control the world, but it does give them a great deal of flexibility in their operations. This author frequently reflects on the words of the Illuminati Grand Master who told Cisco, who was then a child, while touring a cloning facility, "Never, never think you are seeing who you think you are seeing.'
As this author's reflects back on what's gone into this first part, he can't help thinking about how God will reveal all things that are secret. (See Dan, 2:22 and other verses). The prophet Daniel called him the revealer of secrets." The secrets which are revealed in this book are minuscule compared to what God Almighty will reveal in His day. And as this author reflects back he realizes that there is so much more that could be said.
This author has neglected to get my information about the Clintons into this. For instance, this author interviewed a woman who went to school with Hillary, and two of Hillary's mind-control victims. Our establishment media have neglected to tell the American people about Bill Clinton's roots & ties in Hot Springs, Ark.
Hot Springs is a city that has forty-seven thermal springs which have brought the jet set from all over the world. The mafia syndicate & their nightclubs made Hot Springs a hot bed of vice, gambling, prostitution. During the 1920's the territory so popular with organized crime, that they classified the territory "neutral ground" like they did Hollywood. In the early 1960's, Hot Springs had the largest illegal gambling operations in the entire U.S. Billy's uncle Roy was a politician in Arkansas's legislature connected to all this mess. And Bill Clinton's uncle Raymond Clinton, who had a Buick dealership, was tied to all this corruption.
Bill & his brother Roger's cocaine habits are well known by those familiar with them, as well as their wild parties at the Coachman's Inn, Little Rock, Ark. What are not known are Hillary & Bill's membership in the secret Illuminati.
And for some reason some of their more intimate associates are also not known, such as Charles "Chip" Whitmore, a Satanist & programmer. Chip & Bill have met often on a weekly basis over the years. This continues, for instance when Bill was in England so was Chip, when Bill went to Florida so did Chip. Chip played drums with mind-control programmer Jerry Lee Lewis. He was also a friend of Jack Ruby. (It's a small world at the top of corruption.) Chip owns Cash McCool's Tavern. He is 5'6, glasses for his poor eyesight, has good hearing, and has a filthy mouth. He changes the car he owns & drives every 3-5 months. Chip had a programmed girl murder a man, and then the Network got him off of his murder charges. Chip's family's Villa Mare in Little Rock was pictured in the opening shots of Designing Women.
Chip Whitm ore has been in charge of assassinations in his area, and controls the local law enforcement in Arkansas. Jack Stevens, said to be the largest investment banker in Little Rock, is CIA/part of the Network. He exchanged information with Chip via their mutual black cleaning lady. Further, Whitmore & Stevens tie in with a string of corruption that extends into the Assembly of God churches & other parts of Churchianity.
Over Chip is a Dr. Paul Palmer. The media just gives us glimpses of the depth of occult corruption. For instance, Insight magazine Feb. 26, '96, page 48, in an article by Suzanne Fields had a photo of Hillary's backside wearing what appeared to be a golden dragon on her black coat when she went to court to talk about the Rose Law Firm billing records. She has sometimes been called the Dragon lady for good reasons. Will today's modern equivalents to shamans, our psychiatric community help protect us from murderers like Chip Whitmore? Not likely.
The Biographical Directory of Fellows and Members of the American Psychiatric Association reveals that in 1957 there were 7,104 American members in the American Psychiatric Association. Of those 7,104, a total of 1,253 had moved to America from Germany and Eastern Europe. This helps us understand the enormous influence Operation Paperclip had on America. Operation Paperclip was the CIA's project to smuggle Nazi criminals into our nation, some of which have now made Penn's campus infamous. No wonder the False Memory Spindrome got started at Pennsylvania University. We were warned by a psychiatrist in a Weekly World News story of Jan. 9, 1996 about a strange new sleeping disorder where people die after seeing a hooded robe figure chase them. This new "Deadly Dream Syndrome" sounds strongly like mind-control. Perhaps there is no way to have given the readers anything but a drop in the bucket.
Some of the details that got left out on the way include:
the Seventh-Day Adventist church's secret cooperation with the government to supply young men (1,500) for government experiments called Operation Whitecoat;

how the Dept. of Energy set up hotlines for victims of radiation experiments, in other words the fox is in control of where the victim goes for help;

Peter A. Petito, "Mr. Intelligence" in Italy, and his connections to the Network;

William Randolph Hearst's costume parties and his half dozen homes like San Simeon;

Torrance, CA's Penthouses and Disney's mind-control;

the Masonic peace sign of uplifted hands with wrists crossed in the film 1984;

the movie Army of Darkness with its mirror image programming, "London Bridges falling down" programming ditty, etc.;

how FEMA works with the 6th Army that Aquino was part of, how Voodooism uses Waterfalls for healing such as at Sardo, Haiti;

how Mothers of Darkness alters are trained to love a marble, fed the marble, care for it, and then to shatter it with a hammer until its fine like salt and then to repeat the process and only split the marble but not crush it as part of their training to program;

how a certain torture is done to make the victim think they have a butterfly as a head with the head of the butterfly in their third eye area;

how scribbling is used to anchor programming in child victims;

programmed soul-ties to aliens;

Mr. Greenjean's (of Capt. Kangaroo) talk of Mr. Moon & how it was used for programming;

the blood sacrifices under the Temple Mount on March 13th this year;

the Masonic corruption in Arcadia, FL and the G. Pierce Wood Memorial Hospital;

how secret meetings of the CIA have studied how UFOs could be used as "clever hostile propaganda" trick to take advantage of the populace's gullibility;

how Mengele's family never claimed his bones–they knew they weren't the real ones, and how the International Red Cross gave him an I.D.S. to travel with; South Africa's occult Shu Shung Palace… maybe someone else will pick up where this author has left off, the mind-control is all around us!
[back to Synthetic Life – Robotoids, Parasites and Artificial Humans]
PART 2
HOW HELP COMES ABOUT FOR…
MINDCONTROL VICTIMS
[back]
When our system first began doing collages as therapy, the third collage we did of our system was this one of the Gems, the Grand Druid Council hierarchy, the daisy chains and the fairy, and yet it was one of the last to be understood. When our deeper alters got done with the collage, our front alters didn't understand what they had done. It took several years to learn what all the pieces in the collage meant. What the picture shows are the deeper workings of the system, which are run by early splits. In the background is a veil. In front of it are gems, and diamonds. There are two kinds of gems. One are the gems which link to the computers, and the other are the diamonds in the rough, the clean slate alters which have yet to be programmed. A diamond in the system (pyramid) acts as a radio crystal to receive direction and energy from Satan. The energy is then distributed via the crystal and the gems to the system. This diamond is encapsulated within a gold womb-shaped crystal.
The gems in the system (ruby, diamond, topaz, onyx, emerald, sapphire, opal, amethyst, obsidian, turquoise, etc.) are linked to the book of Revelation's Heavenly City. The 12 gems send out signals according to their color coding, which are then transmitted by the correct color of ribbon to the correct colored coded alters. Their messages, the scripts, are acted out on the stage of life, which is portrayed behind the erect gold or platinum statue (AntiChrist figure). Gold represents divinity in the Illuminati. In front of that is the clock with the hierarchy. The clock is a crystal pyramid representing the pyramid in the middle of the Grand Druid Council (aka Executive Control Board). It's 12 hours are the 12 positions of the Grand Druid Council which link to their 12 job responsibilities or characteristics and the 12 colors. The 13th number is Satan's, and it is color coded platinum. The Grand Druid Council like the Knights of the Round Table sit around a circular table. The pyramid is meant to have 13 stairs to it. The daisy chains were used to link our early parts to their master. Our Daddy would make daisy chains for us.
Most people would never suspect something like this being mind-control reinforcement. These daisy chains were delicate and very sensitive to touch. We were not to break or touch the daisy chains. Our internal daisy chains link to small 3 year old child alters. The daisy chains represent soul ties and the artificial programmed love they wanted us to have toward our master. A severe pain in our head, like a hole being drilled into our head, was refrained by the programmers as being a hole for the sun to shine through to raise daisy flowers for Daddy. Flowers are important family links in the programming.. The bud protects a daughter. The root and stem the mother figure. The soil ceremony protects the grandparents, and is grounded in the earth. The Fairy alters are involved in the hour glass and are the creative force within the system. Here Whisper (Tinkerbell figure) sprinkles Star dust on the light side. The yellow brick road, like a whirlwind that pulls the vehicle, leads to divinity, a mother goddess figure. A gold crown rests upon this stone statue. A tree runs through the entire situation. Those who are familiar with the trees in the system, realize that they are used to hang all the programming. The willow and oak roots run through the collage. Although it is somewhat difficult to notice, off to the right side of Satan are 9 chambers, which represent the various chambers on the Cabalistic tree of life. Interconnected bubbles are interconnected worlds and galaxies in the system. The numerous butterflies are a ring of light that lay at the base of the neck.
Page 315
p_cisco.jpg
Page 316
p_daisy.jpg
Page 317 …
The Daisy World (previous page)
We have a special world of devotion to our master called the daisy world. An entire world of alters who love him make up this world. The picture looks some what reminiscent of some of the Fantasia scenes. The unicorn takes us into this magic world. The waterfall cleans our minds of the trauma memories.
A BOXED, SINKING DISCOURAGED SENSE ABOUT LIFE. p_box.jpg (next page 318)
One of the traumas is to take a child, put him in a trunk and dump him into water. The trunk fills up and the child passes out, and then is rescued in the nick of time before it dies. This is a common programming trauma. It is this type of trauma that is attached to programming. Feelings come in all shapes and sizes, and it is O.K. to have feelings. When the system did this an alter wrote, "The way I feel, locked and sinking, red sails in the moonlight."
The ROLE of a BETA-DELTA TEAM OF ALTERS. p_beta-delta.jpg (overleaf after next page 319)
The hour glass controls the system. It's balance in relation to the clock and compass is crucial. The robots stand in military ranks ready to serve their national leaders. The piano cords at the left are codes for some alters. Maybe the reader will be able to figure out what some of the images mean on their own.
p_warning.jpg
Page 322 …
[back]